Vaisaki, an ancient holy celebration held over thousands of years, is upon us.
It is celebrated by thousands across the world, with the biggest of celebrations being held in India - with a number across Britain too.
Celebrated as part of the Sikhism religion, which is the fifth largest in the world with around 30 million followers world-wide and 400,000 in the United Kingdom alone.
Here is everything you need to know about Vaisakhi and whether there are any events being held in Manchester in 2022.
When is the Vaisakhi festival 2022?
Vaisakhi is a spring festival which is celebrated on April 13 or 14 every year.
In 2022, Vaisakhi falls on Thursday, April 14.
What is Vaisakhi?
Vaisakhi is one of the most important dates in the Sikh calendar.
Also dubbed 'the Sikh New Year festival', Vaisakhi marks the start of the Punjabi New Year.
It celebrates the year 1699 which was when Sikhism was born as a collective faith.
Vaisakhi has been a harvest festival in Punjab (an area of Northern India) long before it became a significant celebration for Sikhs.
In 1699, Guru Gobind Singh (the 10th Sikh Guru) used the festival as a way to establish the Khalsa - the collective name given to Sikhs who have been baptised.
The Guru wanted to test the commitment of thousands of Sikhs and the first five that were successful were initiated into a new order: the Khalsa.
These five men came to be known as the Panj Pyare (five beloved).
How is Vaisakhi celebrated?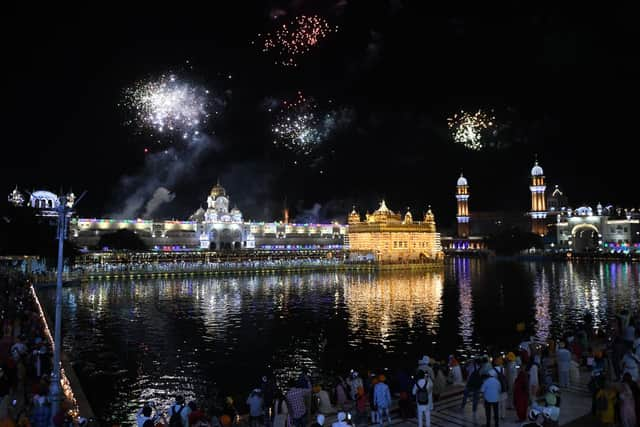 To celebrate Vaisakhi, Sikhs visit places of worship called Gudwaras, which will be specially decorated for the occasion.
Many Sikhs celebrate by enjoying special parades and processions through local streets - these are called nagar kirtans.
Nagar means 'town' and kirtan means 'the singing of hymns from the Guru Granth Sahib' which is Sikh holy text, which is carried around during the processions.
Celebrations would traditionally involve singing and music, as well as reading scriptures and chanting hymns.
Approximately 20 nigar kirtans take place throughout Britain during Vaisakhi, with the more popular areas such as Birmingham and London attracting thousands of parishioners.
As well as singing hymns, Nagar Kirtans may also see displays of the Sikh martial-art gatka on display, as well as having free offerings of food throughout,representing the concept of langar.
Many Sikhs also opt to use Vaisakhi as the day to be baptised into the Khalsa.
The biggest celebrations of Vaisakhi worldwide take place in the city of Anandpur Sahib in Punjab, which is where the Khalsa was established in 1699.
Farmers also choose to use this special day as a harvest and to pray for a good one in the following calendar year.
Are there any Vaisakhi events in Manchester?
There are some events happening in Manchester to celebrate Vaisakhi in 2022:
​​Vaisakhi - Nababarsho
Held in Ghandi Hall in Withington, this event is a brilliant dancing homage to Bollywood.
Songs will be performed in Nepali, Hindi and Bengali.
Featuring group dancers and renowned UK artists too.
A one course dinner will be served at the event.
Ghandi Hall, Brunswick Road, Withington, M20 4QB