A prototype 'space house' where humans could one day live beyond earth has been invented, scientists say.
They worked with architects to create an out-of-this-world dwelling made from material enhanced with graphene, a substance 200 times stronger than steel, according to a new study.
Many countries are looking to establish a permanent presence in space over the next decade so they can manage critical infrastructure, such as satellites.
Accessing off-planet resources and furthering scientific exploration is also high on many government's agenda.
The global space economy is expected to reach £750bn in revenue by 2040, as demand for new technology continues to grow.
But finding the right machines and materials to make living in space possible has been a sticking point, until now.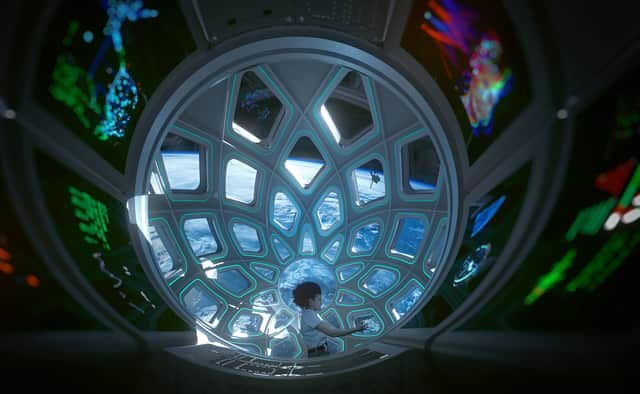 Dr Vivek Koncherry, chief executive of Space Blue Ltd and a research associate at the University of Manchester, said: "A major barrier to scaling up in time to meet this demand is the lack of advanced and automated manufacturing systems to make the specialist structures needed for living in space.
"One of the space industry's biggest challenges is overcoming a lack of robotic systems to manufacture the complex shapes using advanced materials."
To overcome this, the researchers incorporated graphene into structures with advanced capabilities such as radiation shielding.
They also developed a 'new generation' of robots to make these graphene-enhanced structures in space.
Global architect firm, Skidmore, Owings & Merrill (SOM), who designed the world's tallest building, the Burj Khalifa in Dubai, are also contributing to the project.
SOM's senior New York designer Daniel Inocente said: "Designing for habitation in space poses some of the greatest challenges.
"It means creating an environment capable of maintaining life and integrating crew support systems.
"As architects, our role is to combine and integrate the most innovative technologies, materials, methods and above all the human experience to designing inhabited environments."
While graphene is one of the thinnest materials known to man - only one atom thick, it is 200 times stronger than steel.
Mr Inocente continued: "Conducting research using graphene allows us to test lightweight materials and design processes that could improve the efficacy of composite structures for potential applications on Earth and future use in space."
It is also an excellent conductor of heat and electricity, and has beneficial light absorbing abilities.
CEO of [email protected] James Baker said: "The work being led by Dr Koncherry and his colleagues is taking the development of new composites and light weighting to another level, as well as the advanced manufacture needed to make structures from these new materials.
"By collaborating with SOM there are opportunities to identify applications on our own planet as we look to build habitats that are much smarter and more sustainable."
Given its range of properties, graphene is also being used on earth in new ways, including by mixing it with concrete to resurface roads and in clothing.
Tim Newns, Chief Executive of MIDAS, Manchester's inward investment agency, said: "This exciting piece of research further underlines the breadth of applications where advanced materials and in particular graphene can revolutionise global industries such as the space industry.
"In addition to world-leading expertise in graphene, facilities such as the new Advanced Machinery & Productivity Institute (AMPI) in Rochdale, will also support the development of advanced machines and machinery required to bring these applications to reality."