A team of researchers from a Manchester university is exploring in depth the fascinating question of why the region's residents speak the way we do.
Manchester Voices is an ambitious, multi-year project mapping and celebrating the wealth of accents and dialects spoken across the city-region.
An accent van is touring Greater Manchester talking to people about the way they speak, and there are plans for events including poetry workshops and an exhibition in the city centre.
So whether you call a friend 'cock', walk down a 'ginnel' or refer to getting 'cruckled', it's time for a deep dive into the words that come out of our mouths.
What is Manchester Voices?
Manchester Voices is a project being carried out by a three-strong team from Manchester Metropolitan University made up of reader in sociolinguistics Dr Rob Drummond and research associates Dr Sadie Ryan and Dr Holly Dann.
While the city centre's 'Manc' accent is fairly well known, the team is particularly keen to research all 10 boroughs of Greater Manchester as the accents and dialects of the surrounding towns are somewhat under-researched.
The project started with a pilot scheme way back in 2016, but most of the work has been done last year and this year, with the whole thing scheduled to wrap up in autumn 2022.
An accent van is making its way around Greater Manchester talking to people about the way they speak, and there is also a virtual version so people can take part from home.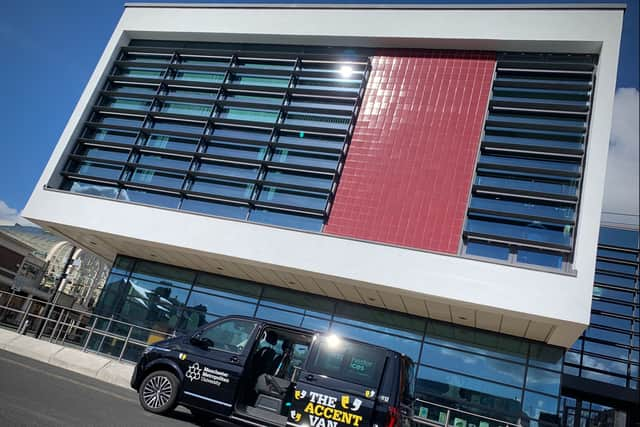 People visiting the van were asked to contribute to a map of where different accents and dialects could be found and describe what made each one unique.
So far around 200 people have contributed to the project, and the researchers hope to have around 300 participants by the time Manchester Voices comes to an end.
What has been discovered so far?
The responses of the public, coupled with the researchers' own work on the subject, has broadly grouped Greater Manchester into four distinct accent zones.
Firstly, there is the 'Manc' accent which is mainly associated with Manchester and Salford.
The more northern boroughs of Bolton, Bury, Rochdale and Oldham are classed as more Lancastrian, with older people in those towns in particularly speaking to researchers about the time before Greater Manchester existed.
Wigan then comes in a group on its own, with people recognising its dialect as extremely distinct.
Finally, people in Stockport and Trafford were frequently described as 'posh' by other Greater Mancunians taking part and the researchers found fewer distinctive terms there, with people speaking in ways that are broadly found across the north of England such as the short 'a' in words like 'bath' or 'path'.
Interesting linguistic habits noted by the researchers include pronouncing the final syllable of 'Manchester' as either an 'a' or an 'oh' sound in areas such as Manchester and Salford, and saying 'burr' instead of 'bear' in places including Rochdale, Wigan and Oldham.
Can I still take part?
Anyone wishing to visit the accent van will have to get a move on as it is only travelling around the city-region until the end of November.
However, there is also the virtual accent van which anyone can log on to and contribute. All you will need is a microphone and a computer or mobile phone.
What happens next?
Once the data collection is done at the end of next month the team hopes to spend the time between then and next spring delving deeper into its findings and coming to more conclusions.
They say they want to explore the generational differences across Greater Manchester and find out how accents have changed between older and younger people.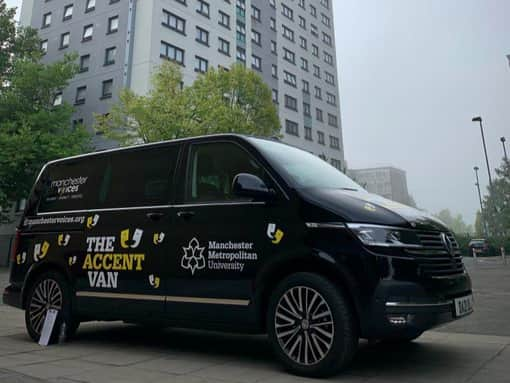 They are also keen to look at how Greater Manchester's multicultural make-up has affected accents and if how people speak if they have dual roots in Britain and in regions such as Africa, Eastern Europe or the Indian subcontinent.
In addition, the researchers are considering questions such as how cultural influences affect the way people speak.
What else is happening as part of the project?
The interactive map will go on display at Manchester Central Library once all the work has been done, and it is hoped there will be a public exhibition exploring the project's findings alongside this.
A number of poetry workshops are also planned to explore themes of accent, dialect, identity and ethnicity.
Teachers can also sign schools up for a podcasting course and competition. Email [email protected] to get involved.
Why is the research being done?
On one level the research is an academic study mapping and fully understanding exactly what Greater Manchester's different accents and dialects are and getting a handle on how they are in a constant state of flux.
Besides adding to the study of linguistics, though, the team says it is important to them to celebrate the way Mancunians speak as it is still very much the case that accents are not at all equal when it comes to how their speakers are perceived.
Sadie said: "I think there is still a lot of structural inequality around the way people speak.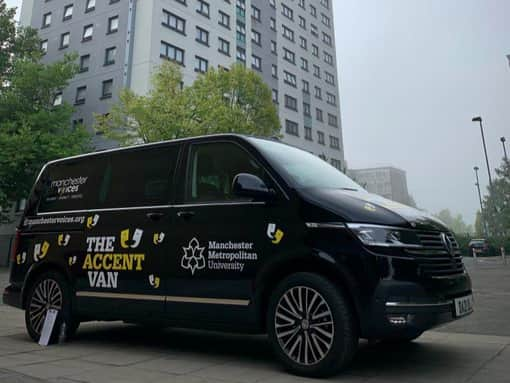 "There are still consequences to having an accent that isn't the way the Queen speaks. It can stop you getting jobs, make you be taken less seriously in the legal system and affect access to education."
The researchers say they have encountered enormous pride in the way people in Greater Manchester speak and it is vital to provide a counterbalance to negative views of local accents.
Sadie said: "We've found a lot of people simultaneously saying that they know people look down on the way they speak or they have been disadvantaged by it, but they love it, are really proud of it and wouldn't change it."
Holly added: "Every day there are news stories from someone, usually an old man, about how the way young people speak is putting them at a disadvantage and how terrible it is.
"It's important for us to be a loud voice celebrating how people speak as opposed to constantly trying to change it and regulate it."
Encouraging people to take part
Sadie and Holly both encouraged Greater Manchester residents who have not yet come across the project to get involved, either by visiting the accent van or taking part online.
They said they would be keen to hear from people who disagree with the conclusions they have come to so far as well as those who have found themselves nodding along with the team's findings.
Sadie said: "We just want to encourage people to take part in the accent van research.
"We want to hear from people and for them to add their voice to our Manchester Voices."
Some of the researchers' favourite words and phrases
We asked Sadie and Holly for some of their favourite words and phrases they have discovered during the project. They suggested:
Skriking - meaning crying, usually associated with babies. The project heard this word in Oldham.
Cruckled - meaning to go over on one's ankle or to turn it. They encountered this in Rochdale.
Spitting feathers - someone in Manchester told them they used this phrase to refer to being thirsty, rather than the other meaning of being angry.
Ginnel - a widely-known northern English phrase for an alley.
Our kid - the researchers said talking about offspring in this way is something people very much associate with the region.
Cock - used as a term of endearment. Sadie said she found this particularly fascinating as she is originally from Edinburgh and 'hen' is commonly used in the same way in Scotland. There is also the fact that it can be an insult in other circumstances as well!