Cultural complex HOME is to welcome its first theatre audiences for months for its autumn and winter programme.
The organisation, located between Deansgate and Oxford Road train stations, has been putting on outdoor drama, while cinema audiences have been able to enjoy the magic of the silver screen for several weeks.
Now HOME is reopening its two indoor stages for the first time in 10 and 18 months respectively.
But the arts venue stresses it is still part of a careful, multi-part return from the effects of the Covid-19 pandemic on the industry.
How the venue is ensuring people are comfortable watching theatre indoors
HOME chief executive Dave Moutrey says the schedule has had to be made as flexible as possible to get audiences in who may have different levels of concerns about the novel coronavirus.
Mr Moutrey told Manchester World: "We are very excited to be getting back open again but we are taking a cautious approach.
"We're not quite sure what's ahead of us with the progression of the pandemic and what might happen with future restrictions.
"The other element is audience reactions and what people might be comfortable with.
"If we've got a one-nighter we are working on full capacity because that is the only way of making it work economically but if we've got three or four performances some of them will be socially-distanced so audiences have a choice.
"You tend to get a better experience with more people in the room, but people will make that choice to trade off a bit of atmosphere for a bit of space."
Is there demand for indoor cultural events again?
Mr Moutrey says the experience of reopening HOME's cinema screens suggests there is clear demand for indoor culture in Manchester.
Films were brought back first to show high-profile award-winners such as Nomadland, which scooped Best Picture at the Oscars, and Another Round on the big screen.
Coupled with the level of interest in HOME's outdoor drama programme this summer, Mr Moutrey is confident audiences will return to the theatre.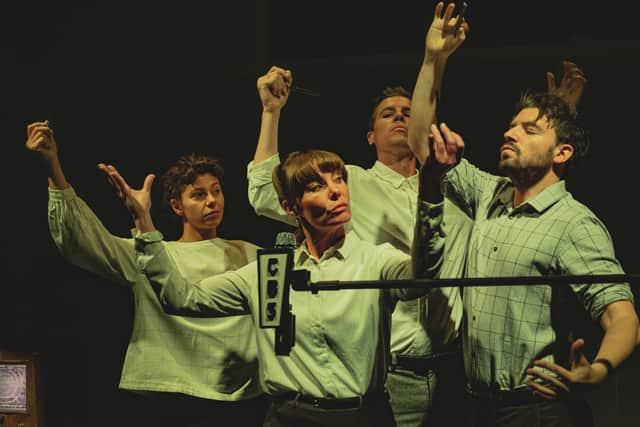 What can you expect when returning to the theatre?
Getting back to watching a play or other show on HOME's stages will be as much like it was pre-pandemic as possible, although some of the performances will have audiences spread out.
However, many of the things that have become familiar during the last 16 months, like hand sanitiser stations, will still be in place.
Staff will still be wearing masks and audiences will be encouraged to cover their mouths and noses too, although this can no longer be enforced.
Enhanced hygiene routines, such as extra scrubbing of touch points, will also still be carried out.
Mr Moutrey said: "We are still taking Covid security seriously."
HOME will also be helped by its ventilation system which means air is not recirculating through the building.
Challenges for theatre companies putting on shows amid a 'pingdemic'
The cultural hub did not have to do too much choosing when preparing its latest programme as many of the shows were due to be staged in Manchester earlier but postponed due to Covid.
However, that does not mean that putting the schedule together was straightforward.
The cultural sectors have endured an extremely tough pandemic, and theatre has been no exception.
Hurdles include the Covid "pingdemic", meaning large numbers of people have been off work isolating.
Mr Moutrey said: "It has been very tricky. We've had to get our heads around the businesses processes and operational processes with Covid security and without the Cultural Relief Fund we wouldn't have been able to do that.
"Theatre companies rely on getting a series of venues to visit, not just one, and they have faced a major challenge because of different levels of uncertainty around the country.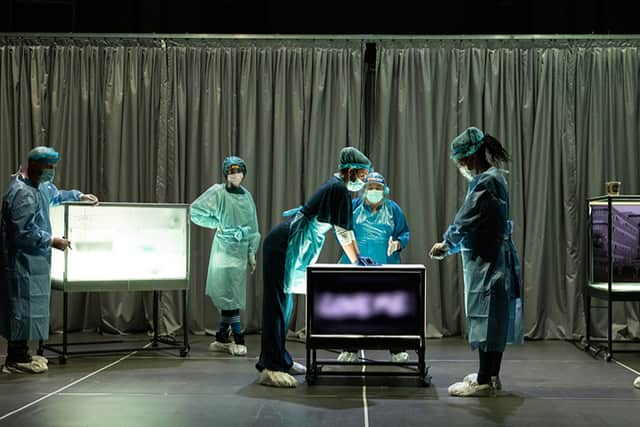 "It has been a big challenge getting confirmed bookings and being confident enough to promote them.
"People are booking later rather than in advance, as before they book they want to know the likelihood of the show actually happening. That's a challenge for the sector more widely.
"The pingdemic has also been a big problem for us. Staff haven't had Covid but they have been pinged and have had to isolate.
"We've had to close our kitchens early from time to time and we have been really stretched on front-of-house staff.
"Hopefully that is going to get better, because it has been testing."
What's On at HOME this autumn and winter
The venue's latest programme features more than 30 shows.
Theatre 1 reopens on September 10 with the world premiere of Clara Casian and Robin
Richards' The Earth Asleep, a film and live score performances exploring grief, memory and astral navigation.
There is also a radical new version of The War of the Worlds, inspired by Orson Welles' famous radio version of HG Wells' sci-fi classic.
Ian McDiarmid will appear in The Lemon Table, a new adaptation of a short story collection by Julian Barnes, while The Language of Kindness is based on a nursing memoir and celebrates NHS workers.
The programme in Theatre 2, which has been closed to the public since March 2020, includes a show prepared by refugee performers, a project by musician Avital Raz and a work involving a visit to Brazil during the tumultuous 2018 elections in which the far-right Jair Bolsonaro became president.