'Once in a generation' plans to transform Wythenshawe Civic Centre, including a new public square, cultural hub and food hall, are set to go ahead. The major plan to redevelop the 1970s site could also see 1,500 low carbon homes built.
A new food hall, which would be a grocery for 'affordable regional producers' during the day, would become a space for local food and drink outlets at night. Working in collaboration with Manchester arts centre HOME, the former Co-op department store would also be converted into a new creative hub with studios, performance spaces, a cinema screen and a flexible events space.
A fifth of the 1,500 homes planned – which includes 600 homes at the former Shell headquarters – would be affordable. And a reinvigorated business centre would offer a 'collaborative space' for businesses, start ups and entrepreneurs.
A new mobility hub would 'centralise' car parking at the Civic, offering electric vehicle charging and cycle hire. Existing buildings would be refurbished and new shops built with the aim of creating a 'sustainable net zero town centre'.
Most of the site, which currently accommodates approximately 90 retailers and businesses, is surrounded by fencing and barriers which are shut at night. But the new masterplan aspires to create a night-time economy in the area.
The development masterplan, which was due to be given the green light by Manchester City Council on Wednesday (18 January), promises to celebrate the 'Garden City' heritage of Wythenshawe while offering office space for tech companies, with the Civic boasting a high-speed fibre broadband connection. It comes after the local authority aquired the long lease of the land last year.
What has been said about the plans by Manchester City Council and politicians?
The town hall submitted a £20m Levelling Up bid for the plans in the summer of 2022. It is hoped that the redeveloped civic centre will be a 'catalyst for local growth'.
Labour councillor Gavin White, who is executive member for housing and development at the council, said: "It's not an understatement to say that this is a unique, once-in-a-generation opportunity to invest in Wythenshawe's Civic Centre and create lasting change and benefits for these communities. Since the council acquired the site last year, we have ensured that we have kept up momentum to bring forward development quickly, consulting with local people and submitting a £20m Levelling Up bid to Government.
"Through this development we have a chance to deliver an enviable focal point for Wythenshawe, attracting new business that will support employment growth – and expand the job opportunities into new sectors – alongside quality affordable housing, which will also attract new residents to the area. It's important we keep up the impetus to deliver this scheme and we will be working to bring a development partner onto the project later this year who will help drive the development and bring this really exciting project to fruition."
The investment proposals were 'broadly positively received' during a public consultation which took place late last year, according to the local authority. However, some changes have been made in response to the feedback.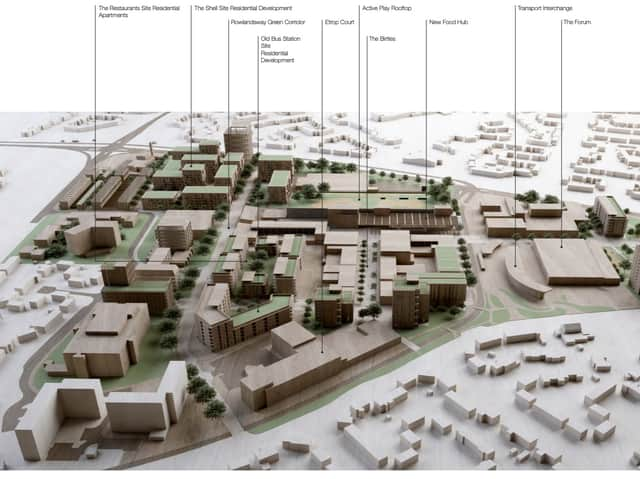 The council has confirmed the site will still be known as Wythenshawe Civic and that there will be space for the TSB and Halifax bank branches to stay. A pop-up 'digital inclusion garage' will also be created in an empty shop as part of a strategy to support local people with training opportunties with long-term education opportunities to be offered in the new culture hub at the old Coop.
The town hall said 'adequate' parking would be provided as well as investment to encourage sustainable forms of active travel such as walking and cycling. It follows feedback during the consultation which 'welcomed' centralising car parking at the Civic by turning the multi-storey car park into a mobility hub.
The framework also identifies six council-owned plots of land around the Civic which would be used to build housing including the former Shell headquarters, the old bus station and the Rowlandsway offices as well as the Birtles in the civic centre itself. The final proposals have also been amended to account for Wythenshawe Forum's aspirations to extend the gym and the swimming hall.
A development partner will be procured later in 2023. The council is awaiting the outcome of the Levelling Up bid submitted to the government last year.
What did people say in the consultation and what has been said about it?
In total, 279 people responded to the online consultation with 90% strongly supporting the proposals, according to a council report. However, the Green Party said the consultation did not target people who are 'digitally excluded'.
Manchester Green Party leader Astrid Johnson, who is a councillor for Woodhouse Park ward in Wythenshawe, said: "We are extremely pleased about the proposed redevelopment of Wythenshawe Civic Centre. Residents in Woodhouse Park have been crying out for this, as a lack of youth provision and night-time economy in Wythenshawe are topics that come up frequently for us on the doorstep.
"However, we are concerned about how this consultation was managed. While Wythenshawe has a population of about 110,000, the consultation was largely targeted at people who are online and was only open for four weeks, with in-person consultation lasting just one week.
"This neglected the large number of people in Woodhouse Park who are digitally excluded for one reason or another. Only 279 people responded as a result, despite our team contacting 7,500 households individually to encourage them to respond.
"The responses to the consultation reflect the desire to keep the ethos of the Garden City alive by making the new Civic Centre a green and well-planted space. There is a high demand for truly affordable housing.
"Generations of families have been living in Wythenshawe, and we want young family members to be able to settle in the area. For that reason, we must prioritise new housing for local residents, and make sure the redevelopment includes a high quota of much-needed social housing."
The consultation included a week long drop-in event at an empty shop in the town centre with laptops provided for people to give their feedback with staff available to help members of the public who were not confident using IT.