Street harassment & public transport 'still worry women in Manchester'
As this week marks six months since Sarah Everard was murdered, we look at how Greater Manchester is working on a pioneering strategy to tackle gender-based violence.
Watch more of our videos on Shots!
and live on Freeview channel 276
Visit Shots! now
Six months ago this week, the abduction of London marketing executive Sarah Everard shocked the nation and triggered an enormous debate about women's safety.
There were a series of protests about gender-based violence in the wake of Ms Everard's murder.
Months on, the issues raised by the case remain as relevant as ever, with a new survey showing many women still do not feel safe walking the streets.
As the authorities in Greater Manchester work on a pioneering long-term strategy to tackle gender-based violence, they say this is also in line with the experiences of women in the city.
Sarah Everard - a case which appalled a country
Ms Everard, 33, disappeared while walking home after a night out with friends.
Her remains were found in woodland near Ashford in Kent a week later.
Wayne Couzens, a Metropolitan Police officer with the Parliamentary and Diplomatic Protection unit, pleaded guilty to her kidnapping, rape and murder. He will be sentenced on 29 September.
The case prompted a huge wave of anger about women's safety on the streets, with vigils for Ms Everard taking place in cities across the UK.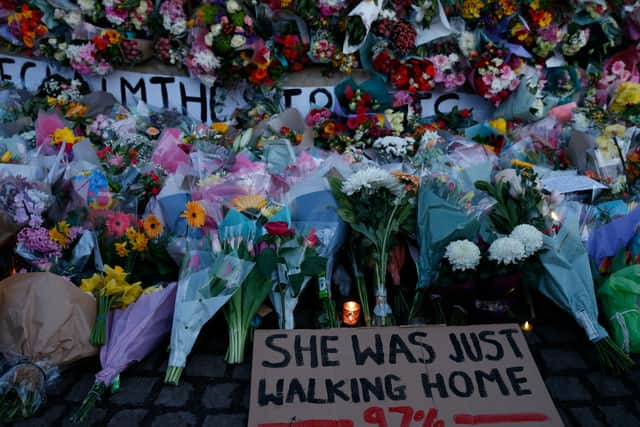 The Met Police found itself at the centre of more controversy after its decision to break up a large vigil on Clapham Common under Covid-19 regulations was heavily criticised by leading politicians.
What has the latest survey found?
Six months on from Ms Everard's abduction, Grazia magazine has prepared a report which shows that many women feel very little has changed.
Its nationwide research suggested as many as 48 percent of women do not feel safe.
In the last six months, 48 percent of women have felt nervous about someone walking behind them, 29 percent have been worried about someone driving slowly past them, and over a quarter (26 percent) have received unwanted male attention from a stranger.
As many as 23 percent have felt frightened while at home alone and 21 percent have felt threatened while walking outside at night.
More than one in five women (22 percent) have been wolf whistled at during the last six months, while 21 percent have been cat called.
Meanwhile, 21 percent have found themselves being approached by someone in the street, despite giving no indication that they wished to have a conversation.
And shockingly, 17 percent have felt threatened on the street in broad daylight, while one in ten women (12 percent) have received sexist abuse from a stranger.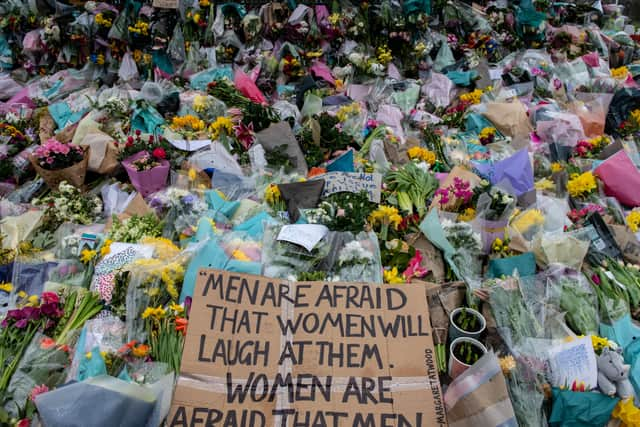 All this comes despite the fact that 77 percent of both men and women questioned agreed the tragedy was a defining moment in terms of the conversation around women and safety and 37 percent of the men surveyed said that since Ms Everard's murder they have thought about or researched ways to make women feel safer on the streets.
This has also had a direct experience on how women are having to act in order to keep themselves safe.
During the last six months following Ms Everard's death, three quarters of UK women have felt more aware of potential danger during the evenings.
Half have chosen to stick to walking along main roads only, 38 percent deliberately put their phone away so they're not distracted, and just over a third (34 percent) always walk home with a friend.
What is Greater Manchester doing?
In the light of the killing of Ms Everard Greater Manchester announced it was publishing proposals for a comprehensive strategy to combat violence and abuse against women and girls.
Since then it has been speaking to people about what should be included.
The authorities have now released a statement explaining where the work is up to on the landmark document.
And concerningly the initial results seem to back up the results of Grazia's report, with safety on the street and when using buses, trains and trams key worries for women in Manchester.
Bev Hughes, deputy mayor of Greater Manchester for policing, crime, criminal justice and fire, said: "Over recent months, the Greater Manchester Combined Authority (GMCA) has conducted a full public consultation on our draft Gender-Based Violence Strategy, including direct engagement with women with lived experience, women's groups, voluntary organisations and professionals.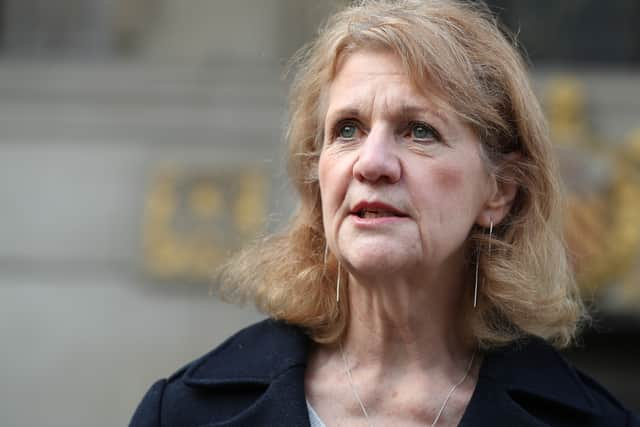 "Detailed responses were received from these professionals and groups, plus individual members of the public, and GMCA is now taking on board the feedback as we finalise the strategy.
"Key themes to emerge so far include worries about safety and fears of harassment on our streets and on public transport.
"This will form an initial focus of our work in this area once we have launched the final strategy in the autumn."
What was in the initial strategy?
When it was announced back in March, the Gender Based Abuse Strategy proposed taking a whole system approach to tackling the problem.
This ranged from looking at how men and boys think about and treat women and girls and how services can improve to overhauling areas such as the criminal justice system, health services, educational establishments and housing providers with a gender and trauma-informed approach.
Some of the stand-out policies in the strategy included:
• The establishment of a new Gender Based Abuse Board taking as its first task a comprehensive review how domestic abuse cases are managed by Greater Manchester Police (GMP) in the wake of a very critical inspection.
• An emergency contact system for passengers using public transport to alert the police discreetly if they are concerned for their safety or that of others.
• Public Space Protection Orders to protect women and girls from harassment and abuse.
• Supporting the Reclaim the Night campaign, which raises awareness of violence against women and girls through an annual march across Greater Manchester and builds community support for weeks of action against gender-based abuse.
• A public campaign on what is sometimes called 'low level' harm e.g. wolf-whistling, catcalling, stalking and harassing women in public spaces and verbal abuse on the basis of appearance, dress and sexuality.
There is also interest in whether the police in Greater Manchester could record misogynistic hate crimes in the way that racist and homophobic offences are currently recorded.
Stark and shocking figures on gender-based abuse and violence
The authorities released some sobering statistics when the strategy was unveiled earlier this year.
In Greater Manchester, 36% of all violent crime reported to the police involves domestic abuse.
While 80% of the domestic abuse cases that are prosecuted in Greater Manchester results in a conviction - higher than the national average - it represents only about 1 in 13 incidents reported to the police that are successfully prosecuted in England and Wales.
One in four women in the UK will experience some form of sexual assault or domestic abuse in their lifetime, while four in 10 are estimated to suffer harassment in the workplace.
What has been said about the latest research?
Speaking about the nationwide survey, Grazia editor Hattie Brett said: "Six months on, while it's positive to see men actively wanting to be part of this conversation and considering ways to make women feel safer, the statistics around women's actual experiences are still shocking.
"No one should feel unsafe walking home. Whilst conversation continues to be crucial, we now call on the authorities to listen to the groundswell of support for systemic change that will make women safer."