Brits visiting beauty spots as temperatures rocket towards a record 40C have been warned not to throw food into lakes after hundreds of fish died from infections.
One fishing club alone has reported around 400 fish to have died since March, with experts blaming parasites and bacteria that had infected the fish.
Distressing photos show swollen and discoloured fish found by Ramsbottom Angling Association (RAA), near Bury, after being infected.
Tests conducted with Environment Agency officials found parasites and bacteria had been infecting the fish in Clarence Lido, a beauty spot in the town.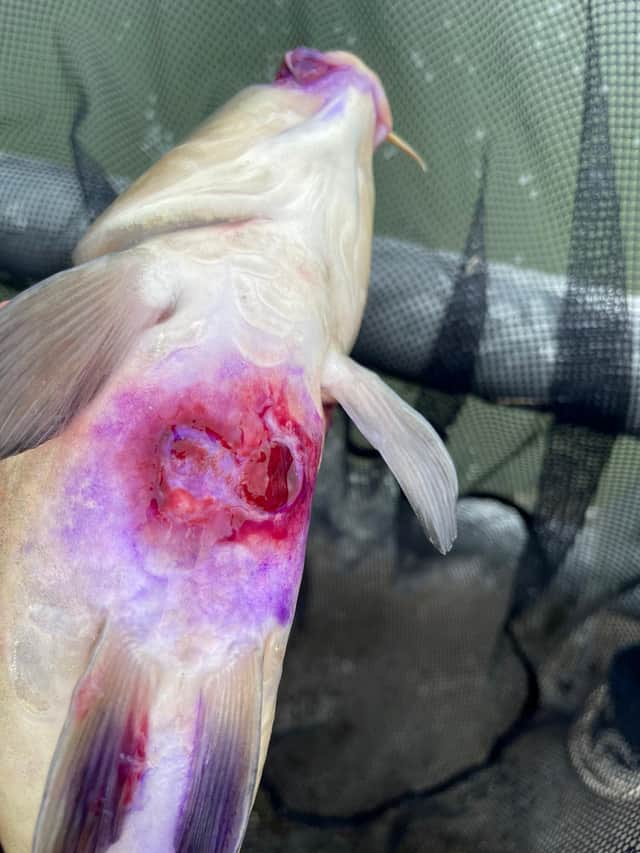 The cause of the mass die-off was put down to an algae bloom beneath the water, which was caused the fish's gills to swell, leaving them stressed and prone to disease.
Vice chairman Colin Bradshaw said the club, which has around 300 members, had spent £2,500 restocking the lake with new fish after their mirror carp were particularly hit.
And he is now urging visitors not to throw bread and other food into still water a its nutrients create an 'ideal breeding ground' for the marine plant to bloom.
He said: "We're all for people feeding bread with their children but what we're seeing its part of the joy for families and young children but what we're seeing is some people throwing in excessive amounts.
"We've come across people throwing 10 loaves of bread in, some people throwing rice in, and its this that we're trying to get on top of.
"There's a lot of people who just don't understand that what seems to be a very innocent thing to do, the problems it can cause."
An Environment Agency spokesperson said anyone who sees a fish in distress should call its hotline.