Why Manchester Tech Festival is bringing thousands of people together to celebrate a cutting-edge industry
The not-for-profit event is made up of a week of free events which will take place in October.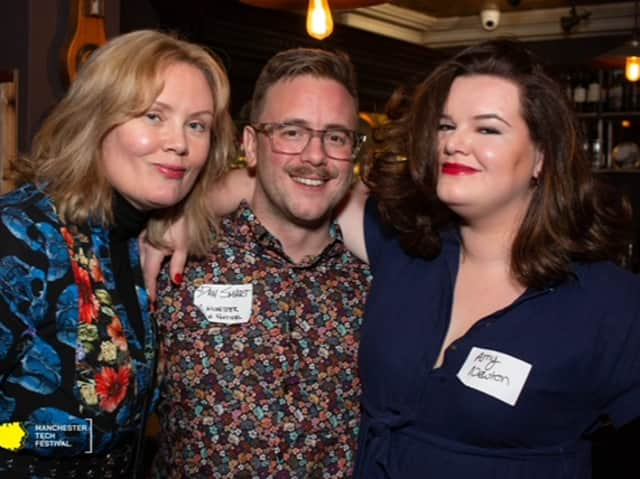 Manchester Tech Festival founders Naomi Timperley, Dan Smart and Amy Newton
Thousands of people will come together in Manchester to celebrate the city's tech sector and community as a high-profile festival for the industry takes place for the first time.
The event is the brainchild of three leading figures in the tech sector who are also proud to fly the flag for diversity and inclusion in the industry.
The festival will involve more than 40 free events including a conference, meetups, debates and social events.
What is Manchester Tech Festival and when is it?
The first Manchester Tech Festival will take place from Monday 17 October to Friday 21 October.
The dozens of free events the thousands of delegates who are expected to attend can take part in includes meetups, popups, lectures, hackathons, discussions, debates and socials.
There will also be a two-day speaker-led exhibition and conference held at Manchester's iconic Victoria Baths.
Victoria Baths Credit: Getty
Organisers hope software engineers, start-ups and scale-ups, investors, product owners, practitioners and others involved in tech will turn up for the festival to help people and organisations learn, create, thrive, and ultimately shape Greater Manchester's tech scene.
The team says it wants Manchester Tech Festival to examine how the city-region's tech community can achieve its goals through shared experiences, highlighting successes and failures, while showcasing what it's like to be part of one of the UK's most vibrant regional hotspots for tech.
There will also be opportunities to hear from and network among some of the city-region's biggest and most innovative names within the sector.
Who is putting together Manchester Tech Festival and why have they created it?
The festival has been founded by Amy Newton, Dan Smart and Naomi Timperley.
Amy runs a diversity and inclusion consultancy for the tech sector, previously worked as a tech recruiter and also has a decade of experience of organising events.
Naomi works in growth and innovation helping start-ups get to the next level and has been named one of the UK's most influential women in IT, while Dan has 20 years of experience in the industry and is an ambassador for the Manchester tech community.
Amy says she hopes the team gives a rather different impression of an industry which can sometimes have a perception of being dominated by so-called "tech bros".
She said: "Manchester Tech Festival is being run by two women and a gay man. From a diversity perspective we're putting our money where our mouth is.
"Two-thirds of the organising team are LGBTQ+ and two-thirds are women. That's very different to most tech festivals. From the outside looking in it can seem that the people with a platform are very often straight, white and male.
"This has just happened very organically because our networks have always been like this.
"There's a lot of hot air talked about diversity and inclusion but you just need to look at our speakers' list to see we're going to be very different to that."
Amy says Manchester has many of the things needed to put a high-profile tech festival on, with grass-roots groups, networking and community infrastructure for those working in tech.
However, she says the Covid move to working from home at least some of the time makes it more important to put on events where everyone in the field can come together.
She said: "We're now in this new hybrid way of working and there are an awful lot of people not getting those watercooler moments which can spark ideas or having those face-to-face conversations which make you think of something or help you realise where a project has gone wrong.
"More than ever there's a need to come together as a community and share that while really building on what we've done before."
Amy says the organising team also wants to create links between different parts of the tech sector so they can get to know each other.
It is also very important for the organisers that Manchester Tech Festival is an endeavour being created by and for the city's tech community.
Amy said: "Our mission is to establish an annual festival that represents Manchester's true tech self. Manchester Tech Festival is the people's festival.
"We want to give a voice to everyone in Greater Manchester's vibrant tech scene, showcasing that it's our time to reign."
What else has been said about the tech festival?
The tech festival has put together a high-profile list of partners and confirmed speakers including Morson Group, MoneySuperMarket, Booking.com, BJSS and Venturi, with Oscar Technology stepping up to be headline sponsor.
One of the partners said it is vital to bring more people into the sector as it is expected to grow significantly over the next few years.
Ged Mason, CEO at Morson Group, said: "Manchester Tech Festival will celebrate everything great about the tech sector right on our doorstep.
"Greater Manchester's tech scene is one of the best in the world, yet the sector faces an increasing skills shortage that's only been accelerated further by the pandemic, and this is coupled with the thousands of new roles expected over the coming decade.
"The festival is a unique opportunity to connect, collaborate and inspire tomorrow's tech innovators.
"As a family-formed talent specialist with our roots firmly anchored in Greater Manchester, it's important that we support such programmes.
"We've hundreds of live tech vacancies in the region and beyond, with our expert talent teams supporting tech candidates and clients in capitalising on today's agile jobs market.
"I'm looking forward to an inspiring week of events as we come together with our peers to build inclusive futures."