Why is the 'worst cold ever' going around? Why colds and flu may be worse in winter 2021 after Covid lockdown
Has our immunity to colds and flu been impacted by Covid lockdowns? We ask health experts.
Watch more of our videos on Shots! 
and live on Freeview channel 276
Visit Shots! now
Colds and flu are usually more prevalent during the autumn and winter months, with many already experiencing sore throats, runny noses and coughs, which some have called 'the worst cold ever'.
The last 18 months have seen people distancing themselves from others, wearing face masks and regularly sanitising hands due to the Covid pandemic.
But with restrictions having eased and people now mixing more on a daily basis, has our immunity to colds, flu and other winter viruses waned?
'Influenza is one to watch out for this winter'
He notes that not only is the immune system "incredibly complex" and our understanding of it "still limited", but "we have never had a year like the past one characterised by a drastically reduced level of spread of infectious diseases in general".
Although Professor Michaelis says he "would not expect a strongly increased general susceptibility to infectious diseases", there are particular concerns this year, including "getting the flu vaccine right".
This is because the accuracy of the predictions regarding influenza viruses - which cause the flu - may be affected by the recent low level of influenza virus spread, and as a result the flu vaccines may be less effective than they normally are.
He also adds that the last 18 months "have reduced the ability to accurately predict which influenza virus variants will cause the next winter outbreak".
Dr Yasmin Razak, Medical Advisor to independent healthcare management app myGP, notes that a less effective vaccine means "a higher uptake is necessary to support those who are either at risk or not eligible for a flu vaccine".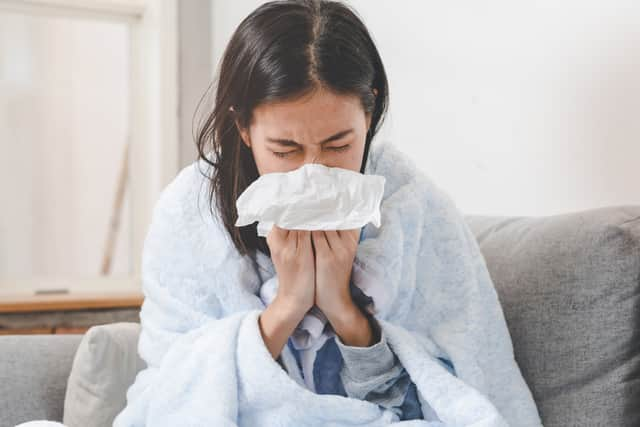 Prof Michalis explains that infection with common cold viruses does not result in lasting immunity, whereas if you have been infected with an influenza virus "you will normally be protected for a long time against this particular virus and related strains".
However, he elaborates that the reason we need new flu vaccines every year is because influenza viruses continuously change and new variants emerge that can "bypass pre-existing immunity" provided by previous strains and vaccines.
Dr Anam Ashraf, GP at digital healthcare provider Livi, also highlights the risk of flu, explaining that "influenza is one to watch out for this winter" due to "the lockdowns causing lower levels of influenza in the community".
Dr Ashraf adds that "while we have all been focused on stopping the spread of Covid, our immune systems haven't been exposed to the mix of infections that they would normally have to contend with", including flu, which is spread through the droplets produced when we cough and sneeze.
"These can spread easily indoors and in warm environments with poor ventilation," Dr Ashraf adds.
In regards to the common cold, Prof Michaelis says "most of us have been in contact with many different pathogens over our lives" and he would therefore not expect "all immunity to disappear suddenly over a year or so".
Is RSV a concern this winter?
Prof Michaelis explains that due to Covid restrictions, there will be many toddlers who will have lived nearly two years without the normal exposure to infectious diseases.
In particular, there is concern that the number of children with severe respiratory syncytial virus (RSV)  may be particularly high, due to the fact that many children who would have normally been in contact with RSV last year may instead "experience their first infection this year", Prof Michaelis adds.
He notes that we may see "the impact of all kinds of infectious diseases on two cohorts of very young children instead of just one".
Prof Michaelis advises that if you want to avoid winter colds and bugs, you will have to avoid getting infected, with all the rules that we know from Covid restrictions, including social distancing, face masks, hand washing and ventilation also protecting us from other infectious diseases.
He also recommends getting a flu jab where possible and says if you are called in for a Covid-19 booster jab it will be "a very good idea to go and get it".