Why Andy Burnham is wearing the No1 bib in the Great North Run this weekend
The GM mayor has revealed how former rugby star Rob Burrow inspired his training.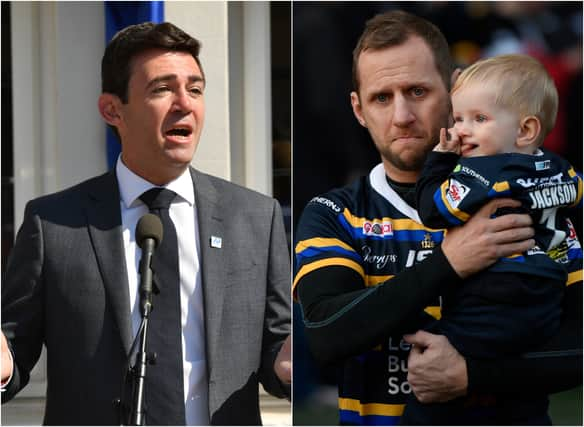 Andy Burnham will have the "incredible honour" of wearing the number one bib when he takes part in the Great North Run on Sunday.
The Mayor of Greater Manchester was offered the prestigious number by Great North Run founder Brendan Foster himself.
The Labour politician appeared on BBC Breakfast on Wednesday morning to share his excitement to take part in the 13-miler and revealed that he would be running for "the true King of the North, Rob Burrow".
Burrow is a former rugby league star who was diagnosed with motor neurone disease two years after retiring from the game.
The sportsman was born in Pontefract, West Yorkshire and spent his career playing for Leeds Rhinos.
Burrow is now backing a £5 million charity appeal to build a new Motor Neurone Disease Centre in Leeds.
In the interview, Mr Burnham recounted how a documentary on the rugby star had moved him to tears, prompting his picking of the charity.
He said: "I was sitting watching it crying my eyes out and I thought, what do I do after that?
"I had to go out for a long run to clear my head and Brendon had asked me to do the race, so I thought I better do some training.
"It was when I was on my run the penny dropped. Brendon had asked me to wear number 1 for the race and I thought, hang on, I've got to do this race for the true King of the North, Rob Burrow, and that's what I'm doing."
This year marks the 40th anniversary of the Great North Run, which was founded in 1981.
More than 57,000 runners will take part in this year's event with events starting from 9.15 am on Sunday, September 12.