Manchester is set to see below freezing temperatures as the whole of the UK is expected to be hit by a cold snap.
Many places in the UK are forecast to experience wintry showers and heavy snow in some places.
This is a stark contrast to one of the milder Januaries the UK has experienced.
WXCharts show that their is a potential of snow in some parts of the region, however more central places across the UK will see the brunt of the snow.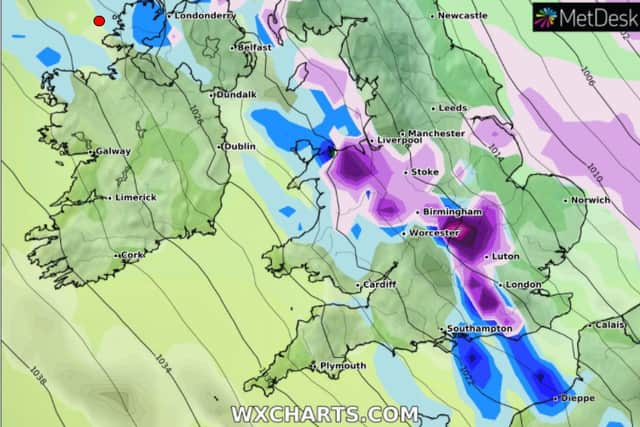 According to Met Office weather, the likelihood of snow in Manchester is low.
Tonight
Hill fog will start to develop overnight, however there will be breaks that make way for frost in some areas.
Temperatures are expected to stay largely above freezing. However, temperatures may drop as low as -2°C in other areas.
Tuesday
Tuesday will see another gloomy start to the day with cloudy skies across the region.
The day will feel rather cold, but will be mostly dry with the odd spot of drizzle in some places.
Temperatures are expected to hit a maximum of 6°C.
Outlook for Wednesday to Friday
Wednesday will be mostly cloudy, with winds picking up as the day progresses.
There will be some rain pushing into Wednesday night.
Thursday will be windier with sunny spells coming through and a few shower throughout the day.
Friday will be drier but cloudier.
UK long ranger weather forecast
(29 January - 7 February)
Northern areas will see wetter and windier conditions at the start of this period, with southern areas seeing drier and cloudier weather.
Rain will push southeastwards come Saturday, however brighter spells will quickly follow.
For the rest of January more showers and wind will travel north hitting Scotland. Areas south and southeast are likely to remain dry.
Temperatures are to be close or slightly milder than average for this time of year.
February will deliver more unsettled weather to northern areas, and southern areas will see more settled conditions.
As the period progresses there is a high chance of more widespread unsettled conditions.