After getting a glimpse of spring, the poor weather has quickly come to banish any sunny memories.
With the weather quickly deteriorating in recent weeks the Met Office has issued three weather warnings for strong winds in parts of England and Ireland.
The Met Office also released a snow weather warning for Scotland, however, this has since been reduced.
So, what is the weather forecast looking like for Manchester tomorrow?
Here's a full breakdown of the weather warnings in place across the UK, and what the Met Office has said on the matter.
What is the weather warning for Manchester?
There are weather warnings in place across parts of England and Ireland for wind.
The yellow weather wind warning in place for England covers parts of Greater Manchester including Wigan and some of Trafford and Bolton, where high winds can be expected and possibly some hail showers.
The weather warning is in place from 8pm on 6 April to 5am on Wednesday 7 April.
Will it snow in Manchester?
Despite weather experts predicting a cold snap for parts of the UK, there is no snow forecast for Manchester or the surrounding areas.
There will however be strong winds and rain throughout with more unsettled weather well into the April period.
What does a yellow weather warning mean?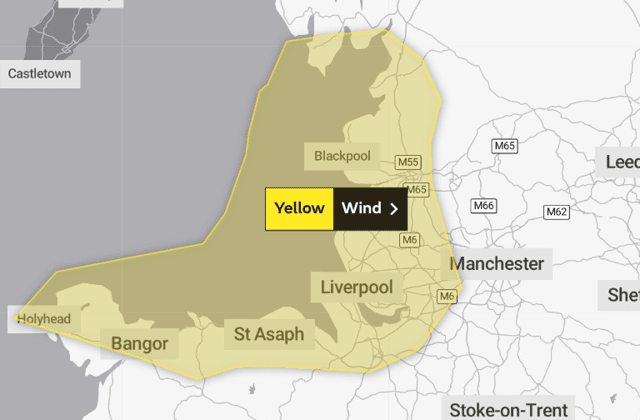 Yellow weather warnings can vary depending on the type of weather and the severity of it.
Usually yellow warnings are mild but can be quite severe.
In this instance, the Met Office warns that people may experience the following due to yellow wind warnings:
The possibility of delays to road, rail, air and ferry transport 
Delays for high-sided vehicles on exposed routes and bridges likely 
Some short term loss of power and other services is possible in a few locations
What is the weather forecast for tomorrow?
The strong gales are expected to pick up tonight, (6 April) and will continue long into the night with longer spells of rain all throughout.
Temperatures are expected to hit lows of 3°C.
Tomorrow will begin cloudy with strong winds for most parts. There will be coastal gales and showery outbreaks of rain also.
Moving into the afternoon winds will ease with some scattered showers throughout, and the possibility of some sunny spells breaking through.
Temperatures will feel cold, with maximum temperatures being 9°C.
What is the weather forecast for Manchester this week?
Outlook for Friday to Sunday
As we move into the weekend Manchester will remain cold, but the worst of the unsettled weather will have passed with some sunny spells breaking through.
Both Friday and Saturday however, there is a risk of overnight frost and showers.
As we move into Sunday the weather will turn milder, and be average temperature for this time of year. The day will remain cloudy with some rain throughout.