The bank holiday weekend is almost here and many will be making plans on how to enjoy their three day weekend. The Met Office have now shared their forecast for the next few days which covers Monday ,May 29.
Manchester will be preparing for a long weekend and with warmer weather on its way, it's the perfect time for a barbeque. May is set to end on a high with temperatures sitting at around 20°C for the next week.
It looks like the summer is finally upon us and the warmer weather is here to stay. Most of the UK is set to bask in sunshine and higher temperatures over the next few weeks.
However, the UK is not set for an intense heatwave that has been reported by some media outlets. Neil Armstong, the Met Office's chief forecaster, said: "If you have heard media hyperbole that a heatwave driven by an African plume will bring intense heat to the UK in the next few days you are going to be disappointed – this isn't true.
"However, if you are looking forward to a spell of largely fine, sunny and warm conditions across the majority of the UK, then you are going to be in luck." Here is the Met Office weather forecast for Manchester during the spring bank holiday (Monday, May 29).
What is the weather forecast in Manchester for bank holiday monday?
Outlook for Friday, May 26 to Sunday, May 28
High pressure will ensure the weather stays dry on Friday, with high temperatures of 20°C and lows of 12°C. It will mainly be cloudy all day with a few outbreaks of sunshine at around 10am.
On Saturday, Mancunians can enjoy the sunshine with high temperatures set to reach 21°C and lows of 11°C. The day will begin to get overcast by around 1pm, with sunny spells expected over the rest of the day.
Sunday's weather is set to be a little cooler with a completely cloudy day. High temperatures will reach 18°C and lows of 12°C.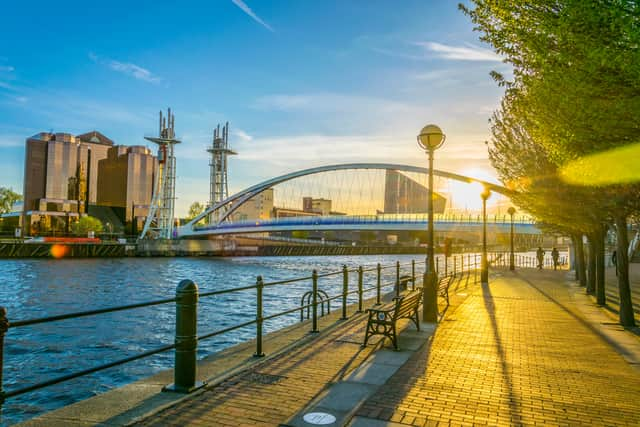 The Met Office has said it will feel warm with generally night winds, whilst warning that the nights will be quite chilly.
Outlook for Monday, May 29
Monday will be overcast, with the sun hopefully making an appearance by late afternoon. Temperatures will reach highs of 17°C, with lows of 10°C