Veteran Spike Milligan, 81, takes on 14,000ft skydive for military charity
Spike said his "fantastic" skydive, near Cartmel, Cumbria, on Saturday was his first since he put aside his hobby in 1987.
Watch more of our videos on Shots!
and live on Freeview channel 276
Visit Shots! now
An Oldham military veteran and self-confessed "adrenaline junkie" has completed a skydive from 14,000ft at the age of 81.
Tony 'Spike' Milligan, who last jumped out of a plane over 35 years ago, said his only complaint with the death-defying leap was it finished "too quickly". The ex-Royal Artillery sergeant instructor, who served in Libya, Indonesia, Borneo and Germany, was "fired" during trials for the parachute regiment due to his bad eyesight.
But that didn't stop the extreme sports fan from taking to the skies after his 12-year service career ended, as he went on to make 61 jumps with a commercial company.
Spike, who completed his hair-raising descent on Saturday 8 April to raise money for an armed forces charity, said it felt "magic" to dive out of an aircraft once again.
He said: "I was a little bit apprehensive as I haven't jumped from that level before - if you weren't you'd be some kind of idiot. But when the plane doors opened it was magic. Then when we went out, we did a barrow roll, and you could see the plane going away. It was a great experience and over too quickly."
He added: "I am a little bit of an adrenaline junkie. I like what some people would describe as extreme sports – the sports that give me a buzz."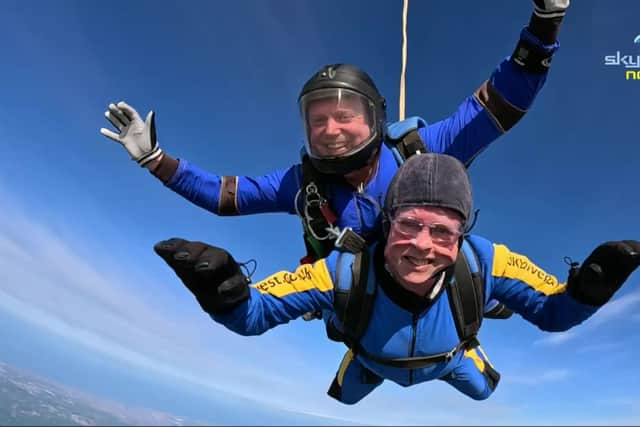 Dad-of-two Spike began his time in the army in 1960 and enjoyed postings around the world until he ended his career in 1972. In 1963, he was sent to Borneo where commonwealth forces fought the Indonesian army in "sneaky" jungle clashes over Malaysian independence.
He later went on to Guiana, a former British colony in South America, and then to Libya, in North Africa, at the start of Colonel Muammar Gaddafi's reign.
Spike said he had had ambitions to join the parachute regiment only to be let down by his eyesight during the gruelling selection process.
But luckily, this hadn't stopped him from achieving his freefall dream later in life. He said: "They put me through two weeks of hell on the para course and then told me my eyesight wasn't good enough.
"I've worn glasses since I was six, and I took them off for the course. But I found out there was a centre run by a man I went to school with, and instead of doing just one, it ended up being 61."
Spike's said his "fantastic" skydive, near Cartmel, Cumbria, on Saturday was his first since he put aside his hobby in 1987. He said about the jump: "There was a 30 to 40 seconds freefall. Then you get to see all the lakes and across Morecambe Bay, which was absolutely beautiful.
"You could also see Lake Windemere and the hills. I would recommend anyone to do it. It was just fantastic. There is no age that is the right age."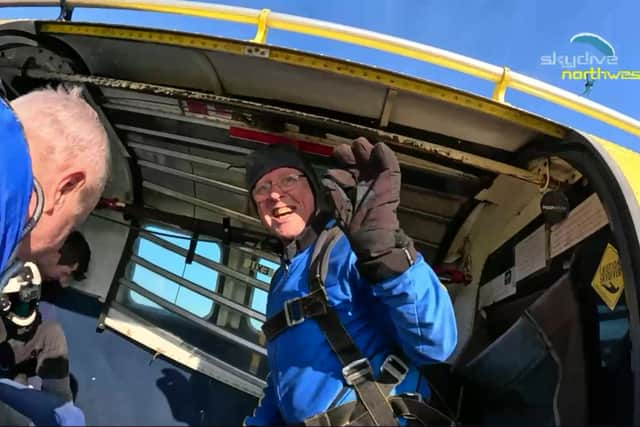 Spike raised over £600 for Outpost Charity with his sky dive, which supports serving personnel and veterans often suffering the effects of PTSD, through trips away.
He said about the charity: "It does these guys a world a good. They find it difficult to speak to medical specialists, like psychologists, but to another soldier, they open up. After five days they look like different people. All their stress has gone. I just wanted to do something for them. I can't run marathons anymore, but I can still obey the laws of gravity."