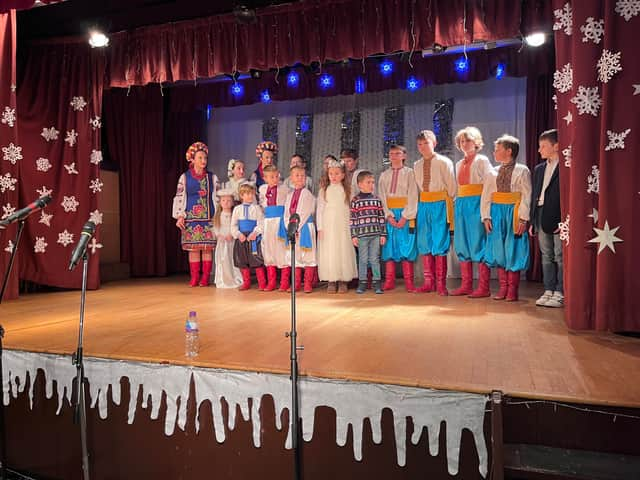 Christmas is usually one of the happiest times of the year, but this year, the war in Ukraine has cast a heavy shadow over what should be a joyous season, both for the Ukrainians at home and the millions who have fled to safety abroad.
Large parts of Ukraine are suffering daily through power, heating and water outages, as well as drone strikes and air raids. Streets that are normally filled with Christmas markets and locals enjoying a mulled wine or two are now empty, cold and dark. And those who are now living in other countries are facing their first Christmas away from home and the traditions that make this time of year so special to them.
While it may not compare to a proper Christmas at home, Ukrainians in Manchester are finding ways to mark the occasion and celebrate among their new found communities.
That is definitely the case at the Ashton Ukrainian Centre in Tameside, where Ukrainian refugees came together on 18 December with the existing Ukrainian community to mark the start of the season – St. Nicholas Day, or Svyatiy Mykolai in Ukrainian. It is this day, not Christmas day, when gifts are exchanged and children find out if they've been naughty or nice – St Nicholas is a precursor to Santa Claus, after all.
It is celebrated here every year, with children performing traditional Ukrainian folk dancing, singing St. Nicholas day songs and reciting poetry. This year, the relatively small community in Tameside has grown considerably, with dozens more families taking part.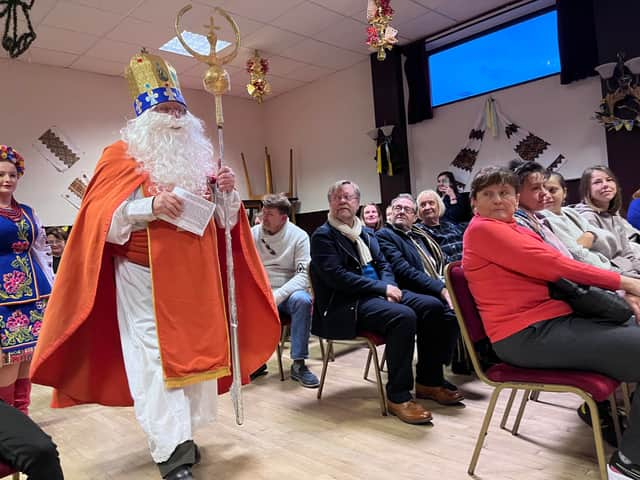 The head of the Ashton branch of the Association of Ukrainians in Great Britain, Stefan Wolosiansky, said that the arrival of new members has brought a new lease of life to the community, which has existed here since the 1940s.
He said: "As a community we've always celebrated with our children, but this year it's been special as we have got children and families from Ukraine due to the war. With the pandemic nearly over, it was the first time we were able to get together with our families and celebrate the occasion.
"I think, as a community, it has brought out more community spirit. It's shown that the people of Ashton remember, we are able to support Ukrainians, get them involved. For us, it's a big thing, a wonderful achievement."
Amid all the festive cheer, it's hard for these Ukrainians not to think about relatives back home and the kind of Christmas they would be having now if it were not for the war.
Natalia Zubarieva, 42, from Dnipro, lives in rented accommodation in Stalybridge with her 12-year-old son. Adjusting to life in the UK has been tough for them both. She recalled a recent trip to Blackpool on Bonfire Night, where her son became distressed at the sound of fireworks – a reminder of the war back home.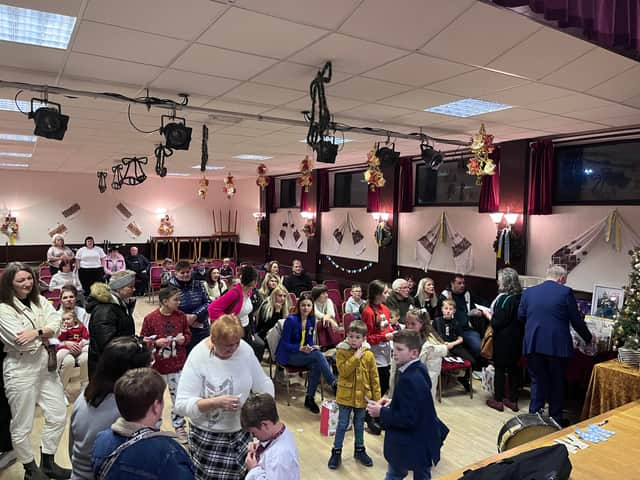 Her husband died from cancer last February before the war and her only relative still in Ukraine is her mother. She said: "It's very emotional because we speak every day, I check the air raid notifications, see if things are ok, not ok."
Instead of spending Christmas with family this year, she is celebrating with new friends, a group of Ukrainians that have found homes in Stalybridge and Hyde. They will gather at each others' houses and go for a walk in the park.
This is very different from her usual Christmases, not least because they will be celebrating two weeks earlier than normal. Most Ukrainians are Orthodox and follow the Julian calendar, so Christmas for them falls on 7 January.
Hanna Basko, 39, is originally from Kyiv but now also lives in Stalybridge with her 13-year-old daughter Safina. Unlike Natalia, she will be celebrating twice this year, both on 25 December and 7 January. She has been learning about English Christmas traditions, such as the food and carols, and while she has found all these new experiences interesting, just the thought of her family back home is enough to bring her to tears.
She said: "It's very hard. But I'm trying not to think about it. We usually go to my parents. My mum cooks 13 courses and we gather the whole family round the table and mark the holiday."
It is unlikely that her family will be marking Christmas in their usual way this year. Damage to critical infrastructure in Kyiv – where temperatures are now sub-zero – means that power cuts are frequent and often last days. In some areas, water supply and heating have also been affected.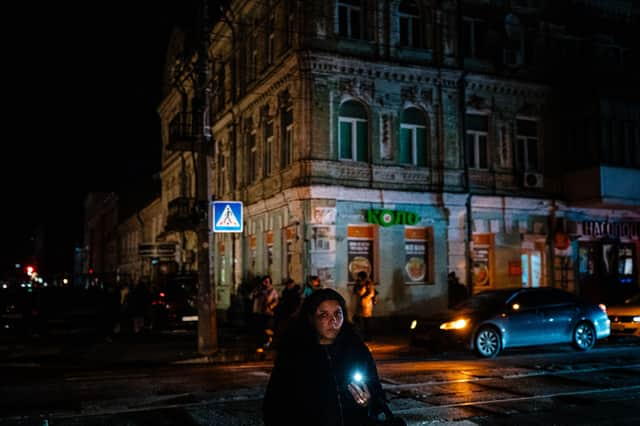 Hanna, 39, said: "My family are going to try and celebrate, but there's nothing there. It's really hard, they're trying to find at least some holiday spirit at this time, to do some of the things they do every year."
All both Hanna and Natalia can do is hope that Christmas 2023 will be better. Natalia said: "The right thing to say is that the war will be over and we will have victory, but I understand that is a very long process. I just want our neighbours to stop with the rockets, because it's really dangerous. I dream that people stop dying."
How Ukrainians celebrate Christmas
The date of Christmas is not the only thing that is different in Ukraine.
The highlight of the celebrations happens on Christmas Eve, 6 January when families get together for a traditional 12-course meal. The meal, which is entirely pescatarian and consists of 12 courses to represent the 12 apostles, can only begin once the first star has been spotted in the sky.
Some of the dishes you can expect to find on Ukrainians' dining tables include borshch (beetroot soup), varenyky (potato or cabbage-filled dumplings, usually served with fried onions and sour cream) and holubtsi (cabbage rolls filled with buckwheat and vegetables, steamed in a thin tomato sauce). Ceremonially, the most important dish is kutia – a sweet, porridge-like dish made from wheat berries, poppy seeds, nuts and dried fruit. It is often left on the table throughout the meal as a symbolic gesture to lost relatives.
Christmas day itself is for going to church and carolling, which will often continue throughout January. Some Ukrainians, predominantly in villages and rural areas, also celebrate the Old New Year, or Malanka.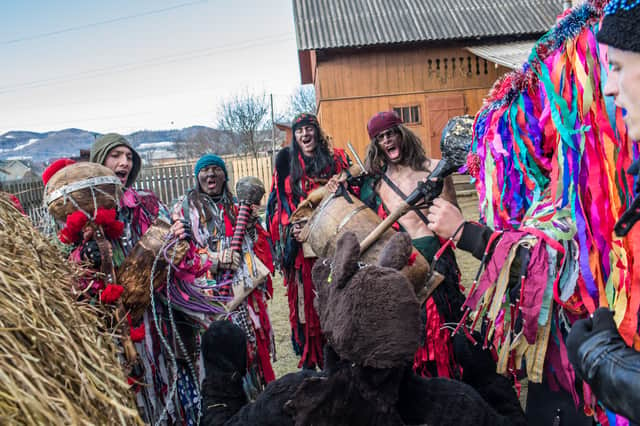 Celebrated on 13 January, the holiday has its roots in Slavic pagan tradition and is sometimes compared to Mardi Gras as it involves parades, singing, dancing and flamboyant costumes. It is also a popular holiday among Ukrainian diaspora communities in the UK, Canada and US, but nowadays it takes the form of a ball or formal party.
The Christmas season ends on 19 January with the Epiphany. In Ukraine, people will gather on frozen rivers and lakes for a traditional cold-water swim, which is said to help cleanse you for the new year, as well as improve health.