UCU Strike: staff at these Greater Manchester universities are going on strike with 18 days of action planned
Staff at four Greater Manchester universities will be striking throughout February and March over pay, working conditions and pensions.
Watch more of our videos on Shots! 
and live on Freeview channel 276
Visit Shots! now
University staff across Greater Manchester will be going on strike again as a major national dispute over pay, pensions and working conditions escalates with up to 18 days of industrial action planned.
The University and College Union (UCU) has announced the latest strike action will take place on 1 February with more walk-out dates to be announced . More than 70,000 staff members from 150 universities nationwide will be taking part.
This strike day will be UCU's fourth of the academic year so far. The previous three, which took place in November, came in response to a management decision to impose a pay increase below the rate of inflation at 3%, continuing a decade of below-inflation pay rises.
The other 17 strike days are:
Week 2 – Thursday 9 and Friday 10 February
Week 3 – Tuesday 14, Wednesday 15 and Thursday 16 February
Week 4 – Tuesday 21, Wednesday 22 and Thursday 23 February
Week 5 – Monday 27 and Tuesday 28 February and Wednesday 1 and Thursday 2 March
(No action week commencing Monday 6 March)
Week 6 – Thursday 16 and Friday 17 March
Week 7 – Monday 20, Tuesday 21 and Wednesday 22 March
Why is the latest UCU strike action taking place?
The 1 February strike will coincide with the Trades Union Congress' day of action based on protecting the right to strike, organised in response to the Government's planned anti-strike measures. The UCU will be joined on strike that day by the National Education Union (NEU), the Public and Commercial Services union (PCU) and transport unions Aslef and the RMT.
UCU members are demanding a pay rise sufficient to deal with the cost of living crisis, as well as an end to insecure contracts, such as zero-hour and temporary contracts, and what they call "dangerously high" workloads.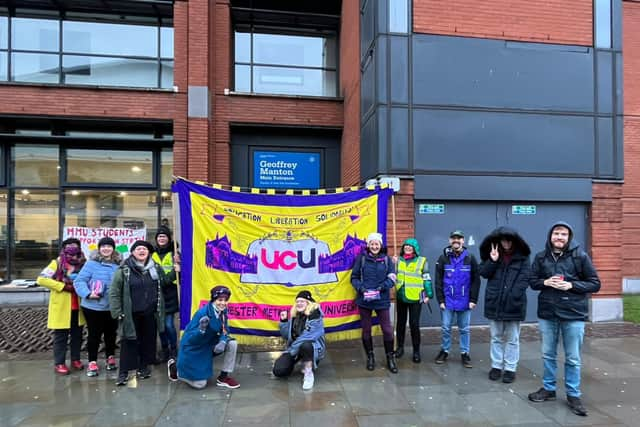 On pensions, the UCU is demanding that cuts be revoked and benefits restored. They say that, under cuts made last year, the average employee will lose 35% from their guaranteed future retirement income and that employees in the early stages of their career are set to lose hundreds of thousands of pounds.
Who will be striking in Greater Manchester?
Employees of four Greater Manchester universities will be on strike on Wednesday 1 February, but they will not all be striking over the same things.
Staff from the University of Bolton and Manchester Metropolitan University (MMU) will be striking over pay and working conditions, while staff from The University of Manchester and the University of Salford will be striking over pay, working conditions and pensions.
What has the UCU said?
UCU general secretary Jo Grady said: "Whilst the cost-of-living crisis rages, university vice-chancellors are dragging their feet and refusing to use the vast wealth in the sector to address over a decade of falling pay, rampant casualisation and massive pension cuts.
"On 1 February, 70,000 university staff will walk out alongside fellow trade unions and hundreds of thousands of other workers to demand their fair share.
"UCU remains committed to reaching a negotiated settlement, but if university employers don't get serious and fast, more strike action will follow in February and March."
What have universities and the Government said?
Speaking when the previous strike action was announced last year, The University of Manchester said it took very seriously concerns over pay, pensions and working conditions but also expressed reservations over the impact of industrial action on students. MMU said it was "disappointed" by the strike action and it continued to have constructive discussions with the union on a way forward.