Manchester leaders have urged train operator Avanti to make tickets available for people wishing to travel from Manchester to London for the Queen's funeral.
Avanti has yet to release bookable tickets for Saturday 17 September on the West Coast mainline services connecting Piccadilly and the capital, ahead of the funeral on Monday.
The Mayor has previously called for the operator to have its franchise removed if it does not restore more regular services between the two cities, after Avanti previously cut the timetable back owing to a shortage of drivers.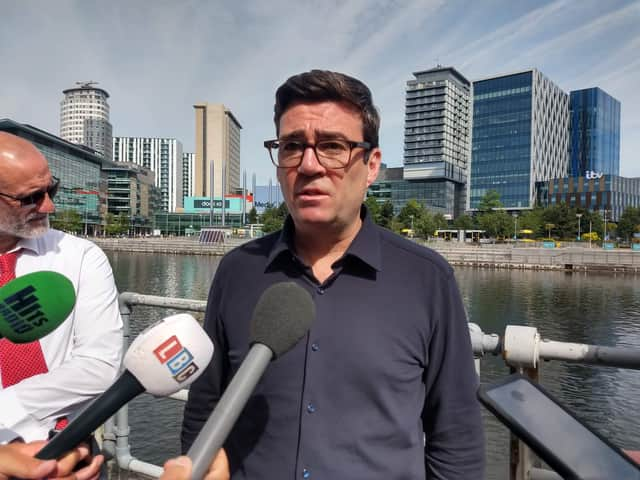 What did the letter say?
In the latest letter, the two politicians welcomed extra services Avanti is providing this weekend - but said they have 'serious concerns' that tickets have not yet been made available for booking on Saturday, a day when many people are expected to travel to London.
They also called for improvements in customer service after passengers complained about chaotic scenes at stations, with people struggling to board some very busy reduced rail services in the last few weeks.
The letter adds: "We understand that you are considering chartering services to carry passengers along the West Coast Main Line. Whilst it is clearly regrettable that these services are required, we would ask that information about these additional trains is provided to customers at the earliest opportunity.
"Given additional capacity is clearly needed, we also reiterate our request that you implement an immediate blanket declassification of the first-class carriages on your trains for this period and make those seats available at standard prices on the booking system.
"Those people who have been able to travel in recent days have reported many examples of poor service, such as short-notice cancellations; broken on-board equipment; and short-formed trains, preventing them from taking the seats they had booked. These defects are disappointing at any time but are unacceptable when so many people require urgent travel.
"We ask that you take urgent steps to address the above issues and ensure that there are sufficient staff on hand to help passengers during the coming period. We also reiterate our request for an urgent plan for the full restoration of the Manchester-London timetable."
What has Avanti said?
Avanti said today (15 September) that tickets have now been made available for Saturday trains and they are running four charter services a day between Manchester and London to provide additional capacity, along with 'prioritising the use of our longer trains where possible'. However services will not be de-classified.
They added delays in issuing the timetable were because strike action was originally planned for Saturday but has since been postponed.
For a full guide to public transport in Manchester this bank holiday, see our story here.