Parking at airports is always daunting, with prices that can reach hundreds of pounds over just a few days. And over Christmas, some airports like Manchester Airport increase the price for parking even more.
While a week of parking at Manchester Airport in January 2023 would land on £75, staying at the terminal car park between December 23 and December 30 this year will cost the average traveller £103, according to data by YourParkingSpace. This is a price increase of £28, or 37%, just over the Christmas holidays.
While Manchester Airport is far from the most expensive airport to park at around Christmas in the UK, it does see the fifth highest price increase in the country. Topping the list is London's Luton Airport, where parking at Christmas would cost an extra £73, from £56.99 to £129.99, compared to mid-January prices.
While parking at airports is known for burning a big hole in your wallet, it might be worth looking at alternative ways to get to Manchester Airport if you are heading off for a Christmas getaway. For example, a train from Manchester Piccadilly to the airport on December 23 could cost you as little as £2.80 and is only a 21 minute direct ride.
Other airports whose parking prices increase greatly over Christmas include London Heathrow, where prices hike from £148.80 to £217.30, and Bristol Airport from £116.99 to £150.99. Should you find yourself travelling from London City Airport, however, you're in luck as prices stay the same even over the holiday season.
Top 10 airports increasing parking fees over Christmas
Airport parking price increase between December 23 and December 30 compared to January 13 to January 20, 2023.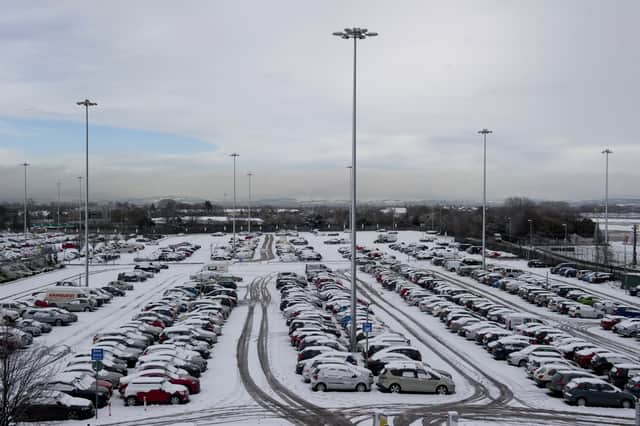 London Luton Airport - £73 - 128%
London Heathrow Airport - £68.50 - 47%
Bristol Airport - £34 - 29%
London Gatwick Airport - £32 - 19%
Manchester Airport - £28 - 37%
London Stansted Airport - £26 - 30%
Leeds Bradford Airport - £14 - 11%
Newcastle Airport - £12 - 17%
Glasgow International Airport - £7.80 - 11%
Exeter Airport - £7.40 - 10%