Manchester Airport: historical timeline as airport celebrates 85th birthday- including when it opened
Manchester Airport has been a key feature of transport in Manchester for 85 years now
Watch more of our videos on Shots!
and live on Freeview channel 276
Visit Shots! now
Manchester Airport this week marked its 85th birthday- and it's fair to say it has been through a lot in that time. Opening before the Second World War, it has grown to become one of the biggest transport hubs in the UK. 
Over the years, the airport has been used by more and more people to fly all over the world. With sights set firmly on the future, we take a look back at the history of the airport and how it came to be the vast site it is today. 
1928 - Barton, near Eccles, is chosen as the site of Manchester's new aerodrome. At the same time, Manchester City Council is keen to establish a municipal airport, so a temporary airfield is built in Wythenshawe
 1929 - Wythenshawe Airport opens for business
 1930 - Barton Aerodrome is completed. The aerodrome includes a control tower and large hangar (both of which still stand today).
 1934 - Discussions open with KLM on a Holland to North of England service. Barton Aerodrome is considered unsuitable for larger aircraft and the necessary improvements would be prohibitively expensive. As a result, land at Ringway, south of Manchester, is ear-marked for a new airport.
 1935 - Building work at Ringway commences
June 25 1938- Manchester Airport, known as Ringway Airport, opened. At the time the airport opened, King George VI was on the throne and Neville Chamberlain was Prime Minister. Preston North End narrowly missed out on winning the Football League while Manchester City were relegated – a stark contrast to their treble-winning exploits this year.
June 27 1938- The first ever flight from Ringway Airport departs. This was a KLM flight to Amsterdam.
1939-45 - On 1st September, the last scheduled aeroplane flies before the outbreak of the Second World War. Ringway Airport goes on to become a hub of wartime engineering activity, as an aircraft manufacturing centre for Fairey Aviation and Avro. Runway and airport facilities are enhanced with three new runways and ten new hangars. The airport also acts as a training centre for over 60,000 parachutists.
 1946 - Peacetime passenger services begin
 1947 - Passenger numbers triple to more than 34,000 a year
 1949 - Extended terminal facilities open in the converted wartime building
 1951 - The main runway is extended from 1,280 metres to 1,798 metres
 1952 - The airport starts 24-hour operations and now handles 163,000 passengers every year
 1953 - Sabena (Belgian Airlines) introduces the first scheduled service to New York
 1954 - The airport records its millionth passenger since the Second World War
 1955 - The first inclusive tour flight begins to Ostend
 1962 - HRH the Duke of Edinburgh opens the new £2.7 million terminal. The terminal is truly innovative; the first in Europe to incorporate a 'pier' system, in which passengers remain under cover until ready to board the aircraft.
 1969 - The runway is extended to 2,745 metres. This allows aircraft to take off with a full payload and fly non-stop to Canada.
 1974 - A new inter-continental pier, capable of handling Boeing 747s, opens for business. The new intercontinental pier features numerous innovations, including travellators, waiting lounges and air conditioning. For the first time, 'air bridges' connect passengers direct to the aircraft.
 1978 - 15 scheduled airlines operate flights to 37 destinations in the UK, Europe and North America. Over 100 companies operate at the airport, employing more than 5,000 people.
 1980 - For the first time, passengers numbers top more than half a million in a single month.
 1981 - The runway is extended by 244 metres to 3,048 metres, in order to attract long-haul flight operators.
 1987 - Passengers top 1 million a month for the first time
 1988 - Manchester Airport celebrates its Golden Jubilee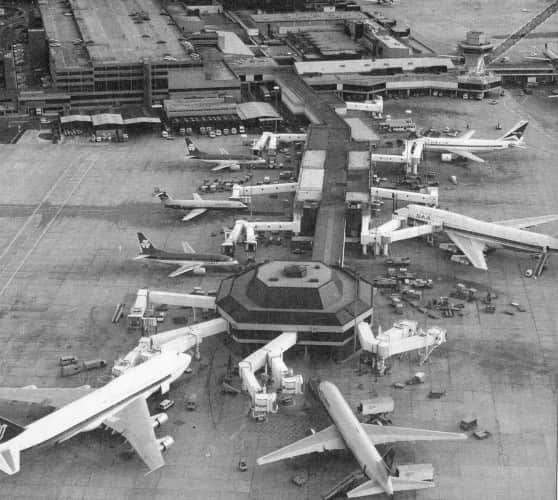 1989 - HRH the Princess of Wales opens the new Domestic Terminal. The new terminal includes dedicated check-in and car parking facilities.
 1990 - The airport launches its 'Towards a Better Environment' programme, aimed at minimising the airport's impact on the local community
 1991 - Manchester publishes its new 'Development Strategy for the year 2005', including plans for a 21st Century airport, designed to handle 30 million passengers a year by 2005, complete with proposals for a second runway.
 1992 - The Aviation Viewing Park opens
 1993 - Terminal 2 is opened by HRH the Duke of Edinburgh, doubling terminal capacity to around 20 million passengers a year. A new railway station is opened in May, providing direct links to many towns and cities in the North of England.
 1995 - Annual passenger numbers reach 15 million
 1997 - Approval is granted for the building of the second runway and work begins. The new runway opens in February 2001. Manchester is still the only airport outside of London with two full length runways.
 2000 - Work starts on the £60 million Integrated Public Transport Interchange, to include a new bus, coach and train station. It opens for passengers in 2004, giving passengers onward connections to many major UK cities. The Government also gives the go-ahead for a £289 million Metrolink tram line extension to the Airport.
 2001 - Manchester Airport completes the purchase of East Midlands Airport
 2002 - Manchester Airport welcomes athletes from around the world to the Commonwealth Games, hosted in Manchester
 2003 - Manchester Airport's bid to house one of the retired Concorde fleet is successful. The aircraft, G-BOAC, went on display in the Aviation Viewing Park in Spring 2004, before being moved to its new £1million home, the Concorde Conference Centre, in 2008.
 2005 - The airport handles 22 million passengers in a year for the first time
 2007 - Building work begins on a major refurbishment of Terminal One. Meanwhile, runway markings are changed to '05-23' from '06-24' to account for changes to the earth's magnetic field.
 2008 - The airport sees one of its busiest weeks as Zenit St Petersburg and Glasgow Rangers fans travel to Manchester for the UEFA Cup Final. Just a week later 25,000 Manchester United fans fly out to Moscow to see their team take on Chelsea in the UEFA Champions League Final. Manchester Airport marks its 70th anniversary on June 25th 2008.
 2009 - £80 million of terminal improvements are opened across the three terminals in July 2009. Shortly afterwards on the 22nd October, Emirates, officially opens a new luxurious lounge for its premium passengers and frequent flyers. In November, the airport begins to trial Imaging Technology, also known as body scanning, in Terminal 2.
 2010 – Manchester welcomed the A380, the world's biggest aircraft that now operates 3 daily flights between Manchester and Dubai.
 2013 - Manchester Airport celebrated its 75th birthday.
 2013 – MAG purchased London Stansted and became the UK's largest airport operator.
2013 – Manchester Airport's new control tower opened.
 2014 – Cathay Pacific launched a four times a week direct service from Manchester to Hong Kong.
 2014 – Manchester Airport Metrolink route launched.
 2015 – Manchester Airport unveiled a 10 year transformation programme: MAN-TP.
 2015 - Chinese President Xi Jinping visited Manchester Airport with David Cameron.
 2017 – Work commences on the Manchester Airport Transformation Programme.
 2018 - Manchester Airport celebrates its 80th birthday by releasing a special birthday video featuring Manchester poet Tony Walsh, AKA Longfella.
 2021 – Terminal 2 extension opens as part of £1.3bn Transformation Programme.
2023 – Manchester Airport celebrates its 85th birthday.