Manchester and the north of England are set to benefit from a £72 million injection of funding for upgrades. It is hoped the upgrade of the city's rail infrastructure will result in fewer delays and more reliable trains.
The announcement for the new funding was made today (May 25) at Manchester Victoria train station by rail minister Huw Merriman. He revealed what is the latest of 4 infrastructure upgrades which are hoped to improve passengers day-to-day journeys.
How Manchester commuters will benefit
The extra funding will provide a third platform at Salford Crescent station as well as track improvements across Manchester. It is hoped the extra funding will allow for improvements of the Manchester rail infrastructure to help reduce delays, bottlenecks and station overcrowding.
Manchester Victoria, one of the city's biggest train stations, will also benefit from the new investment. Extra entry and exit points will be added to platforms, making it easier for passengers to travel through the station during busier periods.
Transport Secretary Mark Harper said: "This investment supports our commitment to transforming journeys across the north by achieving much needed infrastructure improvements in Manchester. Today's funding, alongside major projects like HS2, the TransPennine route upgrade and Northern Powerhouse Rail, demonstrates our pledge to improving opportunities for passengers across the region and leaving a positive impact for generations to come.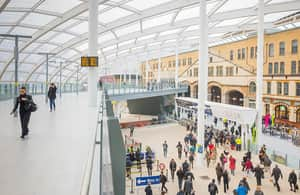 Mayor of Greater Manchester Andy Burnham said: "There is a massive opportunity to change rail journeys for people and businesses in Greater Manchester and the North for the better, and this infrastructure investment is a welcome next step to help make that happen. Through the task force and our trailblazer deal, we will continue working with the government and the industry to help shape the comprehensive package of improvements needed to transform rail travel and support our growing economy, so that we can create more jobs and homes."