Following a four-year battle, residents opposing a skyscraper dubbed the 'tombstone' and will contain 850 student flats in Manchester have claimed a 'victory', despite losing in court. The 55-storey tower on top of a car park off Oxford Road was approved in July 2021, but aggrieved residents claimed Manchester city council planning committee had been misled.
The judge dismissed these claims. Environmental issues were the centre of this court case, with possible exposure to contaminated construction dust, how often the crane would go over the car park, restricting their access and whether residents would be restricted access to their parking spaces, all being factors discussed.
Despite Mr Justice Fordham finding some parts of this case to be true, as a whole there was not enough evidence to overturn the approval decision and he ruled against the Macintosh Village residents. The residents' group had to pay £10,000 to Manchester council for court costs. The approval for construction to go ahead was not overturned.
More than 750 letters of objection were received by planners about GMS Parking Limited's proposal, including complaints about its height, design and impact on the surrounding area. Mike Halley, a Macintosh Village resident, rallied his fellow objectors to raise funds for a barrister to take the council to court, where they faced seven barristers hired by the council, two of which were King's Counsel.
Over the course of two days in November 2022, the judge at Manchester Civil Justice Centre found that the planning committee had not been misled to enough of an extent to overturn the original decision. What is thought to be 102 people living in Macintosh Village have leasehold rights to a car parking spot which could have been overtaken by developers when building commenced.
They believed this could impact on their mortgages and their health due to the possible exposure to construction and demolition dust. Despite the loss at Manchester Civil Justice Centre, Mr Halley is still claiming some element of victory.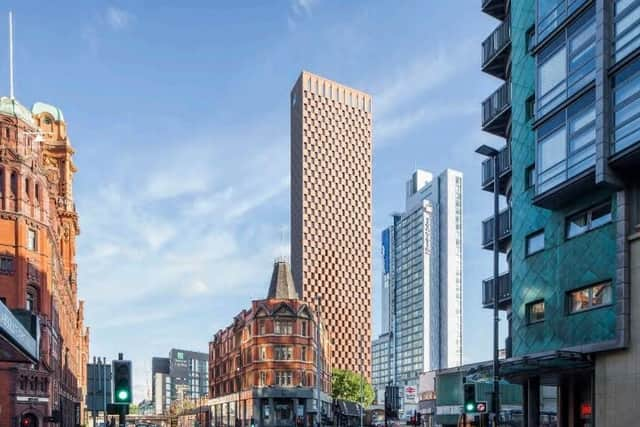 A Macintosh Village group spokesperson said: "We are delighted with the outcome, justice was seen to be done. We achieved what thousands across England in this situation failed to achieve.
"The court saw the merits and awarded a substantial hearing. The judge was excellent and examined the issues but as he kept reminding both sides he examined the facts within the planning prism and must award an extraordinary amount of benevolence to the decision maker.
"This means that whilst along the journey and in court the council admitted to misleading, the bar for seriously misleading however, in the planning prism is very high. These are our words, not the judge's, but you can be a stranger to the truth in the planning world but be careful when you re-enter back into the real world."
The development will not be stopped as the council won the battle. A Manchester city council spokesperson said: "The council notes that the challenge through the High Court was not successful."