The heartbroken parents of a Wigan toddler who was found dead hours after being sent home from hospital have vowed to take legal action after discovering she had sepsis and pneumonia.
Hailey Thompson was initially diagnosed with a virus on Sunday 18 December, and her parents were told to keep giving her fluids and paracetamol. However, early the next morning, she was found unresponsive in her bedroom by parents Kris Thompson, 32, and Iboyla Adam, 35. Despite being rushed to Wigan Infirmary following CPR attempts by Kris and paramedics, Hailey tragically died aged just 22 months. The interim death certificate shows Hailey was suffering from sepsis and pneumonia at the time of her death.
Now, the child's family said they are considering pursuing a medical negligence case against Wrightington Wigan and Leigh NHS Foundation Trust as they say Hailey did not undergo any tests before being discharged on 18 December.
Kris said: "We feel more strongly than ever, now that we know that she had sepsis and pneumonia, that the A&E staff should have carried out tests to find out what was wrong with her, rather than just check blood-sugar levels, sound her chest and try to look at her tonsils. We are now exploring avenues as to legal action."
The toddler first fell ill on 7 December, with symptoms including a cough and runny nose. She was taken to a GP who prescribed antibiotics, but stopped taking them following an allergic reaction. She was taken to another doctor's appointment a week later, where her parents were advised to giver her Calpol instead as it was believed to be a viral infection.
A day later, when dad Kris went to check on her at 11pm on 18 December, he found his daughter panting and called 111 who informed him an ambulance would be there soon. After the emergency vehicle didn't arrive, Kris took Hailey to A&E, where she was examined and her parents told to keep her hydrated and dosed with Calpol.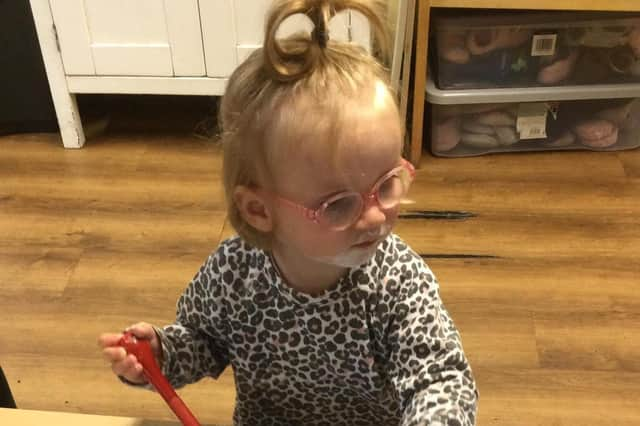 The following day, Kris noticed she was panting again - and just six hours later the parents made the heart-breaking discovery. Kris said: "We can't believe we have lost our little girl. It all happened so quickly. Something in her body took control of her.
"When we found her at 5.30am on Monday she was lying in exactly the same position I had seen her in when I went to bed at midnight, only she was stiff and her skin discoloured. It was a horrible sight and will haunt me for the rest of my life. We knew in our hearts she had gone but I rang 999 and screamed down the phone that our daughter was dying so they got me to do CPR until the fast response paramedic arrived. But she couldn't revive her and she was pronounced dead at hospital."
Kris and partner Ibolya Adam have since received an interim death certificate stating Hailey had sepsis and pneumonia when she died. However, her death remains unascertained as further tests are required, including for Strep A which has been responsible for the deaths of several youngsters over the last few weeks.
The parents are now making funeral arrangements and are waiting for the coroner to decide whether an inquest will be launched.
A spokesperson for Wrightington, Wigan and Leigh NHS Foundation Trust said: "Our sincere condolences go out to Hailey's family at this tragic time. We are aware of the family's concerns and are currently awaiting further information to understand more."
Sepsis is a life-threatening reaction to an infection. For more information on the symptoms of sepsis, see here.