Christmas season is here, and one debate as old as time is whether to bring that old plastic tree out of storage or to go out and buy a real, live Christmas tree. While the plastic one might be cheaper and require less maintenance, there is just something about that real tree look - and luckily, Manchester has a number of places to get one.
While most Mancunians do go for an artificial tree, a lot of Mancunians still want a real tree in their living room for the festive season. If you can stand to hoover your floors every few days, the real deal beats the artificial.
Investing in a new Christmas tree every year might seem like a big expense, but the prices around Manchester vary greatly. At IKEA, for example, you can pick up a tree for only £25, while some more exclusive vendors offer a greater selection for a higher price.
But finding that perfect Christmas tree that is going to be the centrepiece of your home over the next month can be daunting. What kind of tree is the best? A Norway or Siberian spruce?
There are many things to consider when looking for a Christmas tree, and much of it is up to personal preference. Here is where you can find a real Christmas tree in Manchester this festive season.
Where to buy a real Christmas tree in Manchester
Christmas Trees Manchester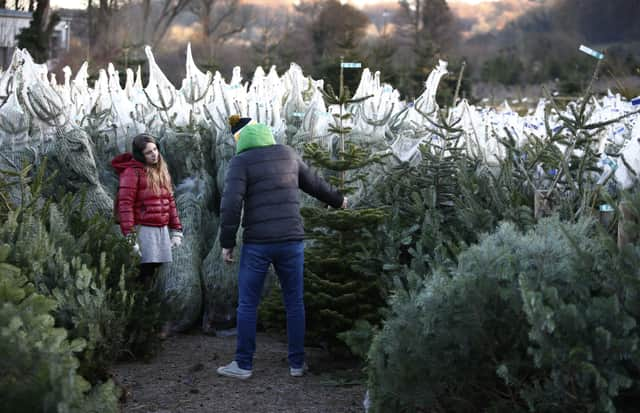 IKEA
IKEA sells Christmas trees in Manchester from Friday November 25 to Saturday December 24 for as little as £25. Anyone who buys a Christmas tree receives a £10 voucher that can be used in store for any extra seasonal decor needed.
Jacksons Nurseries
Jacksons Nurseries offer a great selection of Christmas trees with a selection of firs and spruces for between £20 and £48. They also deliver to households in Manchester.
Lymefield Garden Market
Lymefield Garden Market in Broadbottom, Cheshire, has three variations of Christmas trees available. Choose between the Nordmann Fir, the Fraser Fir or the Norway Spruce from November 25 up until Christmas.
Good Elf
Good Elf both sells and rents Christmas trees for homes and offices. If you want a real tree but still look for comfort, Good Elf offers pre-decorated trees and they'll collect once it's time to say goodbye to Christmas.
Ivy Cottage Tree Farm
Ivy Cottage in Wilmslow, Cheshire have their on-site shop open seven days a week until December 24. They offer a range of different trees as well as Christmas decorations to go with.
Woodheys Christmas Trees
Woodheys offer premium Christmas trees of different varieties for affordable prices. They deliver all over South Manchester for affordable prices.
Clayton Fold Christmas Tree Farm
Clayton Fold Christmas Tree Farm is open every day until December 20 and offers trees from as small as 3ft to as big as 18ft. Booking is required before visiting and they do deliver for a fair price.