'Neglected, overlooked and under-resourced'. That's how one Heywood businessman described the town earlier this year after a rock bottom turnout at the local elections.
People here have long complained of living in the shadow of Rochdale, getting nothing but 'hanging baskets and soaring council tax' since being lumped in with its bigger neighbour nearly 50 years ago. But that could be about to change with £100m set to be invested as part of a new 'growth strategy' aimed at revitalising the town centre and boosting its connections to Manchester city centre and beyond.
Each township in Rochdale – which also includes Middleton and the Pennines areas of Littleborough and Milnrow – has its own emerging masterplan. But Heywood, with its focus on 'connecting with the rest of the world', appears to be getting ahead of the game.
Rochdale to Heywood Tram Train – £50m
At the heart of the strategy is £50m for a Rochdale to Heywood tram-train, included in the government's City Region Sustainable Transport Settlement for Greater Manchester.
Subject to government ministers signing off the business case, this would see Metrolink services connecting the East Lancs Railway station in Heywood to Rochdale, Castleton and Oldham.
The tram-train service would enable adapted Metrolink vehicles to run on the same lines as trains, with the CRSTS money covering route design and vehicle development.
Coun John Blundell, cabinet member for economy and regeneration, says it is a 'massive boost' for the town.
"The biggest hurdle for Heywood in my point of view is its connectivity" he says. " It doesn't have quick access to the city centre unless you are driving.".
He hopes the cash will reintroduce passenger rail back into Heywood, alongside the hugely successful heritage railway.
"We are doing it in partnership with ELR to ensure heritage services can still run. ELR have been supportive so far," he adds.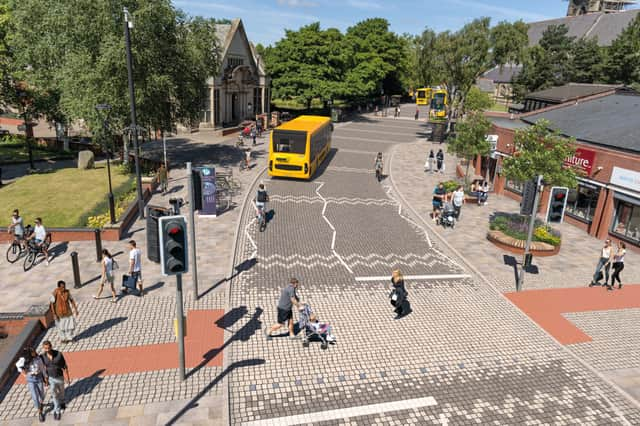 Quality Bus Corridor – £3m
Work is also ongoing on proposals for a £3m A58 'Quality Bus Corridor' – with the priority being delivering the first phase in Heywood town centre.
The aim is to provide 'rapid access' to Manchester city centre – a journey that currently takes over an hour by public transport.
"It will be of a similar standard to the Leigh-guided busway," says Coun Blundell. "In terms of connectivity it's not been like this since the 50s and 60s."
The regeneration chief believes Heywood's strategy provides it with the infrastructure to participate in the 'boom in Greater Manchester' – making it potentially the borough's most significant masterplan.
"Few places don't have a train station, with access to Manchester within half an hour," he says, pointing out Heywood's current Achilles' heel. "With the Quality Bus Transit and tram-train pathfinder, that connectivity will be laid on and that shouldn't be underestimated."
He believes these investments could be truly transformative for Heywood.
"When you speak to younger people, when they are looking for jobs they are cut off unless they have a car," says Coun Blundell.
"Parking in the city centre is not cheap, so being able to just get on to a tram or a bus over the next few years, that will quickly get you into the city centre is a game changer."
"Basically it will mean that the homegrown talent of Heywood will be able to stay. It's giving them more reasons to stay here. The city centre is booming, it's more important than it was 40 years ago."
Peine Square/Lance Corporal Stephen Shaw MC Way will be pedestrianised except for buses and serve as a transport interchange.
Streets for All £2.7m
The town centre will be upgraded to 'Streets for All' standard – putting strong emphasis on reducing traffic and road danger and improving the environment for pedestrians, cyclists and public transport users.
Funding will be used to improve the pavements around Peine Square and the back of the Edwin Waugh pub – with improved walking and cycling routes linking the town centre and the East Lancs Railway station.
A new seating area in the 'Morrison's Gap' is also planned as part of the improvements.
While the one way system will remain, pavements will be widened where possible and lay-bys put in for buses, loading and pick-up/drop off.
"The aim is people who still need to use vehicles can still interact with the shops," Coun Blundell says.
£4.5m Queens Park Bridge maintenance
Opened by the Earl of Derby in 1933, the bridge – once pride of place as the gateway to the town – has undergone significant deterioration over the years.
Funding – again through the CRSTS – will restore the bridge to its former glory, including new ornamental lights.
Heywood M62 link road – £25m
Dubbed Queen Elizabeth Way, this new link road connecting the M62 with key industrial hubs in south Heywood officially opened in early November.
The 2.2km stretch between Junction 19 and Pilsworth Road is seen as key to future investment in the area – including the 'Atom Valley' mayoral development zone and Russell's 1,000 home South Heywood Masterplan.
"Atom Valley will radically change the economic landscape of the city region because it will provide a genuine anchor to the airport and city centre in the north of Greater Manchester – and Heywood is the centre of that," according to Coun Blundell.
But, perhaps more importantly, it is also expected to remove thousands of HGVs from Heywood town centre every year.
."If you go and stand in the town centre now you won't see all the HGVs – there's already an impact and that's before the GPS systems have got used to it," adds Coun Blundell.
"The volume of traffic in the town centre is already falling, we think."
And he says that, with the tram-train, link road and quality bus transit schemes, Heywood is punching well above its weight.
"The only other massive investment I can think of like this is Trafford Metrolink extension and the Leigh guided bus-way," he says.
"This is the latest big one – It's because it's got its backside into gear and had a plan."
'Levelling up' – £10m
While ramping up Heywood's connectivity is clearly key to the strategy, it goes hand-in-hand with revitalising the town centre.
Although still awaiting government sign off, this money will be used to transform The Civic Centre into a '21st century venue' that will become the focal point for civic and community life in Heywood.
Funding of £700,000 has already been secured from Arts Council England, but Levelling Up monies would significantly boost those plans and enable further improvements to the surrounding area.
The cash would also be used to deliver improvements to Peine Square, providing opportunities for outdoor arts and performance space for the Civic Centre.
Other plans include a new walking and cycling link that will join it up with the East Lancashire Railway and improved parking and public areas to support new homes within the town centre.
New Homes for Heywood town centre – private investment
While Coun Blundell stresses the £100m injection is ' by far the biggest public investment that Heywood has ever had' he is keen to add that 'the private one to match will be a multiple of it'.
"I suppose what's different to this masterplan, and why it's called a growth plan is because we are now in delivery mode because funding has been secured and the schemes are starting to get bottomed out," he says.
"It's not a case of if private investors are rocking up – they are doing."
The town's masterplan sets out ambitions to build up to 200 homes on derelict and brownfield plots.
Angel Meadow and Marina Ropes
Both these town centre sites are earmarked for new family homes, creating 'vibrant new communities' in the heart of Heywood.
Coun Blundell says developers have shown clear interest in developing them, including Hive Homes – a 'joint venture' between the combined authority the region's housing providers.
An as yet unnamed developer has expressed interest in Marina Ropes, where part of the building may need to be retained due to its heritage interest.
"That's being investigated, but nevertheless they are knocking on the door wanting to get that built," Coun Blundell adds.
Development here would also involve Hill Street becoming a formal car park for businesses and shoppers, along with new planting and improvements to the Market Street area.