Around 12 years ago, Donald Moore decided to give his workers a pay rise. Now, profits at the Stockport schoolwear supplier are eight times higher.
One+All, known as Rowlinson Knitwear since its inception nearly 90 years ago until a recent rebrand, became an accredited living wage employer in 2017. This means all its staff and on-site contractors are paid a rate they can live on.
Calculated annually by the Living Wage Foundation, the current rate which accredited employers outside of London are expected to pay by May is £10.90 an hour. This wage, which is higher than the legal minimum set by the government, is voluntarily paid by more than 11,000 businesses in the UK.
More than 300,000 employees have received a pay rise as a result of the Living Wage campaign, according to the organisation. But Donald, the long-serving managing director of One+All, said the move is good for business too.
"Our profits are massively higher since we've paid the living wage," he said. "Eight times higher. I think we would have grown anyway, but if we hadn't have changed our culture, we'd be just like every other small business that's getting squeezed."
The company became 100 % employee-owned around seven years ago so as well as paying the living wage, staff benefit from a tax-free share of the profit. Donald says customer satisfaction is now 'world class' because the company's highly valued workers 'really care' about their jobs, taking pride in all they do.
"You can tell if you're in a pub or shop, when they pay below the living wage because their hearts' not in it," he said. "All our people really care about our customers. That's great for business."
Chris Smallwood, who runs Anchor Removals in Salford, says his company's profits are ten times higher since it started paying the living wage. With workers going into people's homes every day, having a good reputation is key. But above all, the business has benefited from fewer staff being off work. The business which is based on the Wardley Industrial Estate became accredited as a living wage employer in 2016, leading to a £1.50-an-hour pay rise for staff.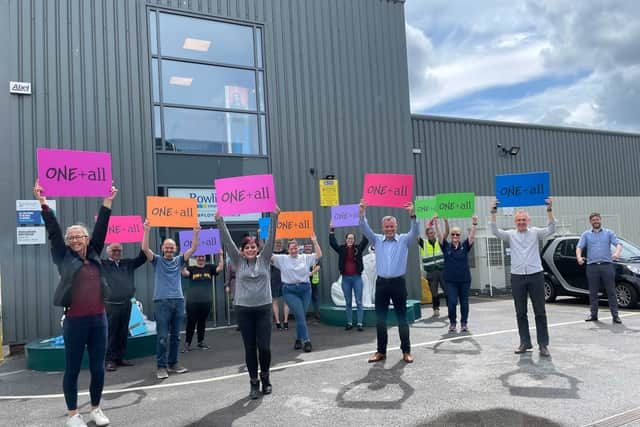 That year, staff missed 131 days of work, costing the company at least £170 each time someone is recruited to replace them. Now, employee absence days have dropped below 20 a year, despite almost doubling in size to a team of 13 during that period, saving the firm tens of thousands of pounds every year.
"I've heard so many times from the business community that it's not possible for small businesses to pay higher rates of pay," he said. "Paying better wages and giving all round better conditions is good for your business.
"Since becoming a living wage employer, we've grown as a business. We're not losing money. We're making money despite paying higher wages."
And it's not just private companies that are reaping the benefits of paying their staff the living wage – many public sector bodies and charities are doing it too. Manchester council has been accredited since 2019 and earlier this year, it committed to extending this offer to care workers it doesn't employ directly.
Most of Greater Manchester's 10 boroughs now pay the living wage and by the end of the year, all new contracts the councils sign with an external provider are expected to include a condition that care workers receive this rate too.
Manchester city council is now working with 'anchor institutions' – such as universities, charities and large employers – many of which have committed to helping its bid to become a Living Wage City. However, it comes at a time when public sector budgets are squeezed and demand for services has increased.
But council leader Bev Craig says that paying staff the living wage is not just the right thing to do morally, it helps the town hall recruit essential workers.
She said: "For me, it's a business critical thing to do. We're struggling to recruit, competing against supermarkets, retail and delivery drivers.
"It should not be the case that a fundamental service that delivers health and social care is falling by the wayside. There's more to it for me than just being a nice thing to do with a nice logo. To me, it's basic economics."