The Christie cancer centre is organising a massive canal-side charity walk this summer to raise money for its Bloods Closer to Home scheme – and they are hoping that more than 500 of you will get involved.
The event, which has been organised in partnership with property developers Peel L&P, will take place on 4 June, starting at Trafford Palazzo and finishing at Castlefield. The 5km route is suitable for walkers of all abilities and will follow the historic Bridgewater Canal.
Organisers say that this will be the biggest charity event ever to take place on the canal in its 260-year history.
The route
The walk will begin at Trafford Palazzo, where there will also be entertainment to get everyone in the mood for the journey ahead. From there, walkers will head down to the canal path.
There are plenty of famous Manchester landmarks along the way, including Old Trafford and the Lancashire Cricket Ground. Participants will also get to see the new Embassy Village, which is another project by Peel L&P and partners, and is set to be the UK's largest purpose-built village for rough sleepers.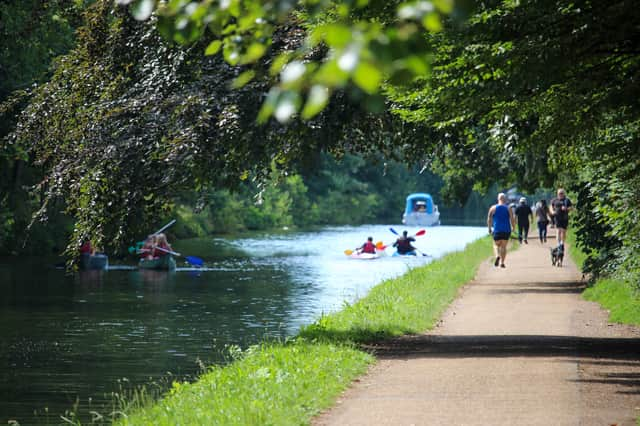 The fundraising walk will conclude at Castlefield, where there will be more entertainment, as well as street food and drinks.
The Bridgewater Canal has great historical importance for the city, as it was the first in the UK to run independently from natural waterways, helping Manchester rise to prominence during the Industrial Revolution. It was built over 250 years ago by the Duke of Bridgewater, allowing him to transport coal from his mine in Worsely to Greater Manchester. The Canal is now run by The Bridgewater Canal Company Ltd, part of Peel L&P.
How to sign up
Sign-up fees for the event are £15 per adult, £8 per child under 16, £38 for a family (two adults, two children) and £65 for a team of five adults. Bookings can be made via the Bridgewater Way Walk website.
Everyone who signs up will receive fundraising tips, a sponsorship pack and a free T-shirt. Medals will also be handed out upon completion. Each participant is being encouraged to raise at least £50 for The Christie.
Where will the money go
All the money raised during the event will go towards The Christie's Blood Closer to Home initiative, which aims to make it easier for patients who need regular blood tests to get them done at their convenience. Instead of travelling to the Withington site for blood tests, patients are able to get them done much closer to where they live. The service is run by Christie staff from 11 different locations throughout Greater Manchester and Cheshire.
The Christie is the largest single-site cancer centre in Europe and treats around 60,000 patients from the North West annually.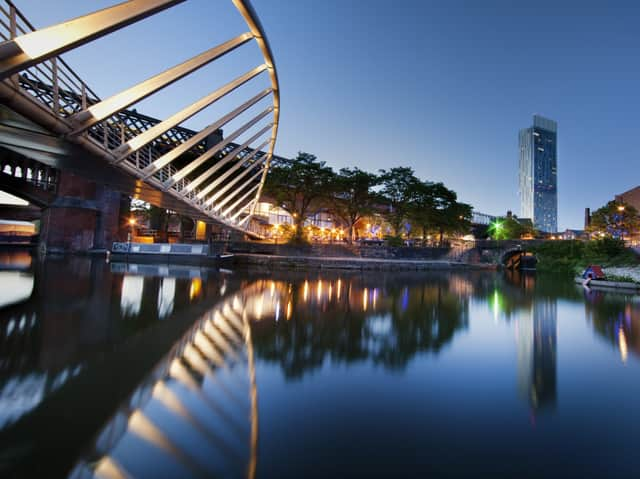 What have the organisers said?
Peter Parkinson, director of the Bridgewater Canal at Peel L&P said: "We are really looking forward to delivering this event in aid of The Christie charity. The Bridgewater Canal is a fantastic location with a fascinating history and is regularly enjoyed by many individuals and communities.
"This will be the biggest charity event to ever take place in The Bridgewater Canal's history and we are excited to welcome so many new visitors to enjoy our accessible space which encourages wellness, connecting with nature and for walkers to see the iconic Manchester skyline from the canal side."
Anna McIntosh, major relationships development manager at The Christie charity, said: "We are extremely excited that Peel L&P is creating this event to support The Christie and its Bloods Closer to Home service, This type of support means a huge amount to The Christie and funds raised from this event will directly improve services and helps us to support patients by making treatments more accessible in the surrounding area for many years to come."
Kate Holland, head of charity and community initiatives for The Peel Group, said: "We are proud supporters of The Christie charity and the pioneering research and support it provides to those affected by cancer. We wanted to create an event utilising one of Peel L&P's most historic assets, whilst promoting the health benefits of walking and exercising as well as raising much needed funds for such an important charity to our region.
"We hope that lots of families, friends, teams and individuals feel encouraged to take part in this inclusive event, going at their own pace and enjoying the surroundings of the scenic Bridgewater Canal whilst raising much-needed funds for The Christie to support its services."