Teachers wished Ofsted an "unhappy birthday" as they marked the organisation's 30th anniversary with a protest outside its Manchester offices.
The union has heavily criticised Ofsted and used the anniversary to call for the organisation's replacement.
What was the NEU protest that took place in Manchester?
Around 20 teachers stood outside Ofsted's Manchester office on Store Street in the Piccadilly area of the city centre on the day which marked three decades since the inspectorate was founded.
Their message, though, was to wish Ofsted an "unhappy birthday".
A giant card unveiled outside the office bore a rhyming mock-greeting expressing how the teachers wished Ofsted would "go away" and calling the organisation "not fit for purpose".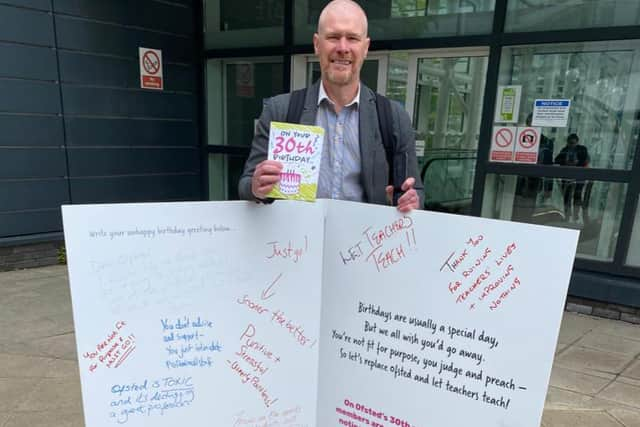 The card said the NEU wanted to see Ofsted replaced with a body that was "supportive, effective and fair" and the creation of a system that would "let teachers teach".
The Manchester demonstration was one of several taking place around the country, with teachers sending a message to the body at its several regional bases.
Why did the NEU stage the protest?
The NEU has outlined a range of complaints against Ofsted, saying the inspectorate's system of rating schools creates intolerable workloads for staff, penalises schools in deprived communities and contributes to an epidemic of poor mental health and stress among students.
Peter Middleman, NEU regional secretary for the North West, presented officials with the giant birthday card signed by the participants during the protest.
Mr Middleman said: "For 30 years Ofsted has cast a shadow over teachers and school leaders. Now is the right time to examine what effect its inspections have on the quality of education that schools and colleges are able to provide and, in particular, for our most disadvantaged pupils.
"Ofsted is an unfair and unreliable inspectorate which must be replaced with a new system that is supportive, effective and fair."
Ofsted has declined to comment.