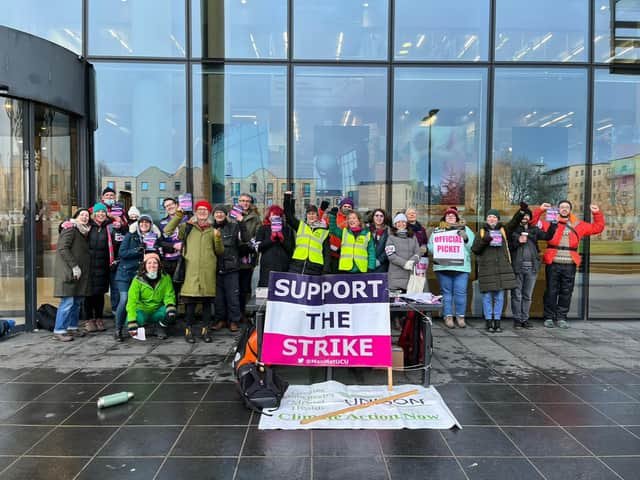 Manchester Metropolitan University staff on the picket line
A rally was held in Manchester city centre as three days of strike action by university staff neared its end.
The industrial action in protest at low wages, large gender and ethnicity pay gaps, soaring workloads and cuts to pensions has seen picket lines at higher education establishments across the city.
On Friday 3 December the final day of the strike was marked with a rally following a march from Oxford Road.
In total four institutions in Manchester were taking part in the national strike action which saw academic staff at dozens of universities across the country down tools.
What is the strike and why is it being held?
University staff went out onto the picket lines on Wednesday 1 December in action taken by members of the University and College Union (UCU).
Staff at The University of Manchester, Manchester Metropolitan University, (MMU), the University of Salford and the Royal Northern College of Music (RNCM) have all been taking part.
On Friday 3 December, a rally departed from Queen's Archway on Oxford Road at 11am.
They were then addressed next to All Saints Park at around 11.45am by speakers including UCU national negotiator Lucy Burke, Unison North West convenor Glen Williams and members from striking UCU branches.
Last month UCU members at 58 institutions across the UK backed strike action in two separate ballots, one over pension cuts and one over pay & working conditions.
The union says staff pay has fallen by 20% after 12 years of below inflation pay offers whilst almost 90,000 academic and academic-related staff are employed on insecure contracts.
Staff are also experiencing a crisis of work-related stress with over half showing probable signs of depression, the UCU says.
The union is calling for a £2,500 pay increase for all staff, as well as action to tackle unmanageable workloads, pay inequality and insecure contracts.
What have staff taking part in Manchester said?
Staff on the picket line say the strike has been strong and also supported by many students from the universities involved.
David Swanson, the UCU branch president at The University of Manchester who teaches PGCE courses, said: "We've had lots of members out on the picket line and a lot of support from our students. There have been a few occupations of buildings to show support.
"Higher education is in an absolute crisis driven by a marketised version of it with many people treating it like a business.
"Staff have complete insecurity in their lives, workloads have gone through the roof and the gender and ethnicity pay gaps which are just not on in the modern world.
"A lot of people are at breaking point.
"I think the universities were waiting to see if this action flopped but it has been very solid and strong. We have shown a determination to continue until we get change in this sector."
Dr Burke, who as well as being a national negotiator chairs MMU's UCU branch and works in the English department researching topics connected to disability and dementia, said: "We have never had such a good turnout on our picket lines.
"The result of the ballot was the biggest we have ever had, with a 60% turnout and just under 80% voting for strike action. That reflects how people are feeling.
"Staff have worked enormously hard over the pandemic to keep things going and shifting from in-person to online teaching. Workloads have been on the rise and have become so unmanageable people find it impossible to have any kind of work-life balance.
Staff on strike at Manchester Metropolitan University
"We have had support from students every day. Theatre students came out to sing on the picket line. Students feel that what we are asking for will benefit them as well.
"Staff just want to be able to have time to properly prepare for teaching to give students the best experience they can. Burnt-out, exhausted staff can't do that.
"People don't take strike action lightly but they feel they are at breaking point and don't know what else to do."
What have the universities said?
A University of Manchester spokesperson said: "We recognise the right of colleagues to take this action, but are extremely concerned about the impact on our whole community, particularly on our students who have suffered so much over the past 20 months.
"We will do everything we can to minimise any impact on their teaching, learning and wider experience.
"The industrial action at our university is in respect of pay and employment conditions, where the UCU vote just exceeded the legal 50% threshold for action (50.4%).
"In total, 728 staff voted in favour of such action. We have more than 12,500 staff across our University. Pay and pensions are negotiated nationally by UCEA and UUK respectively, so we are unable to make any changes at a local, Manchester level."
An MMU spokesperson said: "We are disappointed by the UCU's decision to ask its members to strike for three days in December. After a successful start to the academic year back on campus, our aim has been to minimise any disruption to students' teaching and learning and to reassure them that any strike action will have no impact to their academic outcomes.
"This dispute is about pay, casualisation, workloads and equality. While the majority of our 2,200 academic staff are not UCU members, we have been working for some time to address the concerns the UCU has raised nationally.
"We continue to have constructive discussions with both the UCU and our wider academic staff about our proposals to focus workloads on teaching and research and our ongoing project to bring associate lecturers onto more secure employment contracts."