Plans have been lodged to mount a webcam on the flagpole at Holcombe tower to broadcast the spectacular views across Greater Manchester which can be seen from its summit.
The tower, also known as the Peel Monument, to the north of Ramsbottom, boasts views stretching more than 20 miles encompassing Bury, the Manchester and Salford city skylines, Rossendale valley to the east and Winter Hill and the West Pennine moors to the west. Plans lodged late last year with Bury Council explained the logic behind mounting the web-cams on the 128 feet tall tower. A design and access statement, said: "In order to increase visitor numbers in the town of Bury and the tourist information centre a member of the public suggested installing cameras on the flag (whilst repairing the flag pole) and live streaming the view to the centre.
"This would also increase people experiencing the view, those that cannot traverse the steep path and then the stairs up the tower, including disabled people.
"The cameras are not set to record and so no personal data is being recorded. The flag pole attached to the metal entrance housing at the very top of the tower.
"The size of the flag pole is approx six feet and the cameras are to be fitted so that they do not attract vandals whilst visiting the tower. "The landscaping will not be changed."
The monument, on Harcles Hill known locally as Holcombe Hill as it is close to the village, was built between 1851 and 1852. It was erected to honour Sir Robert Peel, who founded the police force, and was prime minister twice. He was born in Bury in 1788.
When it was built, a year after Peel's death in 1850, the monument cost around £1,000 to erect. The stone used was quarried from an area immediately behind the tower and the quarry work remains can still be seen today.
A portion of Peel's resignation speech was carved into marble and is mounted inside the tower. During the World War II the tower was used as a look out post.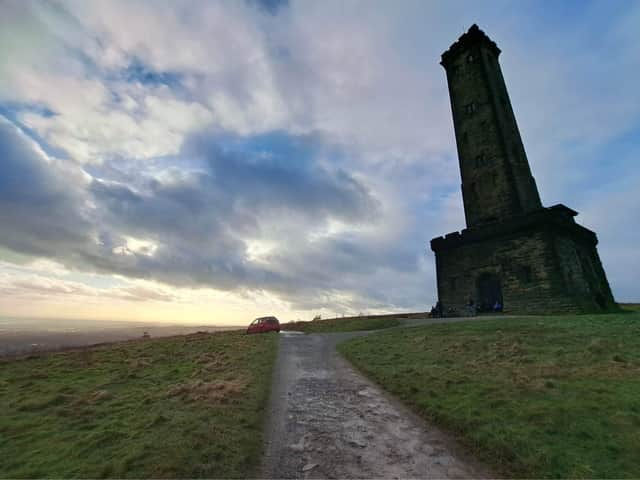 A heritage assessment on the plans concluded that mounting the cameras would have 'a neutral impact on the listed building'.
The period during which interested parties could comment on the plans expired today (January 3).
Bury Council planner will now decide on whether to grant listed building consent.