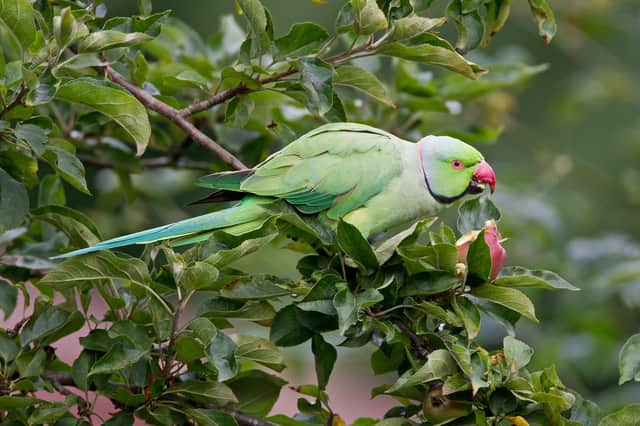 Manchester is home to plenty of colourful characters, but none more vivid than its population of ring-necked parakeets.
The birds, a member of the parrot family, have been spotted in gardens and parks all over Greater Manchester over the years, sometimes alone and sometimes in colonies, but they are most commonly seen in South Manchester.
In a recent online thread on the r/Manchester subreddit, users have reported sightings in Sale, Burnage, Fallowfield, Altrincham and Didsbury.
In some cases, a flock of as many as 20-30 have been spotted together.
The birds are known among locals for their loud squawking.
UserDetectiveFatWeed_ said: "My mother gets them in her garden in Altrincham. Large groups which just pick the apple tree clean and scare away all the other birds.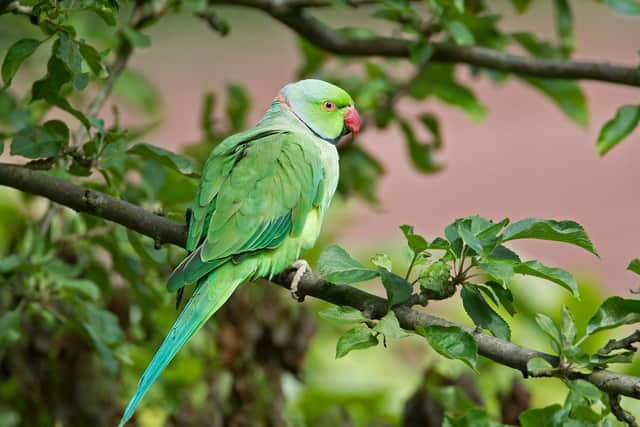 "I've not seen them myself but apparently they make a rather jarring noise."
Platt Fields Park in Rusholme and Alexandra Park in Whalley Range are also hot-spots for parakeet sightings.
"If you've wandered through the Platt Fields orchard at any point in the last month you will have seen them going crazy in the trees, feasting on apples," Redditor everythingscatter said.
Others seem concerned about the effect they may have on Manchester's native wildlife.
User JamesSpencer94 said: "I think they're travelling down the Mersey as they seem to be spreading from there. Come on pigeons, fight back!
"Maybe there'll be a last alliance of pigeons, magpies, robins, ravens and crows to turn back the tide."
Sightings all over the country
It's not just Manchester where they have made a home for themselves. In fact, there have been sightings all over the UK with London being a hot spot.
The bright-green birds and their origins are now the stuff of urban legend. There are some famously wild theories about how the birds ended up here.
One theory is that the birds were released from the set of the 1951 film African Queen, which starred Katharine Hepburn and Humphrey Bogart. The film was partly shot at Isleworth Studios in London.
Another theory is that guitar legend Jimi Hendrix released a pair on Carnaby Street in the sixties.
There are not one, but two theories involving George Michael. Some say the birds escaped from the singer's aviary when he was burgled in the nineties. The second rumour is that they escaped from his flat during an argument with Boy George.
Not all the theories involve celebrities.
There are those who believe they could have escaped during the Great Storm of 1987, which killed 22 and wreaked havoc across the country, or that they fled an aviary in West London's Syon park after it was hit by plane crash debris in the seventies.
The truth, sadly, is likely to be much more mundane.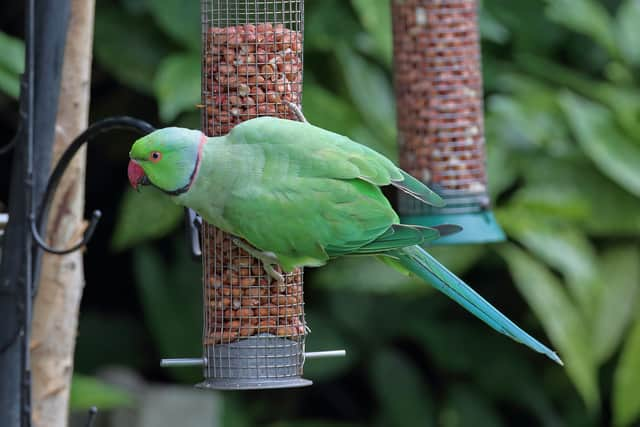 According to an article in the Journal of Zoology from 2020, the prevalence of ring-necked parakeets in the UK is probably a "consequence of repeated releases and introductions" by humans.
Although parakeets have been popular pets since the Victorian era, there have been times when they have been cause for concern. In 1929, there was a media frenzy around an outbreak of psittacosis, or "parrot fever," in the US.
Psittacosis is a bacteria that can be passed on to humans from pet birds and hysteria surrounding "parrot fever" may have caused owners to release them into the wild.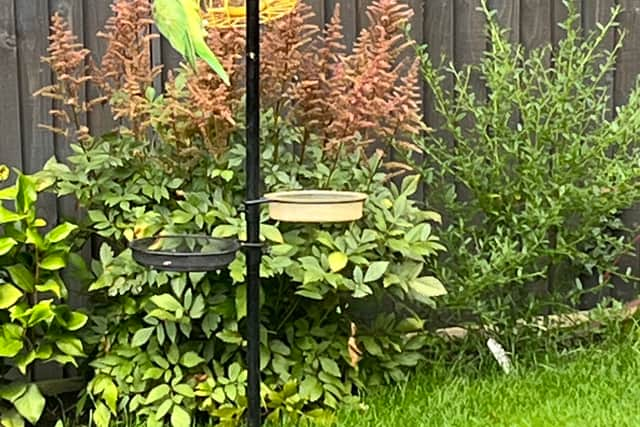 There were some sightings of the parakeets in the UK in the 1930s, but it was not until the 60s that they began to breed in larger numbers, according to the Journal of Zoology article. By the 70s, there were reports of the birds in Manchester.
Ornithologist Jamie Dunning, a PhD candidate at Imperial College London, told Manchester World that the Manchester parakeets most likely started out as escapees.
He explained that they probably settled in Manchester as they are "highly adaptable to urban environments and tolerant of cooler climates."
He said: "In Manchester, and elsewhere in their native and non-native range, they use holes in trees to nest. They breed early and so don't face much competition for space from our native species.
"Alongside suitable breeding habitat in urban parkland, parakeets also benefit from supplementary food from bird feeders in gardens. "
The parakeet is an invasive species and there have been calls to control the spread of the population in the UK over fears of the harm they could cause to other wildlife and plantlife.
Jamie Dunning explained that there have been cases of parakeets damaging crops in Israel and out-competing bats in Spain, but do not post a threat to native wildlife.
He said: "Although they occupy a similar niche to many of our native breeding birds, by breeding early and shaping older nest holes in trees to their requirements, they probably pose very little threat competeing with native birds for space.
"They can be dominant at garden bird feeders, but in an urban setting, I wonder how serious a threat this actually is to smaller birds."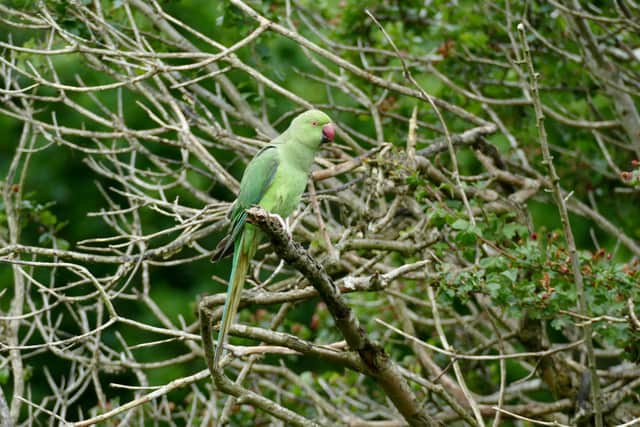 The RSPB state on their website that they do not support a parakeet cull, but "believes it is important that the spread of the ring-necked parakeet is monitored and its potential for negative impacts on our native bird species assessed."
Jamie also explained why they are unlikely to face a cull.
He said: "A European wide reaserch project, ParrotNet, set out to answer this question a few years ago. They suggested that, although there have been specific circumstances where invasive parakeets have caused problems to local wildlife or agriculture, where they are already established, a cull would be unlikely to help.
"That is probably because as long they're sold (and lost) as pets, populations will keep seeding in the wild around our major population centres."
The ring-necked parakeets do visit garden bird-feeders, so you may be lucky enough to spot one.
And they're not fussy eaters either. The RSPB's website says they have been known to eat "fruit, berries, nuts, seeds, grain, household scraps, and even meat" and more commonly seen during the winter months.
If you spot one or more of these colourful birds in Manchester, Jamie's advice is simply to "Enjoy watching them."
"They're beautiful birds, a long way from home. The way that they have carved out this incredibly successful niche here in remarkable," he added.