Transport bosses in Greater Manchester are urging residents to travel only if necessary after snowfall in parts of the city-region affected buses and trains.
Transport for Greater Manchester (TfGM) said bus services, particularly in Oldham, had been affected by the wintry weather. Passengers planning to take the bus on Friday (10 March) were advised to check with the operator running the route before setting off from home.
Routes travelling through areas including Oldham and Tameside are omitting stops in some cases, and a couple of more rural routes have been temporarily suspended because of the weather. The full list of disruption and alterations to timetables can be found on the TfGM website here.
The weather had also had an impact on some train services in the city-region, particularly those heading away from Manchester into neighbouring counties such as Derbyshire and Yorkshire and running through more rural regions.
Services between Buxton and Hazel Grove had come to a halt on Friday morning due to the snow while a tree on the line meant services were unable to run between New Mills and Sheffield.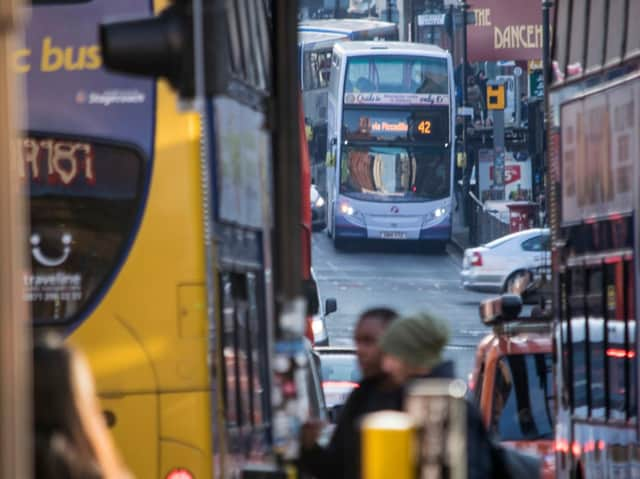 A yellow weather warning was in place on the TfGM website.
Elsewhere, though, the snow had comparatively little impact. TfGM reported on Friday morning that Metrolink tram services have not been affected at all by the conditions.
And Manchester Airport said there was no settled snow and as the weather forecast suggested a clear day was in prospect on Friday there was little likelihood of flights being disrupted. However, passengers were advised to leave extra time for their journeys to the travel hub.
On the roads, though, it was a different story with drivers ending up stranded on the M62 near Rochdale and a number of cross-Pennine routes impacted considerably by the snow.
TfGM's head of resilience, Lucy Kennon, said: "Heavy snowfall is making driving conditions particularly hazardous in parts of Greater Manchester and beyond and is also impacting some public transport services.
"The snow also means footpaths will also be slippery and we're urging caution for anyone needing to travel this morning.
"We'd encourage people to only travel if necessary and for those that are to plan their journey beforehand."