Greater Manchester police say they are working hard to establish the circumstances after a young man died from gun shot wounds in Moss Side.
The victim, aged 20, was seriously injured in a 'firearms discharge' in the early hours of Monday (15 August) and was taken from Claremont Road to hospital but sadly died from his injuries.
Throughout Monday, a huge police presence remained at the scene, with forensics specialists among those involved in the investigation. Stop and search powers were also put in place overnight on Monday to assist the police investigation.
Detective Superintendent David Meeney said: "Firstly, my thoughts are with the family and friends of the young man, aged 20, who senselessly lost his life through this violent act.
"Our officers were completely focused on administering CPR and trying to save the victims life but despite best efforts, he was pronounced dead in hospital a short time later.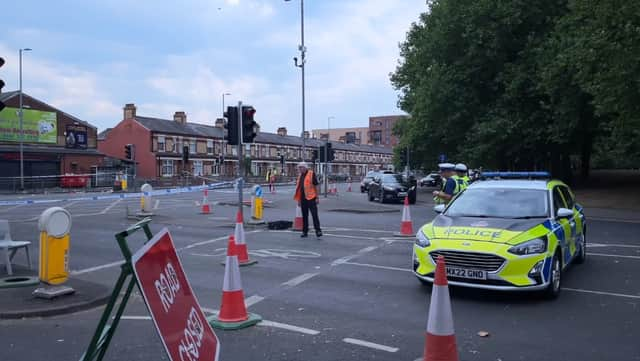 "We have been working throughout the night to fully understand the events that occurred early this morning, and specialist officers are supporting his family and loved ones.
"Officers were immediately present at Claremont Road at around 00.15am this morning to reports of a firearm being discharged in the area. Upon arrival, the scene indicated that the victim had sustained multiple wounds and the priority at that time was to get him to safety. The nature of his injuries is yet to be confirmed.
"Formal identification has taken place and we are supporting the family through this process as they inform loved ones. The family have requested privacy until this time. We don't believe at this time that this incident was related to a firearms incident in the area on the 29th of July 2022, but we are keeping an open mind and investigating all lines of enquiry.
"Police are also investigating a further incident, which took place nearby early this morning and we remain open minded as to whether this is connected. We know at around 02:52am a report of males fighting has been received and a number of males have received stab injuries, fortunately, none of these have proved life threatening and they are all recovering. A number of arrests have been made in relation to that incident.
"We are appealing to anyone who was in the Claremont Road area in the early hours of this morning, who may have seen something that could help us in tracking down the perpetrator(s). We know there had to be witnesses to this offence, as people made their way home from Moss Side Carnival.
"The investigation is in its early stages, but we are committed to identifying the person or persons who committed this horrendous act of violence and bring them to justice. We have increased patrols in the immediate area to keep the community safe and we currently have a scene in place around Claremont Road in Moss Side whilst we examine the scene."
Anyone with information is asked to contact Greater Manchester Police on 101 quoting log number 40 of the 15th August 2022, or call Crimestoppers anonyou