Greater Manchester Mayor Andy Burnham spoke to the media at his latest press conference on Wednesday 15 September.
The session included a look through the slides covering the latest figures on Covid-19 for Greater Manchester.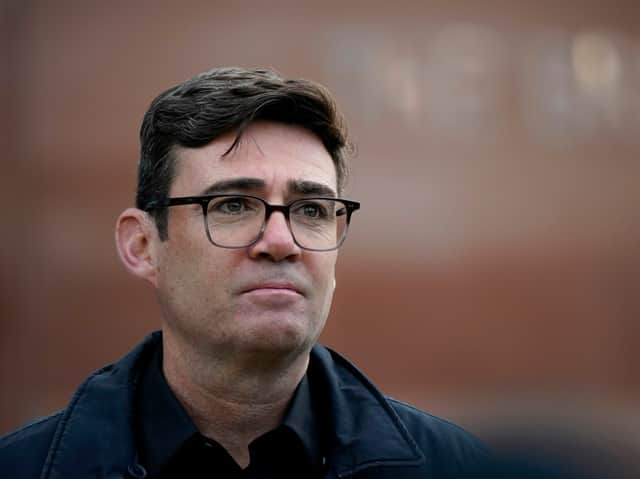 Here are seven things we learned from the numbers this week.
Case rates in Manchester have fallen slightly and are now below the city-region figure
The Covid-19 case rate for Manchester for the week ending 10 September was 289.7 per 100,000 residents.
This was a slight reduction from the figure of 293.1 recorded in the week up to 3 September.
It is also below the latest week's Greater Manchester figure of 328.9 cases per 100,000 people.
The city was one of only two boroughs with a case rate below 300, the other being Bolton.
Case rates are not falling across the region
Across Greater Manchester's 10 boroughs there is a very mixed picture when it comes to case rates.
Boroughs such as Manchester have seen slight declines in rates, but there were also significant week-on-week rises in areas such as Oldham and Rochdale.
Overall the Greater Manchester figure is also continuing to go up.
"Cases have been rising throughout late August and through September," Mr Burnham said.
Manchester's over-60s case rate is also bucking the regional trend
Among older residents Manchester saw a decline in cases in the latest week, with a rate of 191.4 per 100,000 residents recorded.
However, the Greater Manchester figure went up from 178.7 in the week up to 2 September to 202.1 in the week ending 9 September.
Manchester was one of just two boroughs where the figure for this age group went down, the other being Salford.
Mr Burnham said case rates among over-60s had been creeping up since the middle of August.
Case numbers among younger people continue to be significant
The heat maps shown at the press conferences clearly show that the younger age groups still have some of the highest numbers of cases.
However, in all boroughs the case rates have come down since mid-August, which is shown by the lack of darker colours at the right-hand side of the maps.
The position in Greater Manchester's care homes is stable
Mr Burnham said the situation for the city-region's care homes is currently "stable", with the number of people affected by Covid-19 rising and falling slightly from week to week.
In the week ending 15 September 0.5% of residents in Greater Manchester care homes either had confirmed cases of Covid-19 or were showing symptoms of the novel coronavirus.
This was the same as the figure for the week ending 1 September.
The rate for the week up to 8 September was 0.4%.
Hospitalisation levels are high and putting pressure on NHS staff
Mr Burnham was more concerned about the position Greater Manchester's hospitals are currently facing.
Weekly admissions to hospitals for Covid-19 rose from 154 in the week up to 6 September to 160 in the week ending 13 September.
In the same time period in-patient diagnoses of the novel coronavirus rose from 145 to 190.
Snapshots of data taken on 6 September and 13 September also showed slight increases in the number of people in hospital beds with Covid-19.
On Monday there were 60 people in high-dependency or intensive care units with the novel coronavirus and 328 in beds elsewhere in hospitals.
These figures showed "a level of hospitalisation that is still high and causing pressure for NHS staff," Mr Burnham said.
More than seven in 10 adults have now had both doses of a Covid-19 vaccine
Across Greater Manchester there had been 1,938,769 first doses and 1,744,155 second doses of vaccines administered as of 13 September.
On that date 71% of the city-region's adults had received both doses of a vaccine.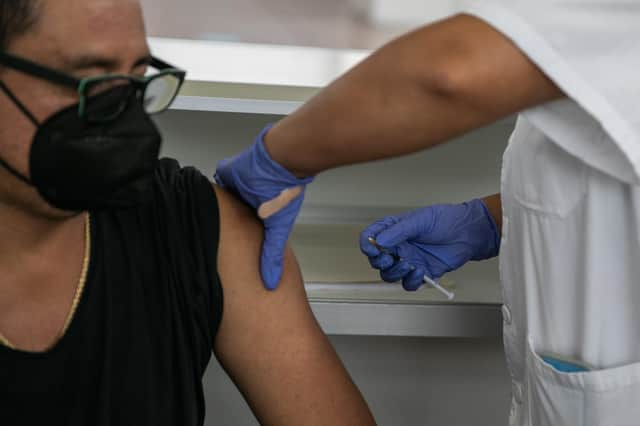 And 93% of over-70s have now had both their jabs.
Mr Burnham said a massive amount of work was being put in to ensure as many people as possible came forward to be vaccinated.