Residents with a keen interest in an environmentally-friendly future are being asked to apply for a special group which will look at the future of energy policy in Greater Manchester.
Carbon Co-op in Manchester is putting together a citizens' jury to look at the question of the city-region's future green energy needs.
It is all part of efforts by the authorities to make Greater Manchester carbon-neutral by 2038.
The deadline for applying to be part of the citizens' jury has been extended and the organisers are appealing to the public to come forward to take part.
What is the citizens' jury being put together?
Manchester's Carbon Co-op is recruiting for a citizens' jury to look at the issue of how Greater Manchester could get cheap green energy in the future.
A total of 12 people, selected to represent the demographics of the city-region, will come together to help with decision making on the governance of the local energy market.
The project is being commissioned by the Greater Manchester Combined Authority (GMCA) and leaders are hoping the jury will help explore the key, everyday factors behind the quite complex questions of who will own and operate local energy supplies and how that will be done.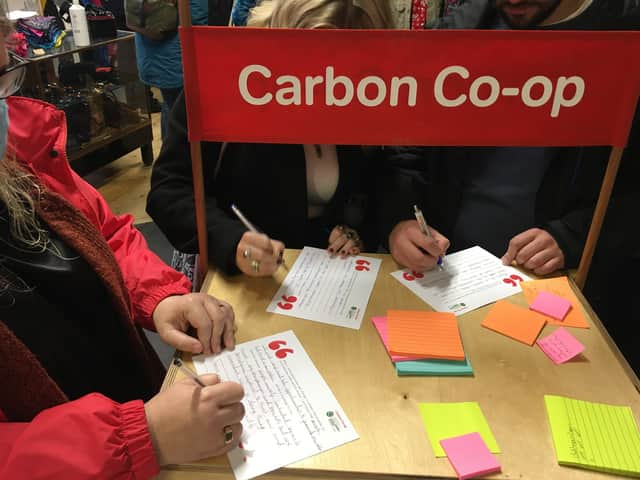 The authorities have also expressed the hope that getting the public on board will help to ensure transitions to greener energy sources are just and fair.
The project will see Greater Manchester's 10 boroughs draw up plans to increase energy efficiency and pave the way for new technologies and low-carbon infrastructure in the future.
The idea will be to integrate the creation, distribution and storage of energy locally, with creating masterplans for each area and developing a flexibility platform for Greater Manchester also key concepts.
Citizens' juries bring together small numbers of people selected to be representative of the area to discuss questions of policy in-depth by hearing from experts and then discussing what they have learned.
What do I do if I want to take part?
The deadline for applying to the Carbon Co-op citizens' jury has now been extended until 14 March.
It will be presented with and asked to deliberate on a number of scenarios that explore different structures and relationships for Greater Manchester's energy market.
Jurors will then anonymously vote for the scenario they'd like to see put into practice.
No specific qualifications or skills are needed, but jurors will need to have a willingness to share views and opinions on energy and listen to those of other people.
What has been said about the citizens' jury?
Coun Neil Emmott, leader of Rochdale Borough Council and GMCA portfolio lead for Green City Region and waste and recycling, said: "Greater Manchester contributes more than 2.1m tonnes of carbon emissions per year.
"Reaching our goal of becoming a carbon-neutral city region by 2038 relies on the greater uptake of green technologies like solar, heat pumps and electric vehicles.
"But the transition to net zero must be fair. By identifying what energy solutions best meet local needs, energy planners can design secure, flexible systems that put the needs of consumers at its heart.
"This jury is one of the best ways to achieve just that, giving the people of Greater Manchester a golden opportunity to have their say on the local energy market.
"This project will allow Greater Manchester to place itself once more as the global leader of innovation, doing things first and doing things differently."