School unveils striking mural celebrating Marcus Rashford
The Manchester United star has tweeted his appreciation for the artwork.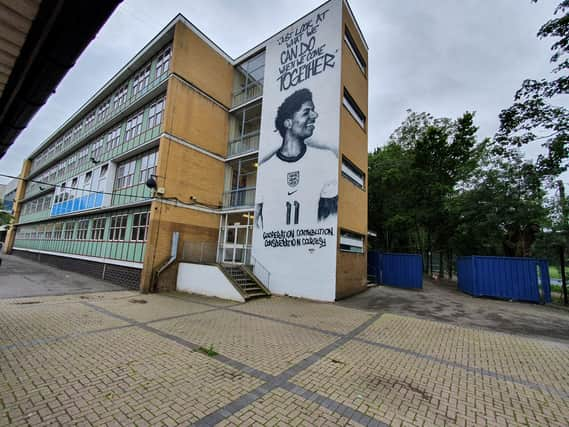 The players both suffered racial abuse after England's defeat in the Euro 2020 final.
However, football fans have rallied around the young stars, with the two new murals showing more support for the duo.
Despite playing for Manchester United, Rashford has been painted in a huge mural on the side of Highgate Wood School, in Crouch End, Haringey, not far from Arsenal's Emirates Stadium.
The 23-year-old is shown in his England kit, underneath the quote: "Just look at what we can do when we come together."
Rashford tweeted this in June 2020, after his success in forcing a government u-turn on food vouchers during the school summer holidays.
Highgate Wood's assistant headteacher, Jen Burniston, commissioned the mural by street art company Murwalls.
"After such a difficult year for all students nationwide, we felt we would like to honour the phenomenal contribution from Marcus Rashford to support students on free school meals" said Burniston.
"We thought what a brilliant use of the blank space on the side of our main admin building a mural of this sort would be."
Rashford shared an image of the mural with his 4.9 million Twitter followers, with the message: "Wow."
Highgate Wood has previously honoured other sports figures in murals including Laurie Cunningham, the first English footballer to play for Real Madrid, and Formula 1 ace Lewis Hamilton.
Across North London, off Holloway Road, Islington, there is a new image showcasing Arsenal and England footballer Bukayo Saka.
The 19-year-old was praised for his maturity during England's Euros run, and also in response to sickening abuse.