Ru Paul's Drag Race UK: Meet Manchester's 'seven-foot supermodel' Banksie hoping to wow the judges
Everything you need to know about the Mancunian Drag Race contestant ahead of the series 5 premiere.
Watch more of our videos on Shots!
and live on Freeview channel 276
Visit Shots! now
The cast of the new series of Ru Paul's Drag Race has been revealed, including a well known Manchester drag queen – and she is one of the tallest contestants the show has ever seen.
Banksie, the "seven-foot supermodel," will join nine other drag artists from up and down the country to compete in the fifth series of the UK version of the popular reality show, hosted by the legendary Ru Paul.
The first episode of the show, now entering its fifth season, will be available to stream on BBC Three from Thursday 28 September, with new episodes released weekly.
Who is Banksie?
Banksie is 23 years old and is originally from Wigan but now lives in Manchester. She said: "Wigan doesn't have much of a drag scene. That's kind of why I moved! No, I have love and admiration for Wigan, mainly because of pies, but you can't live on pies forever."
This season's cast members were announced individually in a series of video posts from the show's official Instagram page on Tuesday 12 September. The video shows Banksie in a ruched, red fishtail dress and a thorn crown adorned with dripping red jewels.
Commenting on the look, she said: "I bleed jewels. She looks gorgeous but she feels really uncomfortable."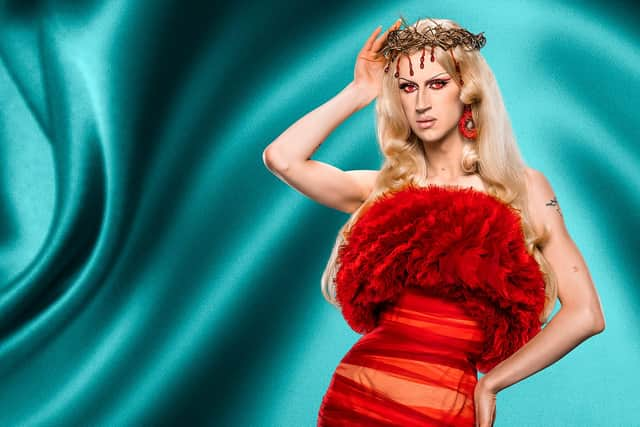 Banksie studied at Manchester School of Art, which is part of Manchester Metropolitan University. Shortly after the cast announcement, her alma mater posted on Facebook: "Congratulations and good luck to Manchester School of Art alum Banksie who is competing in Season 5 of RuPaul's Drag Race UK! Banksie also wore a custom made dress in their introductory video by Manchester Fashion Institute alumnus Mariusz Malon."
Describing her drag style, Banksie said: "My inspirations originate from fashion in the early 90s to the 2000s. I love Thierry Mugler, Vivienne Westwood, Jean Paul Gaultier and Paul Galliano. I love researching fashion and then finding a way to make it work on my body."
Ru Paul's Drag Race has been a big inspiration in Banksie's drag journey. She recalled: "I was watching RuPaul on the telly and I thought, I want to do that! So, I started dabbling with drag in my bedroom for two years and then once I turned 18, I went out and I just flourished! Drag has opened my mind to a whole new world. I met a whole new group of people who are now basically family to me."
In her promo for the show, Banksie vows to "turn drag on its head" and "completely disrupt what the idea of drag is." And this is certainly reflected in her drag name choice.
On her name, she said: " My surname is Banks, and so naturally 'Banksie' became my nickname, but I'm also inspired by "the other Banksy" – the guerrilla artist. Banksy completely threw the art world into a spin with their unique art and I too aspire to do something unique with my art."
Banksie clearly has the support from the wider drag community. Her Instagram post is inundated with messages of support from fellow drag artists, including season four winner Danny Beard and contestant Sminty Drop, who is also from Manchester. She is also part of Family Gorgeous drag family, led by another season four contestant and famous Manchester drag queen.
What is Drag Race UK?
Drag Race UK is the British version of the hit US reality show Ru Paul's Drag Race. The US version is now in its 16th season and 9th season of its All Stars spinoff. Over a dozen other countries now also have their own version of the show.
Each week drag queens compete in a series of tasks that include lip sync battles, fashion design and performances. Everything is judged by Ru Paul, alongside Michelle Visage and other celebrity guests.