Rochdale golfer hits second ever hole in one at the age of 92
It's Derek Jackson's second hole in one after he hit a prime shot at Rochdale Golf Course in 2011.
Watch more of our videos on Shots! 
and live on Freeview channel 276
Visit Shots! now
A granddad has become what is believed to be the oldest golfer in Britain to get a hole-in-one - at the age of 92.
Derek Jackson, who is originally from Rochdale, achieved the incredible feat on the sixth hole at Evesham Golf Course in Worcestershire while playing with pals on Monday 17 April. The retired chartered engineer said he knew he had teed off a good shot from the 150 yard par 3 but was left stunned when he found it had gone straight in the hole. And while most players can go their whole lives without getting a hole-in-one - this is Derek's second after he did the same 12 years ago.
Derek, who has been playing golf since 1957, previously sank an ace on a 160 yard par 3 at Rochdale Golf Course in 2011, aged 81.
Derek, previously of Rochdale, but now living in Pershore, Worcestershire, said be believes both achievements were "90 per cent luck and 10 per cent skill". The dad-of-two, who also has three grandchildren, said: "My first thought when it went in was this is going to cost me a bottle of whisky.
"That's the tradition at the club. You have to put a bottle of whisky on the bar if you get a hole-in-one so I thought this is going to be a pricey round of golf. But it still feels really special to get a hole-in-one even after doing it once before.
"I had been playing with two other friends on Monday and I knew I'd hit a good shot and thought it might be somewhere near the pin. It was over a brow of a hill so we didn't know it had gone in until we got nearer the green.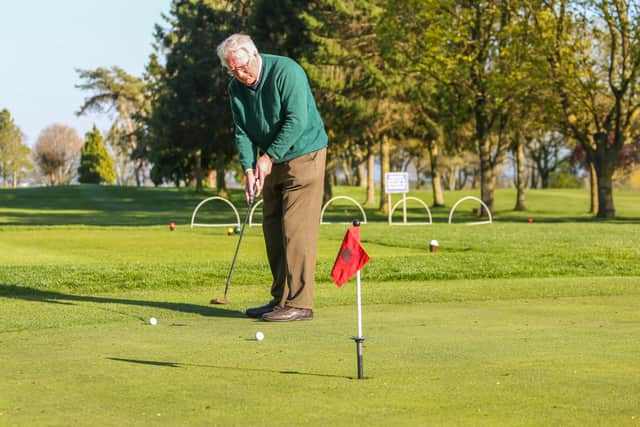 "We couldn't see my ball and one of my playing partners checked and shouted out 'it's gone in the hole'. I couldn't believe it. It is a good feeling definitely and some golfers never get to experience it once let alone twice. A few years back I used a 7-Wood as I could hit it a bit further then, but this time I used a driver.
"The first occasion I couldn't tell if it had gone in or not either as it was over a hill again - but it doesn't take anything away, it's still a great feeling.
"It's nice to know I could be the oldest or one of the oldest to achieve a hole-in-one, I've tried to keep active and still enjoy my golf.
"Everyone always debates whether its skill and luck and to be honest I think it's about 90 per cent luck and 10 per cent skill."
Derek says he now struggles to get out for a round during the winter months but tries to play twice a week when the weather improves.
Derek, who was married to wife Elsie for 57 years before she passed away eight years ago aged 82, added: "I'm a fair weather player now.
"I do try and get out about twice a week in the summer months. I've been playing now for 66 years and still enjoy it. As Andy Warhol said I'm just enjoying my 15 minutes of fame."