Rhamero West: three jailed for total of 61 years for the murder of the Manchester teenager
Three young men have been put behind bars for murdering the 16-year-old in Moss Side during what police have described as 'carnage'.
Watch more of our videos on Shots!
and live on Freeview channel 276
Visit Shots! now
Three young men from Manchester have been put behind bars for a total of 61 years for murdering teenager Rhamero West.
Manchester Crown Court found all three were guilty of the murder of the 16-year-old in Moss Side in September 2021.
Police said the trio "caused carnage across south Manchester" in a chaotic series of events that led to Rhamero being fatally stabbed.
The three teenagers who have been put in prison will serve sentences of between 17 and 23 years.
Who are the three young men found guilty of murdering Rhamero West?
The three young men who have been found guilty of Rhamero's murder are 17-year-old Marquis Richards, 19-year-old Ryan Cashin and 18-year-old Giovanni Lawrence.
All three are from the Hulme area of Manchester.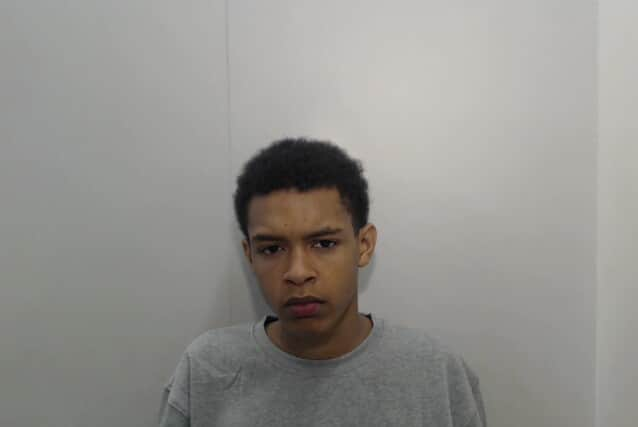 Richards, of Anne Nuttall Road, was jailed for 17 years and three months while Cashin, of Nancy Street, received a life sentence with a minimum of 23 years and four months.
Lawrence, of Culmington Close, was jailed for life with a minimum of 20 years and seven months to be spent behind bars.
The trio were handed the lengthy prison sentences at a hearing at Manchester Crown Court on Friday (27 May).
What happened on the day of Rhamero's murder?
The court heard that at around 5.40pm on Thursday 9 September 2021, Rhamero and his friends had driven to Millennium Park in the Moss Side area.
A BMW 1 Series and BMW 3 Series drove past them at speed and the vehicle Rhamero was in carried on in the direction of Princess Road.
The car turned onto Princess Road and stopped in stationary traffic, when Richards approached the driver's side of the car and lunged, with a large knife, several times towards the driver.
Richards and Cashin then fled in the two BMWs which pursued the vehicle Rhamero was in along Moss Lane East.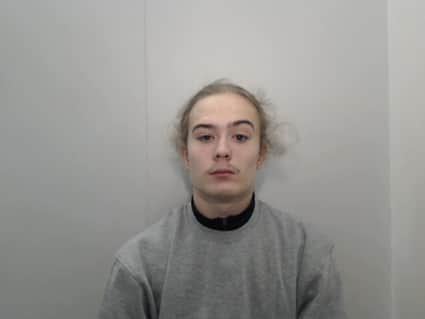 The pursuit resulted in a collision with another car and a tree, at which point Rhamero and his friends fled on foot in the direction of Darnley Street.
Richards, armed with a large knife, got out of the BMW 1 Series and chased Rhamero and his friends down Darnley Street and onto Norton Street.
When he appeared to run out of breath he handed the weapon over to Cashin who took hold of it, with police describing the weapon being passed over as being "like a baton in a relay race".
Police released CCTV footage from Norton Street showing the moment this happened as Richards and Cashin were in pursuit of the two BMWs.
Cashin then took the lead chasing the group further down Norton Street.
Rhamero began to hop from garden to garden in a desperate attempt to get away from the offenders but then resorted to lying down to hide in one of the front gardens.
The court was told that Cashin, brandishing the large knife, was then heard to shout "Arrg got you" before striking Rhamero with the knife several times, causing serious injury and blood loss.
Cashin and Richards then fled the scene in the BMWs.
Local residents attempted to administer first aid to Rhamero before paramedics arrived and conducted open heart surgery in the street. He was then taken to hospital but sadly died as a result of his injuries.
How did police investigate Rhamero's murder?
The BMW 1 Series was abandoned in Stretford at around 7.30pm on the evening Rhamero was killed,
Richards' DNA was found on the front passenger seat and Cashin's was found on the rear passenger seat. In addition the DNA of Giovanni Lawrence couldn't be ruled out from mixed DNA found on the driver's seat adjuster, windscreen wiper controls and driver's seat belt buckle, police said.
When considered alongside mobile telephone evidence, the jury accepted Lawrence was the driver of the vehicle at the time of the pursuit.
In the weeks following the incident, Richards and Cashin were arrested and subsequently charged with murder by police.
Lawrence remained on the run until January 2022 when he was arrested by officers in Cheshire and also charged with murder.
What have police said about the case and the sentences?
Following the hearing at Manchester Crown Court Greater Manchester Police (GMP) condemned the actions of Richards, Cashin and Lawrence and expressed the hope the sentences would bring some comfort to Rhamero's grieving family.
Detective Chief Inspector Liz Hopkinson, of GMP's major incident team, said: "Rhamero was only 16 years old when he was violently, and needlessly, murdered in broad daylight by a group of teenagers.
"No parent should ever have to receive the news that their child has been killed and the perpetrators, refusing to admit responsibility, have only added to their suffering by forcing them to endure the pain of a trial."These three caused carnage across South Manchester in the lead up to Rhamero's death and it's a miracle that no members of the public were also injured as a result of their reckless driving and acts of violence."From the outset, my team have been committed to securing the best possible outcome for Rhamero and his family. Our investigation saw us speak with hundreds of witnesses and trawl through many more hours of CCTV footage as we pieced together the events of that afternoon. "I'm pleased that we've been able to secure a combined sentence of more than 61 years' imprisonment and although sadly this result won't bring Rhamero back, I hope it provides his family with a sense of justice and closure."