Students in Manchester now know the results of their A level exams and many will hopefully be delighted to find out they'll be heading to a university of their choice.
This isn't the case for all students, though, as sometimes the results handed out aren't quite what a student expects, and this can often mean the universities applied for are just about out of reach.
But this isn't the end of university dreams as there are plenty of options out there, one of which is getting a place through Clearing.
Here's everything you need to know about Clearing, including what the process is and how to apply for it.
What is Clearing?
Clearing is a process available to students who haven't met the entry requirements for their preferred university course. It also covers those who haven't received an offer.
It is a way for these students to still head to university despite their disappointment on A level results day, and it allows the universities themselves to fill any places they still have on their courses.
Clearing is available to anyone who made an application to university through UCAS but doesn't hold any offers. In 2021, over 70,000 students got university places through the Clearing process.
When is the deadline for Clearing?
According to UCAS, Clearing will run between 5 July and 18 October 2022, meaning you still have a little while to make your decisions and sort yourself out before potentially heading off to university.
You don't actually have to do anything to be enrolled in the process as, if you meet the requirements, you'll be automatically entered for Clearing on A level results day.
What are the A level grade boundaries in 2022?
Grade boundaries in 2022 are expected to be lower than when summer exams were sat in 2019, meaning students will likely receive higher grades than that particular cohort. However, the official boundaries won't be available to see until later on in the day on Thursday 18 August 2022, after A level results are announced.
Government regular Ofqual, which is trying to gradually re-establish pre-pandemic criteria, said: "Grade boundaries change each year to reflect any differences in the demand of the question papers.
"Results [in 2022] will be part-way between those of summer 2019 and summer 2021. It is unlikely that results will be precisely at a midpoint between summer 2019 and 2021 – overall or for individual subjects. This will also likely vary at different grades, because it will depend on how students have performed.
"Results in summer 2021 were higher than in 2019 to a greater extent in some subjects than others. Our approach this summer allows us to begin to re-establish pre-pandemic relationships between subjects.
"Students' grades will be determined only by the number of marks they achieve on the assessments. It doesn't matter where in the country students are located, or the type of school or college they attend; the same grade boundaries will apply to everyone taking the qualification."
What are the UCAS codes and Clearing hotlines for Manchester universities?
Manchester is home to over 100,000 students enrolled at five universities across the region. You can specifically apply for Clearing at any of these universities, and to do so you will need to contact them to let them know.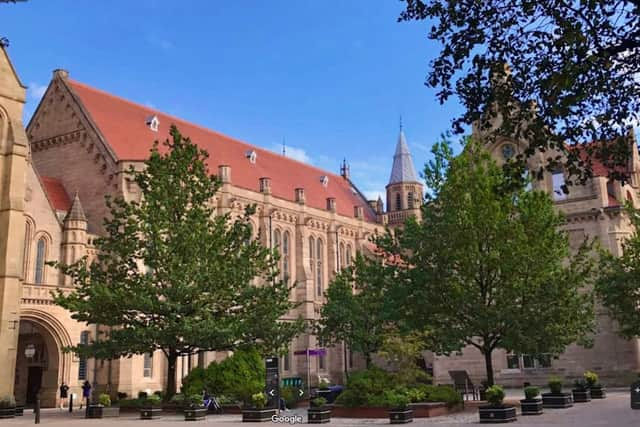 Here are all the university names along with their UCAS codes and contact details.
The University of Manchester
Clearing phone number: 0161 672 8770
Manchester Metropolitan University
Clearing phone number: 0161 247 3000
University of Salford
Clearing phone number: 0300 555 5030
University of Bolton
Clearing phone number: 0808 281 1111
University Academy 92
Clearing phone number: 0300 131 9292