Unite's longest-ever strike set to continue after workers reject 'below inflation' pay offer from Chep UK
Trade union Unite says the company should be able to afford to increase the pay offer after it made a post-tax profit of more than £50m last year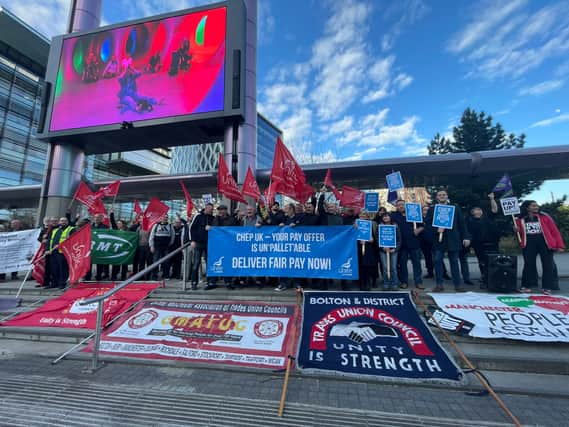 A long-running strike over a "totally inadequate" pay offer could be extended even further after workers rejected the latest proposal.
Unite workers at pallet manufacturer Chep UK in Manchester have been on strike for four months, with union boss Sharon Graham accusing the firm of trying to enforce a "cut in living standards" on its staff.
Why are workers on strike?
The longest running strike in Unite's history could continue for months longer after workers rejected Chep UK's latest pay offer last week.
Around 200 people marched through Manchester last week to protest against Chep UK and show their support for the firm's striking workforce.
After four days of strike action and a ban on overtime which began in early December, workers called an all-out strike on 17 December.
Now almost four months on, workers have attracted the support of hundreds of people who've signed a petition backing their demands.
The union says the pay offers put forward by the firm have been unacceptable, pointing to inflation which currently stands at more than 7% and is expected to continue rising.
Unite has said that the firm's healthy profits suggest that they could afford to improve the pay offer to workers at the Trafford Park site.
According to the most recent accounts filings, Chep UK made after-tax profits of £55m on almost £400m revenue in 2021.
Unite claims the total value of the pay offer would only need to be increased by £67,000 to resolve the dispute.
The union's general secretary, Sharon Graham, said: "Chep is a very profitable company. It can easily afford to pay properly. With household bills going through the roof, management needs to get serious and come back with a pay rise, not a cut in living standards.
"The workforce has the full support of Unite as they prepare to vote in their fight for pay justice, which could see strikes continuing into the summer."
Chep UK, which is based in Trafford Park, Manchester, repairs and supplies pallets for supporting and transporting goods to a host of prominent companies including InBev, Heinz, Heineken, A&B Containers, Encric  and TDS.
Unite has also organised protests targeting customers and partners of Chep, including Costco, to raise awareness about the dispute and apply further pressure to the firm.
Will the strike lead to a better pay offer?
Following months of action, Chep put forward a new pay offer to workers at the Trafford Park site last week.
Staff rejected the offer, saying it still represented a below inflation increase, or a real-terms cut, with inflation at a historic high.
Unite's members at Chep will now be balloted from Thursday 21 April until Thursday 5 May to continue their industrial action.
A yes vote in this ballot could see industrial action continue long into the summer, extending an already lengthy dispute.
Unite regional officer Ian McCluskey said: "Our members have been on continuous strike since 17 December for a decent pay rise from an employer whose profits soared during the pandemic. I would like to praise the solidarity our members have shown during their five-month strike."
A spokesperson for Chep UK told NationalWorld that it has offered "competitive pay and employee benefit proposals to all our employees in our UK network," including an increase in base pay and "enhanced non-financial and wellbeing benefits".
The firm says this offer has been accepted across other service sites, including two where workers are represented by Unite.
They said: "Our number one priority is the health and wellbeing of our employees, and since negotiations began, we have made several improvements to the financial and non-financial components of our pay offer.
"We believe that our revised pay offer is fair and competitive in our network and across our industry and are disappointed that our increased offers have not been accepted."
"We have a long history of successful, good faith negotiations and hope to reach an amicable and agreeable solution as soon as possible."
"We are continuing to operate on a business-as-usual basis and will stay fully focused on providing excellent service, together with our partners, to our customers."