Politicians in Greater Manchester are pleading for government action – and patience from the public – as ambulances struggle to keep up with demand.
More than 600 patients were waiting for an ambulance across the North West on Monday night, while 100 ambulances were stuck outside hospitals. North West Ambulance Service (NWAS) apologised for the delay patients were facing, admitting that 111 and 999 services were being overwhelmed.
But the crisis continues with hundreds of people still waiting for ambulances, many of which are parked outside of hospitals waiting to hand over patients. Labour politicians have described the situation as 'shocking' and terrifying' with one saying that our health system is now 'creaking like never before'. They have blamed the issues the NHS is facing on 12 years of 'Tory failure'.
However, Conservative politicians in the city-region blame the Covid backlog, saying there is no 'quick fix' to the crisis and NHS staff deserve our support.
Labour MP Lucy Powell, who represents the Manchester Central constituency, urged the public to follow the NHS's advice and only call 999 in an emergency.
She said: "It is extremely concerning that patients might struggle to get an ambulance when they need one.
"It's vital that people follow the advice and only call 999 in an emergency. The freezing weather is exacerbating 12 years of Tory failure, which has left our NHS at breaking point.
"The NHS no longer has the staff it needs to treat patients on time. We urgently need to recruit, train and retain the staff our NHS needs to reach patients in time."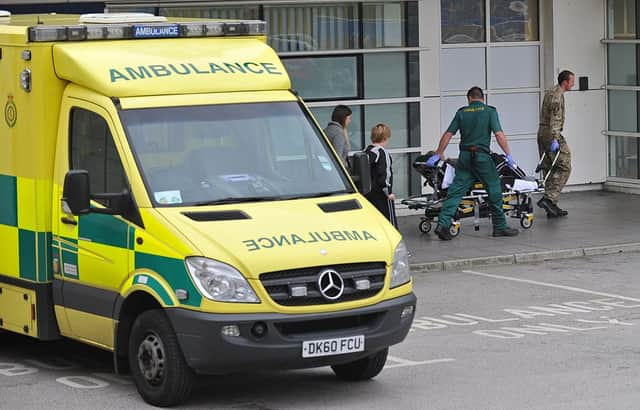 Ashton-under-Lyne MP Angela Rayner, who is Labour's deputy leader, added: "It is shocking that it is no longer the case that people across Ashton, Droylsden and Failsworth can call 999 safe in the knowledge that an ambulance will arrive at all, let alone on time and I know this will cause great concern to many of my constituents.
"This is the terrifying consequence of 12 years of Conservative mismanagement of our NHS. Now they are choosing to make the situation even worse by refusing to negotiate, leading NHS staff to walk out on strike.
"Labour will launch the biggest expansion of medical training in history, giving the NHS the staff it needs to reach patients on time again, paid for by abolishing non-doms."
Manchester city councillor Thomas Robinson, who is the executive member for Healthy Manchester and Social Care at the Labour-run local authority, said: "This is yet another critical signal that our health system is creaking like never before and that yet another Conservative Government neither understands or cares about the pressures we are seeing.
"Once again, I call on the Secretary of State for Health and Social Care to come to his senses, and show some empathy and leadership and respond to the crisis we're seeing unfold before our eyes.
"Across Manchester – social, primary and acute services are working together like never before to try and offset these pressures but as we enter into the most difficult winter in living memory we're running out of options.
"We know that Mancunians will be worried and we urge them to follow the public health advice as and where they can and once again I would like to thank the stunning efforts of our health professionals across the board – many of who I know personally – and just say that we all in Manchester know how exhaustive your efforts are, even if the Secretary of State for Health and Social Care doesn't."
The Local Democracy Reporting Service contacted several Conservative MPs and councillors in Greater Manchester, but only one was willing to comment.
Bolton council leader Martyn Cox, the only Conservative in charge of a local authority in the city-region, said there is no 'quick fix' to the 'acute pressures'.
Having spoken to Royal Bolton Hospital chiefs, he said that last night was not an exception with the NHS facing a 'really difficult' situation for months now.
He blamed the recent pressure on the backlog created during the pandemic.
However, he hit back at criticism of the government's 'management' of the NHS saying that the staff who run the health service deserve our support.
He said: "The government doesn't manage the NHS, the NHS is managed by the people within the NHS.
"Government ministers don't go in there and run it. If Labour think there should be a fundamental restructure, then let's see their plan.
"I just don't think politicians pretending they've got magic wands can solve this by just throwing more money at it."
On Tuesday, NWAS issued a new statement, saying: "North West Ambulance Service (NWAS) is today thanking the public for their support following last night's appeal to only use its 999 service for life-threatening emergencies and, where they do need to go to hospital, to use alternative transport.
"As of today, the trust's 111 service is still experiencing a significant number of calls, currently 300 calls waiting, while over 300 patients wait for an available ambulance and over 40 emergency vehicles are experiencing substantial handover wait times with patients at several regional hospitals.
"The main conditions the public have called 111 within the last 24 hours include sore throat, hoarse voice, back pain and queries on repeat prescriptions. These conditions can be assessed and supported online at 111.nhs.uk. NWAS urges the public to continue to think 111 online first."
The Department for Health and Social Care has been contacted for comment.