Bikes on Metrolink trams: travel bosses clear up confusion over new trial scheme in Manchester
Those backing bicycles being able to go on the trams have received a major boost after Dame Sarah Storey offered full support on social media - but campaigners say the authorities should have sorted this issue out years ago.
Watch more of our videos on Shots!
and live on Freeview channel 276
Visit Shots! now
Plans for a trial allowing bikes to be taken on the Metrolink appear to be back on track after an active travel campaigner wrongly received correspondence saying the idea was being ruled out.
Assurances have now been made that the correspondence should not have been sent and the city-region's leaders remain committed to trying out letting cyclists take their bikes on the trams.
And those who have been pushing for this received a boost when active travel commissioner Dame Sarah Storey took to Twitter to enthusiastically back the idea.
However, campaigners have also hit out at transport bosses, saying other cities already allow bikes on trams or light railways and there is no excuse for how slow Manchester has been to bring this in.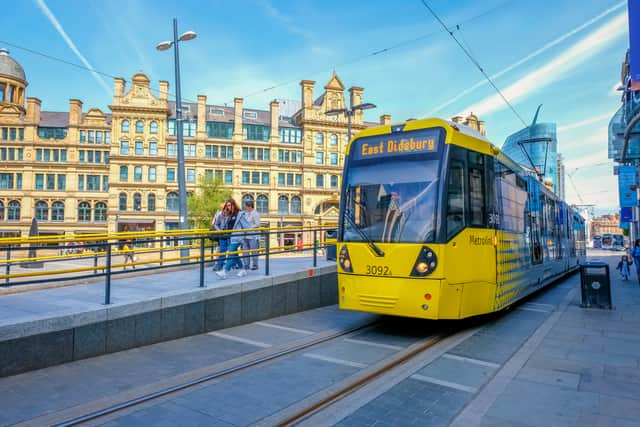 What is the current position regarding trialling bikes being allowed on the Metrolink?
The current debate over trialling bikes on the tram began when Steve Bowater from the A56 Safety Campaign wrote to the authorities asking for an update on the subject, which had been part of Mr Burnham's election manifesto.
The safety group then received a response suggesting that there were problems with the cost of modifying trams and platforms and with passenger numbers and revenue down on pre-Covid levels there were currently no plans for it.
However, the authorities quickly moved to clarify that this should not have been sent as a reply and did not represent Mr Burnham's thinking.
Assurances have been made that Mr Burnham does remain committed to trialling allowing bikes to go on the Metrolink - although the authorities are still saying there remain issues to be worked out before it can go ahead.
A spokesperson for the Greater Manchester Combined Authority (GMCA) said: "This piece of correspondence was sent out in error. It was not approved by the Mayor nor does it reflect his position. His manifesto commitment to piloting allowing both dogs and bikes on trams still stands.
"A decision was taken earlier this year to proceed first with the dogs on trams pilot because it could be put in place more quickly. The Mayor is still firmly committed to piloting bikes on trams at a future date – once some of the safety and accessibility issues have been worked through."
What did Dame Sarah Storey say?
The idea of taking bikes on trams then received a significant boost when Dame Sarah Storey, Greater Manchester's active travel commissioner, posted a thread of messages on Twitter expressing her full support for getting the trial moving.
She said: "I've just spoken to Andy Burnham and he's assured me the trial is coming, but the 'when' still needs identifying due to some concerns around safety. I'd already tackled the question of mobility bikes on trams and am waiting for an update, but non-folding bikes need a trial ASAP.
"Currently there doesn't seem to be regulation on other larger objects, such as heavy suitcases, people are expected to behave responsibly. The same is true of the trial for dogs on trams. No one travelling with a bike will leave it to roll around and get damaged or hurt someone.
"There are so many other reasons for developing a trial ASAP as everyone has raised, so I will be offering all the solutions available so that the trial can be requested to start once the current dogs trial concludes, if it's not practical to run both together.
"The Bee Network ambition is for a fully integrated public transport system so every avenue must be explored. Active travel enables public transport to be an option for more people and bikes create mobility solutions for longer distances where walking isn't an option."
What do active travel campaigners say?
Mr Bowater, who is also a member of the Greater Manchester Cycling Campaign, said he was pleased that the misunderstanding with Mr Burnham's staff has been cleared up and that Mr Burnham has said he is clearly behind it.
However, there is also some frustration among active travel campaigners about the lack of progress on this, with activists saying other cities are not as restrictive as Manchester about bikes on public transport. One example cited was Edinburgh, which now allows bikes on its trams following a two-month trial.
In London non-folded bikes can be taken on some Tube and Overground services at off-peak times, and they are also permitted with some restrictions on the Metro system in Newcastle.
The GMCA said Mr Burnham is going to look at how bikes are transported on trams in Edinburgh as part of a visit to the Scottish city, something Mr Bowater said was good news.
It has also been suggested that bikes are no more of a health and safety risk than numerous other heavy items which are permitted on the trams, something Dame Sarah alluded to in her Twitter thread.
Active travel organisation WalkRide GM said Transport for Greater Manchester (TfGM) needed a shift in mindset away from thinking of the Metrolink as a stand-alone service to a part of a fully-integrated, joined-up public transport system in which journeys are made in various ways, including walking and cycling.
A WalkRide GM spokesperson said: "This was first raised by campaigners in 2008, if not before, so TfGM has had 15 years to think how to make trams accessible to bikes off-peak but nobody has bothered to find a way to make it work.
"They've also had 15 years to procure trams that could have had more space for bikes built in.
"They've found one ridiculous reason after another not to do this and the arguments they use don't stand up any more. The problems are not insurmountable.
"The fundamental problem is that TfGM hasn't embraced the idea that its role is to build an integrated transport system to help people move from one form of public transport to another. They seem to see the Metrolink as a single form of transport."
TfGM has been approached for comment on these criticisms.