Piccadilly Gardens: Manchester Christmas Markets 'won't return' thanks to mudbath
A busy programme of events in 2022 have left the city centre area in a boggy mess.
Watch more of our videos on Shots!
and live on Freeview channel 276
Visit Shots! now
It is one of the most prominent and best-known landmarks in Manchester city centre and one of the first things people arriving by intercity train see - but Piccadilly Gardens is currently something of a quagmire. The open space has been host to a packed programme of public events in 2022, from being a key hub for the ever-popular Manchester Christmas Markets to having a fanzone for the UEFA Women's EURO 2022 competition which England's Lionesses won.
However, all the deploying of temporary structures and the large numbers of people trampling back and forth has clearly taken its toll, as these pictures taken recently show. A city councillor has taken to social media to say that 2023 will be the year when Piccadilly Gardens gets a long-awaited and clearly much-needed spruce-up - and that the Christmas Markets won't be back there this year.
What is the current state of Piccadilly Gardens?
These pictures, sent to ManchesterWorld by William Connolly, show that the months of large events in Piccadilly Gardens have left the famous area a muddy and boggy mess.
Some of the areas have also been fenced off to try to protect them from further damage, while others are inaccessible as they are covered in events paraphernalia. Piccadilly Gardens played a massive role in the 2022 Manchester Christmas Markets in December as the area was transformed into the Winter Gardens with the ski chalet stalls. There was also a giant Nordic-themed tipi bar and the massive four-metre-high windmill.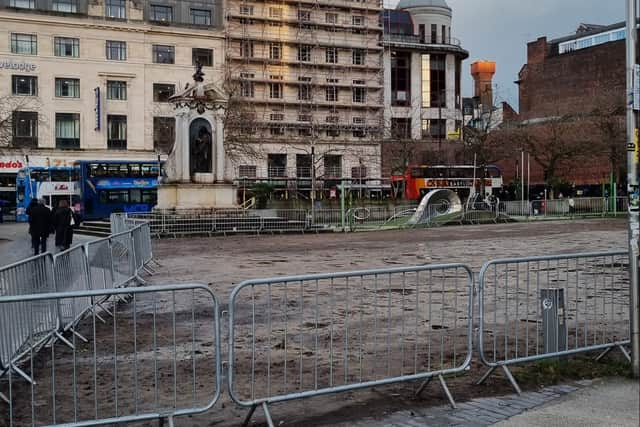 Then, almost straight after six weeks of the markets bringing thousands of people to the area, the event space in Piccadilly Gardens was also used to celebrate the arrival of 2023 with a New Year's Eve event including DJs spinning the decks and the countdown to the new year being broadcast on a big screen.
The area has been used with very little let-up throughout 2022. In summer, it was home to a fanzone for the biggest European competition in women's football, with the site having its capacity hurriedly doubled for the final against Germany so Mancunians could watch and then celebrate the Lionesses' iconic victory. And later this month, it will play host to some of the city's Chinese new year celebrations.
What is happening with the gardens?
Coun Pat Karney has in recent days taken to social media to acknowledge the state of the Gardens and to promise that 2023 will be the year when the area starts to look much better.
He told ManchesterWorld that probably involves ensuring the Christmas Markets are not taking place there in 2023.
Coun Karney said: "This is the worst I've seen it. It's the price of multi-use in Piccadilly Gardens. Obviously we had the markets there for six weeks with 100,000 visitors . We won't be doing any markets on there next year.
"The officers in the town hall will be re-turfing it fairly soon but they've been held back because of the poor weather at the moment. They're on the case and the grass will be back to normal quite soon.
"We're struggling in Manchester because of Albert Square being out of use. We won't have it this year, it will be the following year in 2024, but we will be looking at somewhere else rather than Piccadilly Gardens because the multi-use of it causes more problems than it's worth.
"Everything that's there at the moment was always going to be a stopgap. We will be announcing the long-term redevelopment plans quite soon for a radical transformation of the Gardens."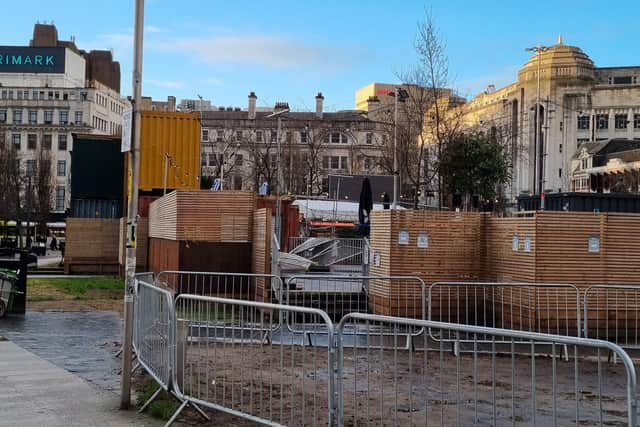 The council last year started running an international design contest to rethink the area. Six teams were shortlisted and had until last autumn to bring their proposals forward, with the winner expected to be chosen this year.
The brief called for ideas that would transform Piccadilly into somewhere "with a strong sense of identity, welcoming and uniquely Mancunian and allowing for the flexible hosting of events" while also giving children somewhere to play, being fully accessible, including planting to encourage biodiversity and improve air quality and promoting safety with good lighting and clear sightlines.
Speaking last year when the shortlist was announced, Manchester City Council leader Coun Bev Craig said: "The area centred around Piccadilly Gardens has the potential to be an outstanding public space where people actively want to spend time, not just hurry through. It can be a more welcoming gateway to the city, as well as a flexible and family-friendly events space.
"We know it isn't fulfilling that role at the moment and are looking to bring forward design proposals which will herald significant improvements. The shortlisting of these six design teams brings us another step closer to realising that ambition."
The council has been approached for further comment.