U2 frontman Bono makes surprise visit to Chorlton bookshop before show at Manchester Apollo
The lead singer of U2 was spotted at the Chorlton Bookshop on Saturday afternoon
Bono made a surprise visit to a Manchester bookshop, leaving staff and customers stunned on Saturday afternoon.
The U2 rock Icon, 62, from Ireland, popped into Chorlton Bookshop on Wilbraham Rd, Chorlton-cum-Hardy, with his entourage, after going to Manchester as part of his tour promoting his new book, Surrender: 40 Songs, One Story.
The singer headed to the independent bookshop to the disbelief of the staff ahead of his performance at Manchester Apollo.
Staff received a call the day before the visit asking if Bono could come down and initially thought it was a hoax.
Jo Ledgerton, who has worked at the small independent bookshop for 16 years, said staff had been "sworn to secrecy".
Ms Legerton said that they thought he would sit in the back signing copies of his book. Instead, Bono spent 45 minutes chatting with customers and staff.
He also enjoyed a cup of tea and a slice of parkin baked by bookseller Bev.
Jo claimed he was very down to earth and purchased 30 books before leaving.
Bono has been choosing independent bookshops to visit in every city during his tour.
"He googled bookshops in Manchester and really liked the look of ours and said 'I'm going there'", Jo said.
"We feel really special. People had been waiting at Waterstones for an hour, as fans presumed it would be there he would go."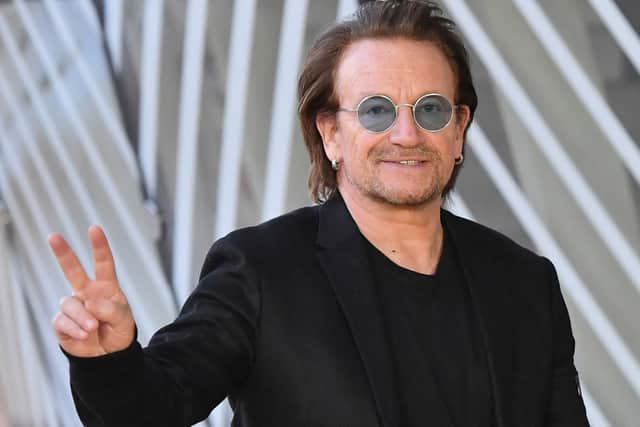 "He was just lovely, everyone who was with him as lovely as well, just the nicest people. It's absolutely amazing that he chose us, this just doesn't happen in Chorlton does it?"
According to the bookshop, the phone lines are now constantly ringing with fans desperate to get hold of a signed copy of his book.
The U2 singer's book contains 40 chapters named after a U2 song and is about his life and the challenges he has faced.
It details personal issues such as the loss of his mother when he was just fourteen, his relationship with his late father, Bob, and the discovery later in life that his cousin was his half-brother.