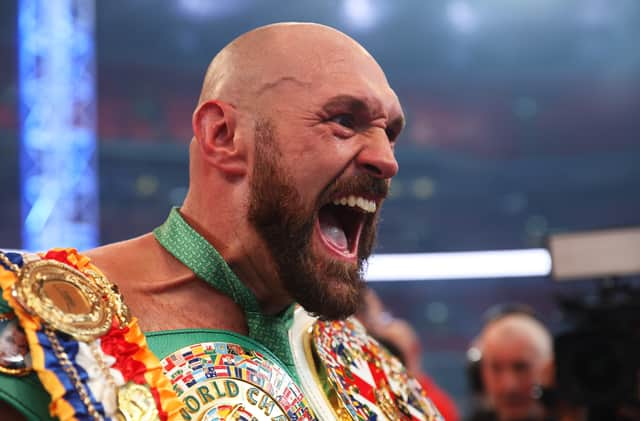 Tyson Fury has sent his best wishes to a youth football club who are celebrating their 40th anniversary. The boxing champion, 34, sent a video to Celtic Boys Belfast, a club for ages six to 17 in the capital of Northern Ireland.
Smiling into the camera, The Gypsy King said: "Hey guys, Tyson Fury here. I just wanted to say congratulations to Celtic Boys. I hear Packie has been doing a fantastic job with you guys. All the best for next season. Good luck and God bless you."
Celtic Boys Belfast, who train on Mondays and Thursday, celebrated their 40th anniversary on Sunday (May 21). Fury was joined by other iconic names in sport, with former Northern Ireland captain Martin O'Neill, former Leeds United defender Ian Harte, world champion boxer Josh Taylor, football legend Robbie Keane and former Manchester City goalkeeper Shay Given also supporting the club.
Leeds United's first team coach Keane said: "I just wanted to say congratulations to all the Celtic Boys teams. I heard you all did fantastic this season. I wish you the best for next season. I look forward to coming along to see all you guys."
Whilst former Republic of Ireland goalkeeper Given said: "I just want to wish a happy 40th anniversary to Celtic Boys. Forty years, players and coaches past and present, staff, all the people who have helped the club get to 40 years. It is a great achievement. Enjoy the celebrations and have a great night, and here's to the next 40."
Fury was born in Manchester but identifies himself as Irish, due to his father being from County Galway and his maternal grandmother being from County Tipperary. In 2013, he told Irish Boxing "I vacated the British and Commonwealth titles, which some people say are more prestigious than the Irish title, but not to me. I vacated those belts for an Irish title shot because it meant more to me. All my people are from Ireland. I was born in Manchester but I am Irish. I have lived in Ireland, visited all my life, and when I fight, I represent Ireland."