Homelessness in Manchester has been in the spotlight of late, whether it is through high-profile schemes like A Bed Every Night or mayor Andy Burnham's pledge to end rough sleeping.
Despite this, those on the front line say the problem is actually getting worse. One of those is Two Brews, which has just become a charity having initially got going as a grassroots community group last Christmas.
The charity's founder Dave Evans explains here how he and his volunteers get out on the streets to offer practical support to those without a roof over their heads and discusses the massive hurdles to ending homelessness once and for all.
Stepping in while services were on holiday
Two Brews came into being last Christmas when Dave and a group of other people who were helping homeless people realised some of the services would not be out supporting those on the streets over the Christmas period.
Initially, they were going to step in and help out for a two-week period.
However, Dave and his team quickly found the group going from strength to strength and they have never stopped offering support.
Two Brews was founded by an 11-strong group, including Dave, which originally started out helping homeless people around 12 months ago before forming their own community organisation.
Now it has around 40 volunteers.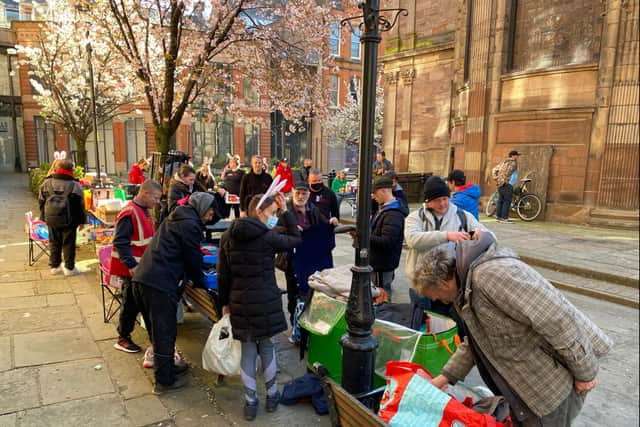 Dave, who juggles the charity work with his job as a flight co-ordinator at Manchester Airport, said: "It was just seeing the way people were on the streets, getting no help.
"We realised last Christmas that outreach teams weren't going to be going out for two weeks around Christmas.
"People on the streets don't get holidays so we took it upon ourselves to create a new group."
Outreach sessions every day in the city centre
Two Brews can be found in central Manchester seven nights a week.
The team starts in St Ann's Square for up to an hour and a half before moving on to St Peter's Square.
The charity also does walkabouts on Saturday, Tuesday and Thursday mornings, parking up near Piccadilly and heading down Market Street to Deansgate and back again.
Two Brews can hand out up to 80 meals in a night and as many as 100 bacon or sausage sandwiches on its morning breakfast runs.
It also provides rough sleepers with hot drinks, clean clothing and sleeping bags as well as attending to other needs they might have.
The charity takes its name from the two words one of its regulars always says to volunteers and Dave, who is from Salford, says the Two Brews outreach teams are now well known among rough sleepers.
He said: "They all know where to go now, which saves us driving round.
"If there is anybody vulnerable, we do referrals if we can get them into accommodation quickly."
'The problem is getting worse in Manchester'
Dave is in little doubt that rough sleeping is becoming a bigger issue in the city, despite the much-vaunted efforts to tackle the problem.
He says there is a complex web of factors at play that keep people on the streets and can prevent them from rejoining society.
He said: "At the moment homelessness is getting worse in Manchester, especially with Covid. A lot of people are getting evicted over non-payments of rents.
"Through the pandemic homeless people were put up in hostels and hotels but a lot of those are getting back to normal now. We are seeing a lot more people coming on to the streets.
"A lot of people on the streets want to be on the streets, they want to stay off the radar.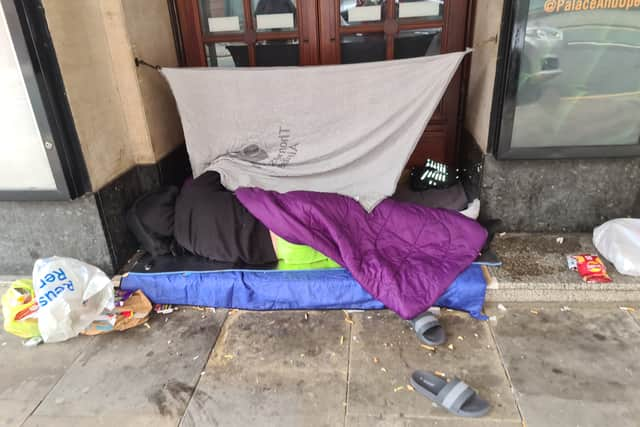 "It's not something you can solve by throwing money at it.
"Homelessness is an ongoing issue and I don't think it will ever end. There's the lack of social housing, there are mental health issues, people don't feel safe indoors or don't want to be there because they are on their own and not with the ones they kick around with on a daily basis.
"Everyone has their own needs. There are drug abuse needs, alcoholism needs, mental health needs. The lack of mental health support is a major issue.
"We've got a few people off the streets since we've started but some of them are now back there again."
A friendly face and a chat
Dave says that as well as having their immediate needs taken care of one of the main draws for rough sleepers to Two Brews' outreach work is the chance to simply talk to the volunteers.
This is a major boost as this kind of social interaction can be a rare thing on the streets.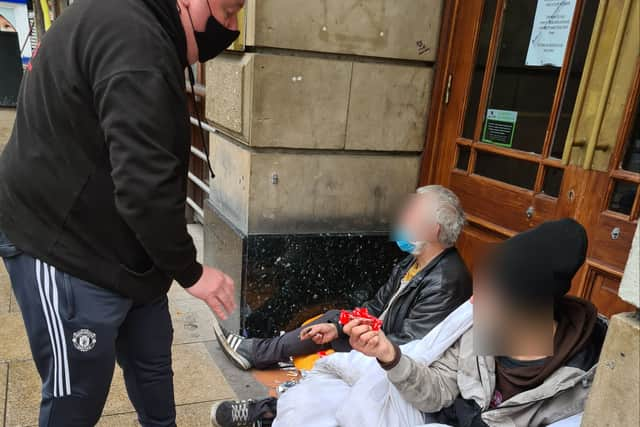 He said: "A lot of them come to see us for a friendly face and a chat. They can be sat there for 10 or 11 hours a day begging and although some people might give them a pound or two or even a tenner, nobody stops for a chat with them.
"A lot of them just crave a bit of attention, really."
Hopes for growing the new charity
Dave hopes becoming a charity will mean Two Brews is able to apply for a lot more funding to support and then expand its work.
One of its biggest costs is acquiring a constant supply of new sleeping bags, as Manchester's famously-inclement weather means clothes and bedding rapidly become wet and useless.
Fund-raising and experiencing rough sleeping first hand
Two Brews is putting on a fund-raiser this weekend when a team of volunteers plays a game of football against a homeless XI at Ordsall Park in Salford on Sunday (15 August) afternoon.
The idea came from a summer pop-up event when the charity brought a coastal backdrop to St Peter's Square and provided a beach ball.
The resulting kickabout proved so popular that it was quickly decided to hold a full match involving a team of rough sleepers, which has been called MCR Homeless United.
Two Brews has also done an Easter pop-up in which eggs and other suitable treats were given out and is planning a similar Christmas event.
Dave was also one of six members of the team who spent 48 hours on the streets to learn for themselves something about what rough sleeping was like.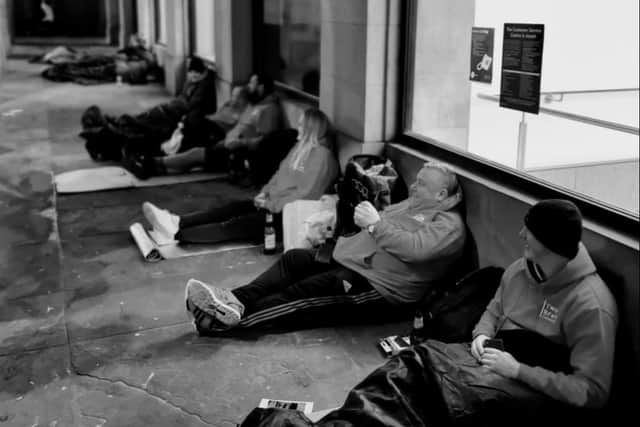 He said it was an eye-opening experience and something that really spurred him on.
He said: "It was terrible, we got about 40 minutes' sleep all weekend.
"It was about seeing the way they live. We were going to do 24 hours but then decided lunchtime to lunchtime wasn't enough and we wanted to do a full day of being with them.
"We were reliant on the outreach teams for food and we woke up on the Saturday morning with nowhere to have a wash or go to the toilet.
"Seeing life through their eyes really motivated us more to help."
The charity has already set up a Sponsor A Brew fund-raising scheme, which involves a regular standing order to help get hot drinks to rough sleepers.
To find out more about the charity, go to its Facebook page or follow it on Twitter @Two_Brews_