A lifesize Taylor Swift cardboard cut-out visible in a flat window from a tram route is staying put after a campaign by commuters - despite her owner moving away.
The cut-out of the "Shake It Off" singer has looked out from an apartment window in Manchester for five years and is loved by Metrolink tram passengers who spot it on their daily travels via Cornbrook.
But when the flat's owner Red Redmond, 32, announced they were moving to Sheffield, commuters feared a blank space would greet them from the tram. However, their love story with the figure, affectionately known as 'Tram Taylor', will continue after hundreds of its lovers rallied to persuade Red to keep it in the flat. Fans even tried to lobby Greater Manchester Mayor Andy Burnham on social media to step in and save the much-loved figure from exile. And a fellow Taylor cut-owner who lives in Ancoats even offered the original cardboard Taylor a new home in his window!
Red, a comedy promoter at iconic music venue The Leadmill in Sheffield, is now hoping to rent the flat out to a Taylor Swift fan who will look after the cut-out during their exile.
They said: "I would obviously love to bring her with me but she's obviously found her home in Manchester and she means a lot to so many people. I can't sell my flat because of a cladding issue and I need to rent it out so she'll be staying in the window for the next few months. My hope is that we can get someone to rent out the flat who will keep her in. It sounds silly but I've had hundreds of direct messages basically requesting to rent the property and keep her in it. It's crazy how many people have messaged - I think it's added value to my flat to be honest."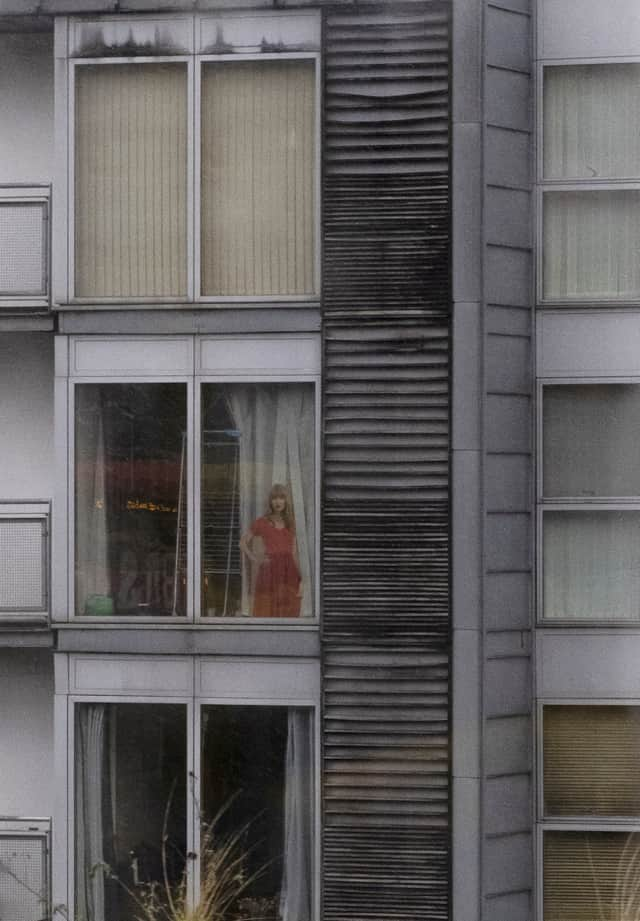 Red first displayed the cut-out of the American singer-songwriter in their window in 2017 after being given it at a Taylor Swift-inspired club night at the Leadmill. The cut-out, which has its own hashtag on Twitter, quickly became a landmark among city centre commuters as it can be viewed from the Cornbrook Metrolink stop.
Red has said that Tram Taylor is 'seen by thousands of people each day' is also used as a 'milestone' for those who go past it on a regular basis.
They said: "Six months after she had been up, I started to see some tweets of people discussing her online. "Basically every year since I've had her in the window, it just suddenly goes viral and there will be people tweeting or talking about it.
"She just gets seen by thousands of people every day because she's on their commute to work or people see her on their way home. "She's kind of like a milestone or a marker for if you're 10 minutes from home, for example.
"I've heard people say that they'll text each other whenever they pass Taylor Swift because then it means their partner knows they are ten minutes from home."
Despite its cult status, Red said the cut-out is actually sun damaged and doesn't have any legs from the waist down, but its top half is in 'great condition'.
They added: "She has had a little bit of damage to her over time. She got sun damaged after being in the window for too long and she doesn't have any legs anymore.
"She's been propped up against the window for five years now and the top half of her is in great condition really."