A publican who serves the 'best pint of Guinness outside of Ireland' has revealed the trick to the perfect pint that has punters flocking from across the country to his bar.
Pádraig Brady, 52, says being 'consistently consistent' is the key to the quality of his pints that have seen an influx of stout aficionados to Mulligans in Manchester.
He says people have travelled from as far away as London and Dublin to try his Guinness after the pub became a favourite of drinkers sharing booze reviews online.
And one social media sensation known as the Guinness Guru even dubbed the pub's signature drink - served in traditional tulip glasses - as the best outside Ireland.
But while people often ask Dublin-born Pádraig what his great big secret is, he insists: "There isn't one. You just have to be consistently consistent. There's five or six things you have to do to keep it consistent.
"We are also fortunate to have a great team of staff led by Peter and Matt who are very aware that you can lose your reputation over a bad pint.
"It's all about consistency, there's no secret. It's about being consistent in consistency, and that makes it great. Our pints are good not just 99% of the time, but 101% of the time. And it's got to be consistent from the keg to the customer.
"We are not reinventing the wheel. But I do serve the pints in a tulip glass, and I bring them over from Ireland. It's about a clean glass and clean lines as well."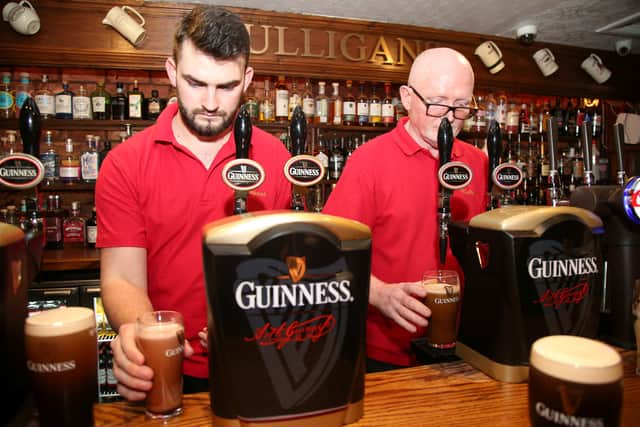 Nestled in Deansgate, Mulligans welcomes boozers in with its charming red exterior which wouldn't look out of place in Dublin's iconic Temple Bar area. Once inside, drinkers are transported to a tiny slice of the Emerald Isle as the walls and ceiling are adorned with GAA flags, jerseys and Guinness memorabilia.
But what keeps them coming in their droves is the pub's famous pints of the Dublin-brewed stout, which Pádraig is passionately proud of.
The team at his bar take great care in making sure it is looked after in the barrel and is poured to perfection every time.
He added: "The irony of it all is we all get the same Guinness, but not everybody does the same thing with it.
"It used to be brewed under licence in the UK and people would say it wasn't the same because of the water, but now it all comes from St James Gate in Dublin so that's a myth.
"We're an independent pub, we're publicans, we run pubs to make profits for ourselves so we're invested and we have to get it right as it's what we have built our reputation on."
The rise of social media pages dedicated to rating pints of Guinness has seen people travel miles to seek out the best. And with Mulligans consistently reviewed as being the best pint in the UK, people have flocked from all over the country to sample its stout.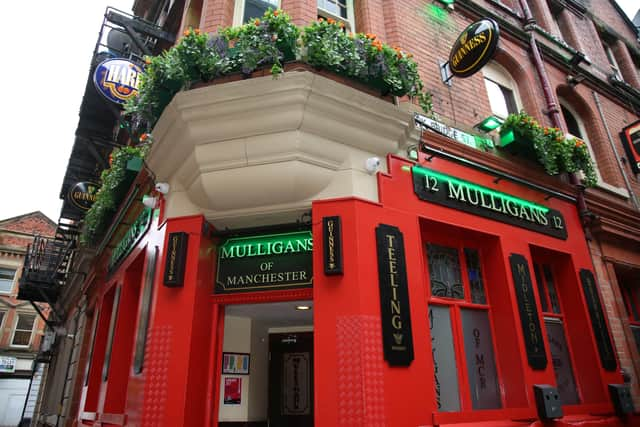 Pádraig added: "Over the last year or so it's gone huge. There's always been a big market for really good Guinness, but I never realised how big the market was for exceptional Guinness. We have people travelling from all over, we've had people come from London.
"We're actually putting in a bar upstairs now because we were having to turn people away at the weekend. If the customer is happy and the customer is going to come back, that's the greatest accolade.
"It's not rocket science what we're doing. If you serve great Guinness, have great service and have great music on, it creates a great atmosphere."
Enjoying a pint in the pub, Chris Carter, 29, from Leicester said: "Everyone says this place has the best Guinness outside of Ireland.
"What makes the Guinness great here is the temperature, the clean glasses and the atmosphere. The pints are really great. We have a Guinness group on WhatsApp. It's got about 40 people in it. It's not about reviews, but it shows which pubs have the best pints."
Luke Almond, 34, from Manchester, had his first pint of Guinness in the pub after being taken by his dad.
He said: "We have a family-run pub business ourselves, so it said a lot that we would come here. I now work in hospitality, and I still come back."
Guinness lover Martin Finnegan, 39, said of his pint: "It's a cracker. It's better than some pints I've had in Ireland.
"This is every bit as good as my favourite pub in my nan's village in County Down."