Manchester bodybuilder Ray Houghton has tattoos across every inch of his body
Ray Houghton got his first tattoos while he was in the Royal Artillery as a teenager and says he became obsessed with ink.
Watch more of our videos on Shots!
and live on Freeview channel 276
Visit Shots! now
Meet the man who has spent £7,500 covering his body in tattoos - including his private parts. Ray Houghton, 65, has spent 264 hours across 32 sessions being inked on every inch of his skin.
And he even has designs on his penis. Fitness fanatic Ray, originally from Manchester, who has his own Youtube channel, said: "I wanted it done for a while but my regular tattooist wouldn't do it so I had to find another one. Now I get lots of messages on social media from men asking to see my tattoed penis all the time. It's always from men - never any women. I send it as it's all over the internet anyway."
Ray got his first tattoos while he was in the Royal Artillery as a teenager. He describes these as "embarrassing" so, years later, he decided to cover up the eight tattoos. This then turned into an obsessions, Ray says. And he embarked on a mission to have his whole body tattooed to cover up his "ageing" skin.
Ray, who now lives in Spain and owns a gym in Alicante, said: "My favourite area is probably my face. I think it looks good. I'm going to leave the right side clear as I like it how it is on the left-hand side. It all looks good thought as it's one big pattern."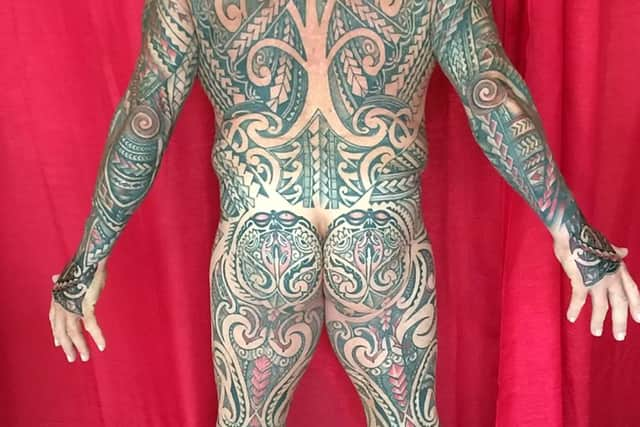 Father-of-one Ray had the penis tattoo done on Christmas Eve 2018 in the comfort of his gym. He says his testicles swelled up to "four times" their normal size following the four-hour tattoo sitting.
He said after getting the tattoo in 2018: "I don't feel the pain anymore but the tattooist couldn't believe I wanted to get such a sensitive area done. There was quite a bit of blood and it was uncomfortable to walk the next day.
"I was so desperate to get it done. I didn't like to look in the mirror and see my ageing skin. I like to look young. I hated seeing varicose veins and wrinkles. It's horrible. We used a rolling pin because that was the easiest way for the tattoo to be done. You can't just do it on a bench or worktop. It was quite weird at first but it made a lot of sense. It worked out perfect really."
Ray, who was crowned North West coast Bodybuilding Champion in 1989, has his face, hands, feet and even his bum covered in Maori-inspired designs.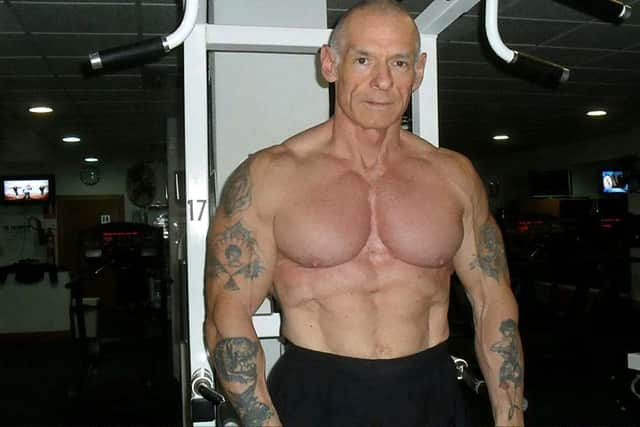 He joined the Royal Artillery in his teens and got tattoos on his arms and legs in a caravan near the base from a man called "Sailor Bill". But the eight inkings - including a boat, the words 'mum' and 'dad', a naked woman and a Geisha – weren't to Ray's taste and he wanted them covered up.
He also had to have the designs on his abs altered as they initially didn't fit in with the rest of his tats. Ray said: "I had my abs altered too as the first time I had them done I wasn't expecting to have my whole body done so it didn't match with the pattern."
Since completing his new look, Ray says he is stopped when out walking his dog. He said: "Everyone loves the designs. When I go walking with my dog people stop me and want autographs, it's unbeliveable.
"People want to take pictures of me too. How many people get stopped at my age to ask have a photo with them? Probably not very many."