Kevin Sinfield on Rob Burrow's 'devastating' MND diagnosis and their inspirational bond as book is released
The former Leeds Rhinos team-mates have captured the hearts of the nation.
Watch more of our videos on Shots! 
and live on Freeview channel 276
Visit Shots! now
Oldham rugby legend Kevin Sinfield was sent into a tailspin when his best friend Rob Burrow was diagnosed with motor neurone disease.
The 43-year-old league great who is now the defence coach for England's union side, described the impact of MND on his former teammate as "devastating". But in an interview with the Yorkshire Evening Post, 'Sir Kev' proudly revealed that his close friend's fighting spirit has not wavered once in the four years since his diagnosis.
He explained why the pair wanted to write a book about male friendships – and spoke candidly about the effect Rob's illness has had on him personally.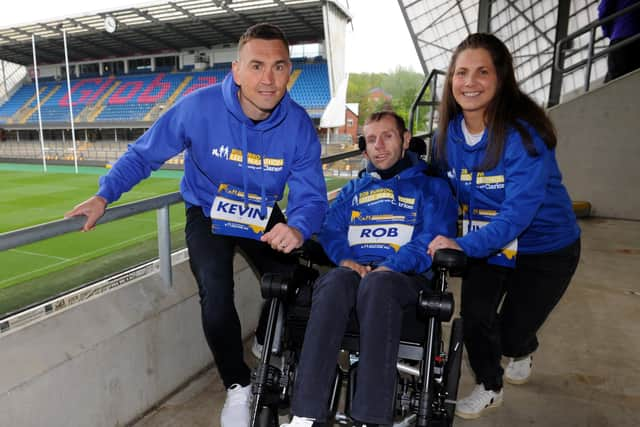 It comes as 'With You Every Step' is released. The book, beautifully illustrated by Gill Smith, shines a light on the importance of having good mates in tough times. But despite the playful cartoon characters sporting cheeky grins on the cover, it's not necessarily just for children.
"The book is based on quotes that Rob and I have spoken to each other," explained Kevin. "It would be great for children, but we also wanted it to appeal to anyone between the ages of eight and 80. Hopefully mums, dads and grandparents will also get something from it.
"We're really proud to have written it. I'd like to think it will inspire people to build friendships and look after each other a little bit better."
Considering the relationship that is shared between the former rugby stars, the now famous image of Kevin carrying Rob across the finish line at the Leeds Marathon earlier this year immediately comes to mind. It brought tears to the eyes of thousands and a picture of the heart-warming moment has come to stand as a symbol of friendship. But the public's reaction was completely unexpected.
"No one anticipated it to have the effect it did," explained Kevin. "We'd always planned to cross the finish line together. It was a moment for me and Rob to share. But there were 12,000 other people there sharing that moment with us. The feeling in Leeds was incredible on that day."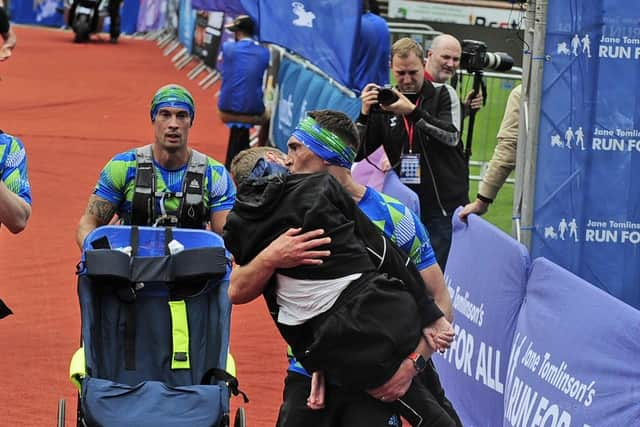 Kevin joined the city's Rhinos when he was just 13, while Rob was only 12. He went on to captain the team to seven Super League championships and two Challenge Cup wins, making him one of the most successful players in Super League history. With Rob and his wife Lindsey as well as many others, Kevin has helped to raise huge sums for charities that help people living with MND. They have also collectively raised the profile of the disease which previously had little attention. But it remains true that there is not yet a cure for MND, an illness which significantly shortens the life expectancy of sufferers.
Kevin spoke about the impact his friend's diagnosis had had on him personally: "It had a massive effect. I was in a tailspin for some time, trying to understand exactly what it meant. I can't imagine what it was like for Lindsey and the children. I can only speak about it as a close friend. But yes, it was devastating.
"You think people are going to be here forever. You think people who bring light into your life are going to be around for a long, long time. And the realisation that this might not be the case is pretty dark and pretty tough to work through.
"But as I expected, Rob has shown us all what fighting really is. And the Burrow family has shown us what love is. They have done an incredible job of dealing with adversity and tragedy. Long may that continue."
Kevin said that Rob's diagnosis – as well as his attitude to fighting the disease – has put many other problems in life into perspective. It gave him an opportunity to sit back and take stock of the people he considers important, as well as a cause to rally behind.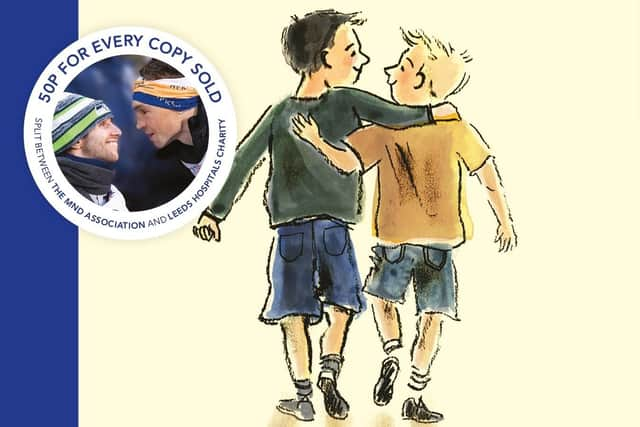 The marathon in May raised £4million, much of which went towards building a planned state-of-the-art MND centre in the city. Now he has signed up to take on a fourth challenge to raise even more money.
The' 7 in 7 in 7' challenge will see Sinfield and his team run an ultra-marathon every day for a week, in seven cities around Great Britain and Ireland. Each run will be a marathon, plus an extra mile to signify how far people can go to help friends in tough times.
He has enjoyed getting to spend more time with Rob as the pair promote their new book. And judging by the way Kevin speaks about his former teammate, it's no wonder the pair were considered the perfect duo to write about friendship.
He said: "At times when I get down, I only have to think of him and he cheers me up. His humour, his spirit and his fight has never wavered. Every time I see him, he makes me smile. He always has something funny to say. And he's full of life. He is an incredible person to be around."
'With You Every Step' will be published by Pan Macmillan on November 9, with 50p from every copy sold to be split between the Motor Neurone Disease Association and Leeds Hospitals Charity.